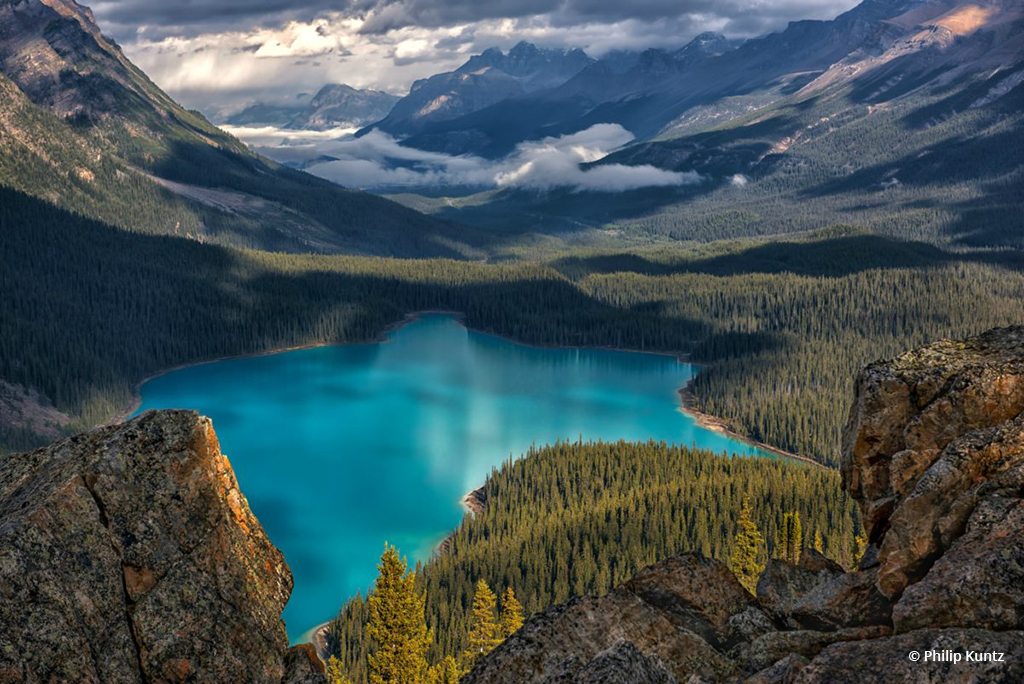 Congratulations to Philip Kuntz for winning the recent View From The Top Assignment with the image "Pretty Peyto."
"One of the most extraordinary sights along Alberta's Icefields Parkway is this bedazzling lake," says Kuntz. "Glacial rock flour flows into the lake from the Peyto Glacier and the Wapta Icefields. These suspended rock particles give the lake a bright, turquoise/blue color that is world-renowned.
"The lake is formed in a valley between Caldron Peak, Peyto Peak and Mount Jimmy Simpson, at an elevation of 6,100 feet (1860 m). Many see a fox or dog head at the lake's northern end.
"I wanted a different perspective from the common shot people take from the viewing platform. I was pleased to find this perspective thru a boulder portal after hiking up the ridge towards the Bow Summit Lookout.
"When driving Alberta's stunning Icefields Parkway, a stop at iconic Peyto Lake is highly recommended."
Nikon D810, 24-70mm f/2.8 lens, Really Right Stuff TVC-33 Tripod and BH-55 Ballhead. Exposure f/8, 1/250, ISO 100, 66 mm.
See more of Philip Kuntz's photography at philipkuntzphotography.com, and on Flickr, Facebook and 500px.
The post View From The Top Assignment Winner Philip Kuntz appeared first on Outdoor Photographer.