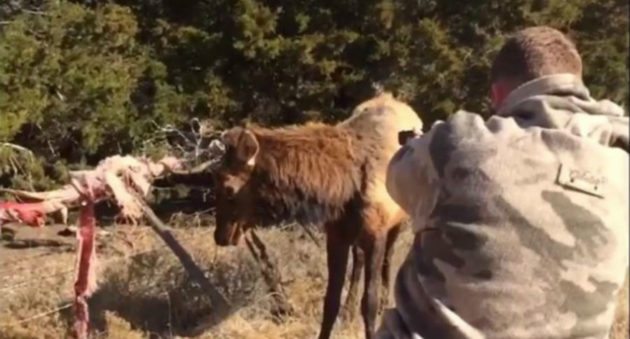 That's one way to free a trapped elk.
Here at Wide Open Spaces, we've seen a number of videos where game wardens use a firearm to free deer that have their antlers locked or stuck in something.
But we've never seen anyone use this method on an elk until now. Oklahoma Game Warden Josey Branch has a real mess to deal with here. This bull in Kiowa County has managed to get caught in barbed wire, an electric fence and a cotton bale tarp. Only some well-placed shots can free him.
Game Warden Rescues ElkNewly hired Game Warden Josey Branch (Washita Co.) recently completed all of his field training… Today things became interesting when he responded to a Bull Elk hung in a fence in Kiowa County. Josey arrived to find the 5×5 Bull Elk caught up in a cotton bale tarp, electric fence, and a barbed wire fence. After quickly evaluating the scene Josey shot off both antlers well above the bases to prevent injury. He then shot the wire and bale tarp until most of it broke away. The bull then made his escape and will hopefully live on to become older and wiser.#ElkRescue #GameWarden

Posted by Oklahoma Game Wardens on Thursday, January 11, 2018
Branch had only recently completed his field training, according to the post by the Oklahoma Wardens. Not only did he have to shoot the antlers, but he also had to shoot some of the wire and tarp to free this bull.
It looks like the bull walked away unharmed, too!
What a crazy rescue so early in this warden's career. Keep up the good work!
NEXT: THE RUT IS STILL ON IN OKLAHOMA? WARDEN FREES LOCKED BUCK FROM DEAD COMBATANT
The post Video: Oklahoma Game Warden Frees Elk Tangled in Fence with Some Fancy Shooting appeared first on Wide Open Spaces.