Backyard Outdoors/Facebook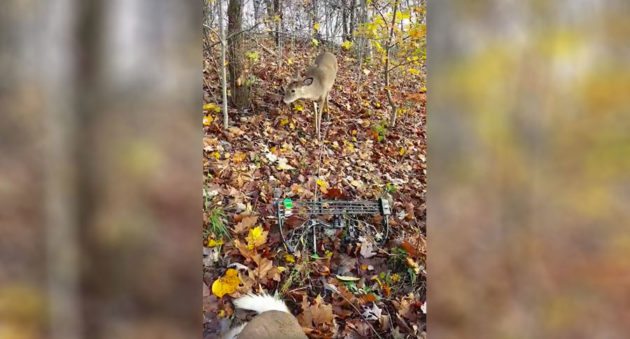 We're used to deer generally being skittish, but this little buck has absolutely no fear!
Whitetail deer are predisposed to have a healthy fear of humans. The slightest sound, smell or movement determined as foreign to them will elicit a tail of white high in the air followed by a quick retreat. Every once in a while, though, a deer comes along that mixes things up.
This eye-opening video shows a bowhunter standing on the ground with a harvested buck at his feet. And as you're about to see, neither the human nor the dead deer seemed to phase this curious whitetail.
Prepare to be amazed:
Check this out! Treezyn- Black Widow Deer Lures- ScentBlocker- 3R Archery LLC – Stik N Shoot Magnetic Lighting Systems

Posted by Backyard Outdoors on Friday, November 10, 2017
Is this a rut-crazed buck, a pet whitetail or just a dumb deer? We'll let you decide.
Regardless, we suggest he gets a fear on for humans or there's a good chance he'll be laying on the ground just like his older brother.
Did you enjoy this post? CLICK HERE to view more article by Justin Hoffman. You can also check out his Photography Site Justin Hoffman Outdoors, as well as follow him on Facebook Justin Hoffman Outdoors, Instagram hoffmanoutdoors, Twitter @HoffmanOutdoors, or subscribe to his YouTube channel Justin Hoffman. 
NEXT: 14-YEAR-OLD MISSOURI GIRL MISTAKENLY SHOOTS BULL ELK IN BOONE COUNTY
The post Video: Curious Buck Checks Out Bowhunter and His Fallen Big Brother appeared first on Wide Open Spaces.