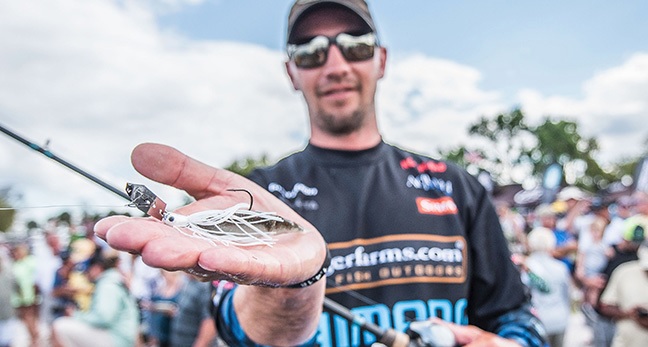 You might call it the ultimate tackle testimonial. Long before Jeff "Gussy" Gustafson flashed the Z-Man logo—or cashed a sponsor check from the cutting-edge South Carolina tackle company— the versatile tournament angler was already boating big sacks of bass with 7 ChatterBaits and other Z-Man creations, under the radar.
Actually, at the March 2018 FLW Tour event at Florida's Harris Chain of Lakes, Gussy made no secret of the fact he and fellow Ontario angler Chris Johnston wielded identical Z-Man ChatterBait JackHammers to finish 2nd and 1st, respectively. (In truth, Johnston' tourney-winning ChatterBait came from Gustafson's personal stash.) At the time, neither angler was sponsored by the company whose lure earned them a cool, collective $155,000.
On the heels of the 2019 season, Gustafson's first in the Bassmaster Elite Series, Z-Man has legitimized the alliance, inking an endorsement deal with the popular Canadian angler.
"Formally linking up with Z-Man is especially cool because I've been friends with these guys and have fished their baits for years," said Gustafson, while packing for inaugural Elite Series events, two-thousand miles from his Keewatin, Ontario home. "These days, you almost have to fish ElaZtech softbaits and ChatterBaits to stay competitive. Z-Man makes some high-level stuff that helps a lot of guys cash checks."
"First time I fished with Gussy about five years ago, I immediately knew we needed to have him on the Z-Man team," said company president, Daniel Nussbaum. "Gussy's genuine, engaging personality perfectly matches his intense passion for the outdoors. But what also stood out to me was his ability to succeed in tournaments from Ontario all the way to Florida. That level of fishing intuition and versatility is a special gift."
Beginning almost two decades ago, Gustafson began an incredible run of tournament success, winning the ultra-competitive Kenora Bass International in 2000 and 2008. He also claimed first place at the 2005, 2010, 2011, 2017 and 2018 International Falls Bass Championship and won the Fort Francis Canadian Bass Championship in 2013 and 2014. For the past six seasons, the star Canadian angler has achieved success on the nationwide FLW Tour, claiming numerous top-10 finishes. 
"Around 2016, Z-Man confidant Drew Reese, who spends his summers near my home on Lake of the Woods, introduced me to a bait called the Hula StickZ," recalls Gustafson. Reese, who finished seventh in the very first Bassmaster Classic in 1971, has been called one of the top finesse bass anglers in America.
"I was prefishing a tournament down in Arkansas, and Reese drove a couple hours and met me over on Table Rock Lake. He showed me how to fish the Hula StickZ on a Z-Man Finesse ShroomZ head—basically what we know today as the Ned Rig. At the tournament, I fished behind other boats and caught all kinds of bass in used water; the bait propelled me to a nice 11th place finish. It's been so good to me all over North America now that I always keep a Hula StickZ rigged up."
Gussy offers further perspective on the emergence of Z-Man baits among his professional peeps: "Z-Man ElaZtech baits have become big players on the BASS and FLW circuits. The baits are as soft and consistent as some of the best hand-pours. Their durability and buoyancy give me a ton of other advantages, too. 
"When I'm chasing smallmouths in Canadian lakes—places full of pike and walleyes—durability is huge. I can catch 40 or 50 bass on a single ElaZtech bait. And the buoyancy of a bait like the StreakZ makes it sit horizontal in the water, so bass see a totally natural presentation.
"Of course, everyone knows about the ChatterBait and its success in tournaments across the country.
Even my buddy Brandon McMillan, who's a lifelong flipper on Okeechobee, admits the ChatterBait is now the superior presentation; it's become the crankbait of grass fishing."
"Working with pros like Gussy who come in with a pre-existing belief in our baits is a dream scenario," summarizes Nussbaum. "His passion is authentic; it makes him the ideal person to help us spread the word about our baits and to expand our product line even further."
More ChatterBait News:
The post Ultimate Tackle Testimonial appeared first on OutDoors Unlimited Media and Magazine.