Facebook: Sherry Michaels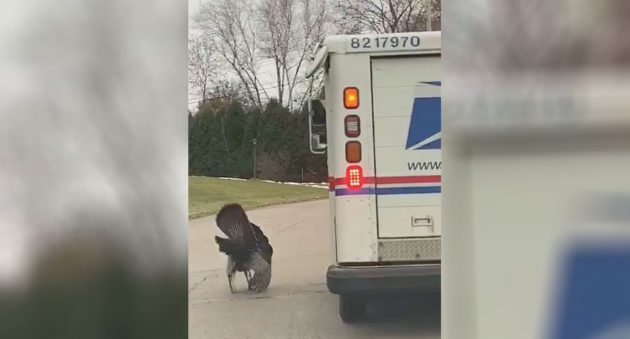 A gobbler in Wisconsin has been chasing a mail carrier every day for months.
When Sherry Michaels posted the video of a big Tom chasing the local mail carrier, she might not have known what a fun and far-reaching response it would get. Apparently, their local mailman has been dealing with this longboard for some time, so she took this great video.
"He didn't pay me any attention at all in the first couple of months," U.S. postal worker Jeff Byrne of Waukesha told WISN-TV. "He's acquainted himself quite well with the truck, and now he's started to follow me."
This isn't the first time that we've seen an amorous turkey chase a postal carrier, but this odd bird seems to have it out for Byrne, or just his mail truck. Just watching the silly bird chase after him, stop after stop, is enough to garner a few well-earned laughs.
Our poor mail carrier has been dealing with this for a month! 😂🦃🚐🍽 #usps

Posted by Sherry Michaels on Monday, November 18, 2019
Byrne said that the gobbler started following him over the summer, and it doesn't seem to have changed its mind, though it did startle him once or twice.
The turkey can be seen circling the mail wagon in full strut and acting as though it either wants to fight it or maybe breed with it? It's anyone's guess!
Being that it's so close to Thanksgiving, we'll give this wild bird a pass for now. But just for now.
Looking for a little more? Follow my webpage, or on Facebook and Twitter.
NEXT: WILD TURKEYS CIRCLING A DEAD CAT ARE THE STRANGEST THING YOU'LL SEE TODAY
WATCH
The post Turkey Chases Wisconsin Mail Carrier Every Day appeared first on Wide Open Spaces.