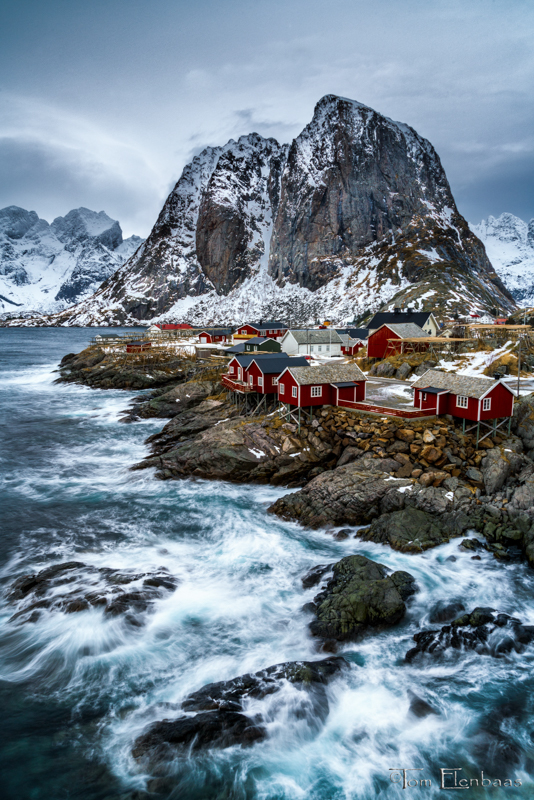 Congratulations to Tom Elenbaas for winning the recent Travel Photography Assignment with the image, "Hamnøy Rorbu."
"Two years ago, I had the opportunity to spend a week in Norway's Lofoten Islands," explains Elenbaas. "One of the highlights of the trip was staying in Hamnøy, the oldest fishing village in the Lofoten archipelago. Sitting perched on stilts above the crashing waves, the old fishing huts, the Rorbu, have all been converted to lodging. While they now possess modern amenities, staying there was an opportunity to get a glimpse of what life would have been like for Norway's cod fisherman in the not too distant past. 
"One of the iconic shots nearly everyone who visits the Lofoten Islands takes, and for good reason, is of the red Rorbu of Hamnøy with the mountain Festhelltinden as a backdrop. A bridge crosses the bay just outside the village and is the perfect place to set up. For this shot, I used a slow shutter speed to capture the movement of the waves as they cascaded across the rocks at the base of the village."
 Sony A7Rii, Sony FE 24-240 @24mm, ISO 100, f/22, 1.6 sec.
See more of Tom Elenbaas' photography at www.tomelenbaas.com.
The post Travel Photography Assignment Winner Tom Elenbaas appeared first on Outdoor Photographer.