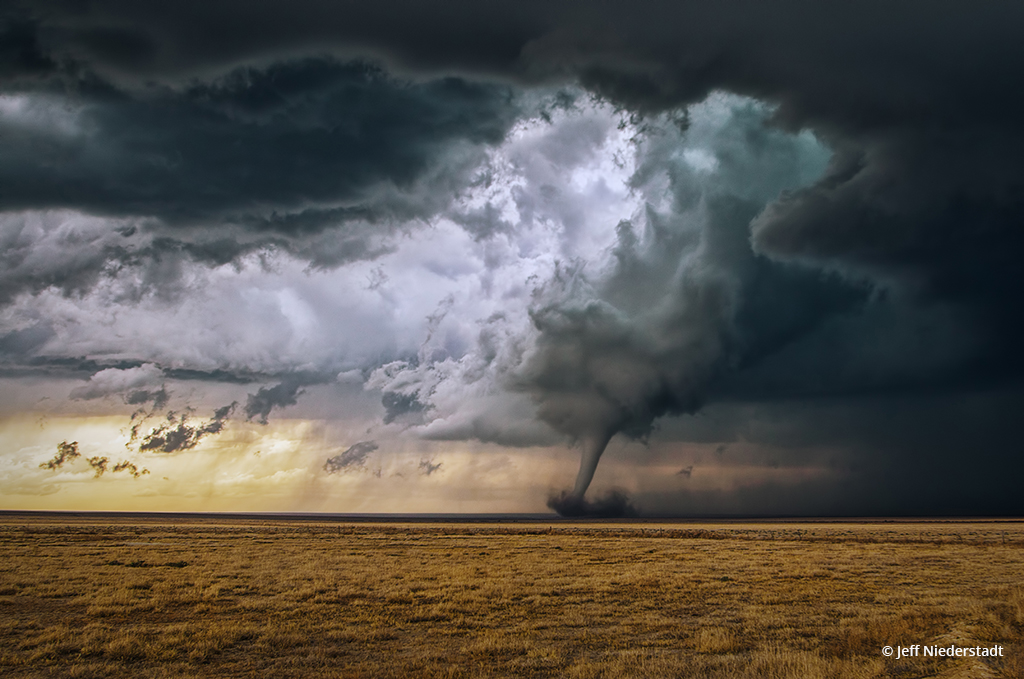 On the morning of April 15, 2016, I was totally unaware that later that day I would be given the opportunity to capture nature's fury in all of its beauty.
That morning, I looked over the weather data for the day and had to choose between two targets—one in eastern Colorado and one in the Texas panhandle. It was almost a flip of a coin, but I decided to take a chance in Colorado because it was only about a two-hour drive. My wife and I grabbed our camera gear and headed to our starting target of Eads, Colorado. When we arrived in Eads, the weather didn't look so great. The sky was boring, and the wind was very cold. We immediately chalked up our first chase of the year as a bust and headed to top off the fuel tank. As I filled the tank, I could see a storm rolling in from the southwest. We then decided to get a closer look and headed down the road. As we drove around the bend, we saw a funnel cloud form, and the day just got exciting.
We then turned on a dirt road and drove as close to the storm as the road would allow. As we were driving, we saw a small dust bowl swirling in the field not far from our location and spotted a small funnel cloud above it. It was a small, non-photogenic tornado but a good score for us. As we turned around and headed back the way we came, my wife spotted a new funnel cloud forming, and as we pulled over to watch the funnel fully condense and plant itself in the field. We then both quickly jumped out of the car, grabbed our cameras and tripods, and took off running through the field toward the tornado. When we were 100 yards or so away from the car, I noticed that with all of the excitement, we both left our doors wide open, and I hadn't even turned the car off.
I set up my camera as quickly as I could, not knowing how long this beautiful tornado would last, and just started firing off shots without paying any real attention to my camera settings. I was caught up in the moment and had to take a brief second to collect myself and try my best to capture this moment with my camera. The tornado stayed on the ground for a decent amount of time, and at times the storm came really close to forming another tornado alongside the initial one. Once the tornado dissipated, we chased the storm for a few more hours before calling it quits and heading home.
Storm photography can be beautiful, but it can also be very dangerous if you don't know what you're doing. If you're new to storm chasing and would like to give it a try, I'd highly recommend going with a storm chasing tour group or ride along with an experienced chaser. Some dangers while chasing could be lightning, large hail, high winds, flash flooding and other drivers. Be aware of your surroundings and always have an escape route planned. Abide by all traffic laws, and be courteous of others on the roads.
See more of Jeff Niederstadt's photography on Instagram @jeff_niederstadt.
Canon EOS 70D, Tamron 10-24mm F/3.5-4.5 Di II VC HLD, Manfrotto tripod, Bogen 3265 Grip Action ballhead. Exposure: 1/200 sec., ƒ/6.3, ISO 200.
The post This Ain't Kansas appeared first on Outdoor Photographer.