Rosé wines – the stunningly beautiful pink, orange, light red-hued selections – don the shelves of most retail stores this time of year, looking like a sea of pink. You can't miss them.
Rosé wines have been the fastest growing segment of wine in the past five years, often surpassing the consumption of white wines during warm, summer months! Rightfully so – rosé wines are perfect food partners for fresh grilled seafood and lighter summer dishes, as well as backyard gatherings, even if during this time our gatherings are small or consist of only one person, yourself!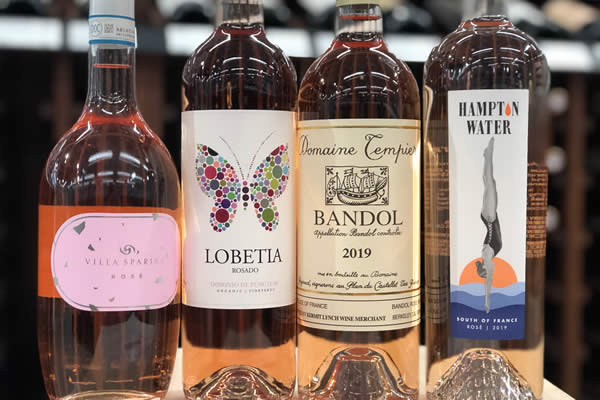 What Is Rosé?
Despite rosé's popularity, many still don't know what rosé wine is, asking often – "Is rosé made from a pink grape?" "Is it a red wine?" "From where does rosé get its beautiful pink color?" Rosé is a category of wine (like red and whites are categories) that encompasses many styles, from completely dry to semi-dry to very sweet, like White Zinfandel. However, the overall category of rosés should not be equated to White Zinfandel, a cloyingly sweet wine that got its fame by Sutter Home. White Zinfandel is technically a rosé, but not all rosés are sweet like White Zinfandel. Quite the opposite.
So, what makes a wine a rosé with its pretty pink-ish color, because there are not pink grapes? The answer to the color of all wines is because of the grape's skins and its contact with the juice. When grapes are pressed, the juice that comes out is clear, regardless of whether it is a white or red grape. (See and test this out for yourself. Buy red and white grapes from your local market. Squeeze the grape of each one until the juice comes out. Notice that the juice is clear regardless of whether it is a red or white grape.) Wines receive their color not from the juice but from the juice's contact with the grapes' skins. This technical term is called maceration.
You could in fact call a rosé wine a very light red because it is made from red grapes. But why pink and not red like red wines? For rosés, winemakers allow a grape's juice to soak with the skins of the grapes for only a short period of time, think hours. While for red wines, the skins and juice remain in contact for days or weeks. (Think of this process like a tea bag. The longer you leave a tea bag in a cup of water the more color is extracted; hence making the water darker.)
Each winemaker makes her or his own decision on how long the skins and juice remain in contact, based on the resulting color and taste that she or he wants! Since tannins are also in the skins of the grapes, the longer the skins and juice sit together, the more tannins are imparted into the wine. After they get the resulting color they want, the skins are then removed, and the wine goes on its merry way of fermenting.
Though France – particularly Provence and Tavel – has become synonymous with top rosés, there are fabulous quality ones from other countries and grapes – ie., Nebbiolo from Northern Italy; Pinot Noir from Oregon and California; Zweigelt from Austria; Tempranillo from Spain; and Moscofilero, Greece. The list can continue. Also, because there are many styles, rosés are great to enjoy all year, not just in summer.
Luckily, rosés run the price spectrum, with many starting at $10 and moving upward. Since we are all cooking at home more, try a rosé instead of your usual red or white wine! Ask your local wine shop for a suggestion based on your price and taste profile.
Here are my top rosé wines to enjoy all year and with many different dishes. Cheers!
Under $15
Landhaus Mayer Rosé, Austria – Grape: Zweigelt
Lobetia Organic Rosé, Spain – Grape: Tempranillo
Peyrassol La Croix Rosé, Provence, France – Grapes: Grenache, Cinsault
Under $20
Viberti Rosato, Piedmont, Italy – Grape: Nebbiolo
Villa Sparina Rosato, Monferrato, Italy – Grapes: Barbera & Dolcetto
The Splurge
Couly Dutheil Rose, Chinon, France – Grape: Cabernet Franc
Tempier Rose, Bandol, France – Grapes: Mourvedre, Grenache, Cinsault
The post Think & Drink Pink – For Summer & Beyond appeared first on The Savory Grape.