Facebook: Oklahoma Game Wardens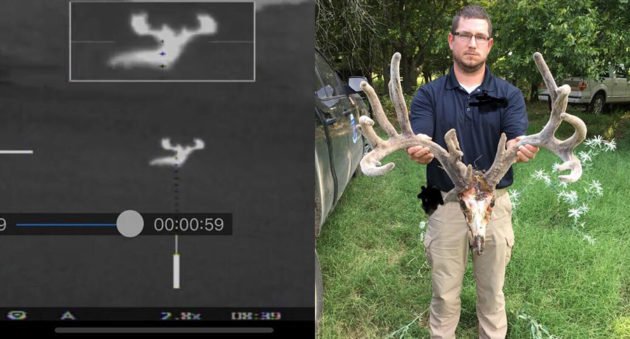 It's an absolute shame no one will ever legally harvest this buck.
Back in August, a hunter contacted conservation officers in Oklahoma in regards to two deer poachers from Ada who "found" a trophy-caliber whitetail buck out of deer season in Coal County.
Oklahoma Game Warden Ty Runyan was able to track down one of the suspects pretty quickly, who quickly admitted to unlawfully harvesting the deer. According to the following post from the Oklahoma Game Wardens Facebook page, the two men were hunting hogs with thermal optics near Clarita when they spotted the very large whitetail buck in a soybean field.
The suspect told Runyan he sighted the buck in his thermal scope and took the shot.
Shortly after, Ruynan seized his rifle and thermal scope, which authorities would hold for evidence.
Just last week on March 7, the two men accepted a plea deal, which resulted in a number of fines, suspensions and community service hours.
Both were charged with possession of wildlife not legally taken and hunting with the aid of a motor vehicle. The man who took the shot received $2,989 in fines, $3,000 in restitution and 20 hours of community service. Plus he lost his rifle for good, and hunting rights for three years.
The second subject lost his thermal scope and his hunting privileges for three years, too. He received $3,989 in fines and $2,000 in restitution.
Is it just me, or does it seem like the game wardens in Oklahoma are on a different level? Every time I hear of a big poaching bust, it's almost always in Oklahoma. In fact, we've actually covered stories about Runyan before!
So, either they're far better at publicizing their busts than other states, or Oklahoma is setting a new standard for wildlife management and law enforcement.
NEXT: COLORADO MOUNTAIN LION HUNTER SHAMED FOR 'TROPHY KILL'
WATCH
The post Thermal Hunting a B&C Buck Leads to Oklahoma Poaching Charge appeared first on Wide Open Spaces.