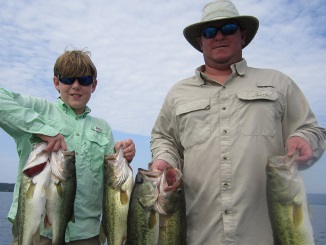 First of all, let me say that fishing in the heat requires some good common sense protection, water, ice, skin protection and just common sense is very much a part of being a smart fisherman when you approach the hot summer days. Coupled with that it is very easy to suffer from heat stroke and not realize it until it's too late; be smart and use common sense so you don't become a victim of heat stroke.
Fast forward to fishing in the heat of summer begins another challenge that forces you to be a smart fisherman and be versatile in order to have successful days on the water. There are however common threads that you should look for or practice to be successful in the summer. One thing I always try to keep track of in the summer is the moon phase, yes believe or not there is no time of the year that the moon phase affects the fishing more than it does in the summer. I always am aware of the full moon because there is just no way, I want to be on the water the day after a full moon; the bass feed all night during this and rest during the day. If I look back at my fishing in relation to the full moon phase my history tells me I should either fish at night or stay home. Of course the opposite is true during the new moon phase as it is always for me one of my best fishing days during the heat of the summer.
The next thing that becomes very obvious in the summer is the willow fly hatch; we have about 5 to 10 of these during the June, July and August time frame and this for me is another tough pattern to overcome after a late night willow fly hatch. It appears this pushes the bass to feed very aggressively during the night and not feed when the sun comes up. The pure fact that bass are competitive really turns them on when there is a hatch over the water this time of year. Wind, rain and some cold fronts also affect the fishing but in most cases these are positive during the summer time heat; the wind allows for some ripple and water movement as does the rain. Fish the heat and let the natural elements lead you!
Fish Lake Guntersville Guide Service
www.fishlakeguntersvilleguideservice.com
www.facebook.com/FishGuntersville
Email: bassguide@comcast.net
Call: 256 759 2270
Capt. Mike Gerry
The post The Natural Elements >>>> Fishing in the Heat appeared first on .