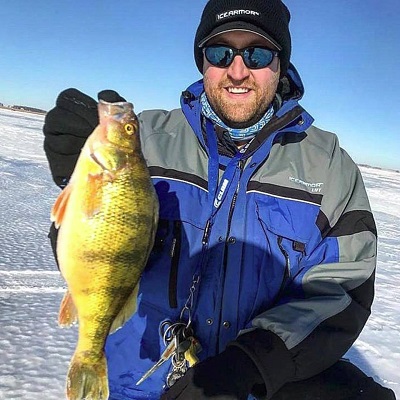 If you're tired of trying to fillet frozen or slimy fish, the NEW Clam FISH-WELL is for you! Instead of tossing your freshly caught fish outside in freezing temperatures, put them in the FISH-WELL. All that you need is an extra drilled hole. Simply lower the FISH-WELL so it floats and you can easily insert fish. Keeping bait fresh is important, but can be a challenge. Buckets can take up valuable space. The FISH-WELL is out of the way and your bait is always fresh, no maintenance period. Drill a secondary hole and place the live well inside. Fresh live bait at your finger tips. Great for use in the summer as well!

Order link – http://stores.clamoutdoors.com/clam/accessories/fish-well.html
Two models:
7" diameter for 8" ice hole

9" diameter for 10" ice hole
Features:
Nylon coated mesh bag is easily rinsed to wash away slime and scales. Simply hang to air dry.

Keeps fish/live bait fresh – not frozen when ice-fishing

Maximum flotation closed-cell foam keeps bag afloat

Velcro® closure secures your catch

Convenient carry strap

Fish can't pull it down the hole

Heavy-duty side zipper for easy dumping of your catch
The post The Fish Well From Clam appeared first on ODU Magazine-North America's #1 Digital Fishing Magazine.