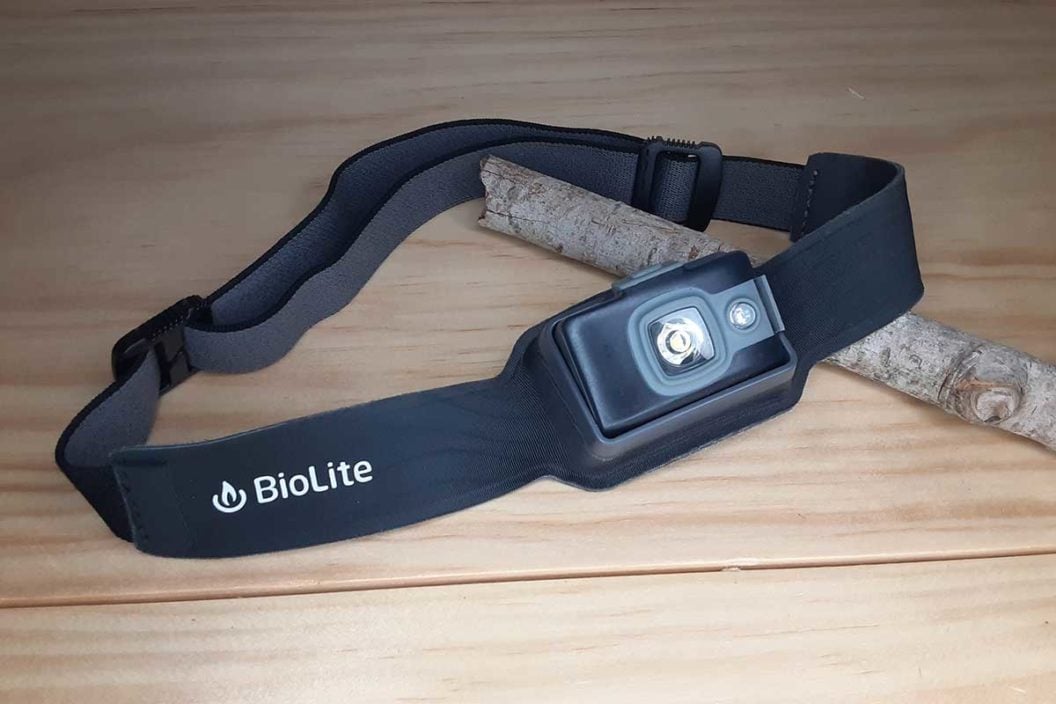 Early morning, predawn walks to a hunting spot are pretty normal. Just about anyone who's hunted deer or ducks is familiar with that sort of routine. And just about anyone who does it in Texas during the early season, when temperatures are still mild, knows to watch out for venomous snakes. It just comes with the territory.
When the first batches of waterfowl make their way to the Lone Star State in mid-September and teal are in season, I'm almost always going to be near some water, lugging a dozen decoys and a shotgun, eager to greet those early-arriving birds. I like to take those opportunities to test out some of the latest gear that's made its way to the Wide Open Spaces headquarters, and this past season was no different. I brought along the new BioLite Headlamp 325, an updated version of their earlier model that I'd already been lucky enough to try. I started the trek from the truck to my spot about a half a mile away, with the headlamp firmly strapped on. Little did I know the new gear test would literally save me from a seriously risky situation.
An Early Encounter
As I stepped carefully down a well-used cattle trail, as I typically try to do at this location (mostly to avoid cactus spikes), the BioLite Headlamp 325 performed its duties just fine. The articulating front bezel allowed me to angle the light beam towards the ground and brighten things up nicely in front of me. Then suddenly, I saw the well-camouflaged but still-visible outline of a coiled western diamondback rattlesnake, looking straight at me and poised for a strike.
Luckily I stopped in my tracks, gave the serpent a wide berth, and avoided getting any closer than I needed to. I had to stop for a second and take in the moment; if it wasn't for the light shining ahead of me, I never would have seen it.
Let's be real: a headlamp isn't typically viewed as a life-saving device. If I wasn't testing this particular model, I would have brought some other source of light along with me. Still, though I don't want to get too ahead of myself, I believe the BioLite Headlamp 325 played a significant factor in helping me avoid what could have been a stressful, dicey incident. I was completely alone, at least 15 minutes away from my vehicle, and probably an hour and a half's drive from the nearest hospital. I dodged a bullet.
Needless to say, my first real opinion of the BioLite Headlamp 325 was undoubtedly positive.
Further Features of the BioLite 325
Besides giving you the power to detect venomous critters in pitch black darkness, the BioLite 325 has a lot of great features. It's USB rechargeable, so you don't have to worry about swapping batteries, and it has a 40-hour burn time on low power, with a 3-hour limit if the power's on high.
The BioLite 325 has a White and Red light mode, both able to be dimmed from extra bright (a maximum of 325 lumens) to low, plus a White Strobe and Red Strobe for safety's sake. BioLite's use of "no-bounce" in their descriptions of their headlamps is truly accurate; unlike most other headlamps I've used with a big, bulky light source and a flimsy strap, the 325 holds firm and doesn't jostle around (even if I jump and scurry around a rattlesnake!).
Of course, I knew going in that the 325 would be comfortable, mainly based on my experience with the BioLite 200. The brand essentially guarantees it will be among the most lightweight, easy-to-wear headlamps you've ever tried on, and I'll vouch for that claim. The "HolyFit Guarantee," as they call it, is worthy of the name. The BioLite Headlamp 325 weighs just 1.75 ounces, roughly the equivalent of a golf ball. The adjustability is a cinch, and the one-handed operation makes it super simple to use. It's an all-star piece of equipment–one that I now know will be wrapped around my noggin each and every time I venture out in the darkness.
It comes in three different colors, and the back of the strap includes a reflective strip so anyone else with a light source can easily detect you from behind while you're wearing it.
All these excellent features add up to a headlamp that costs just $39.99, which is well within the range of similar models available. And BioLite's product lineup doesn't stop at headlamps; they offer plenty of other lighting devices, plus rechargeable power stations and a unique smokeless fire pit. In fact, several of their bestselling items are on sale through the holiday shopping period. Go to BioLiteEnergy.com to check out the discounts and savings.
The post The BioLite Headlamp 325 Literally Saved Me From Stepping On a Rattlesnake appeared first on Wide Open Spaces.