A familiar face has inspired Karen Khachanov's surge.
A familiar face has helped Karen Khachanov regain a winning state of mind.
Khachanov, who arrived in Indian Wells mired in a three-match losing streak, switched back to his Wilson Blade racquet and has reaped the rewards.
More: Federer Charges Into IW Semifinals
The 13th-ranked Russian, who announced he signed with Head in January, extended his Masters winning streak to nine matches surging into the Indian Wells quarterfinals against Rafael Nadal.
Interestingly, Khachanov was a member of Team Head until 2015 before bouncing to Wilson.
These days, some racquet changes are cosmetic though changing brands can create cracked confidence even in elite players.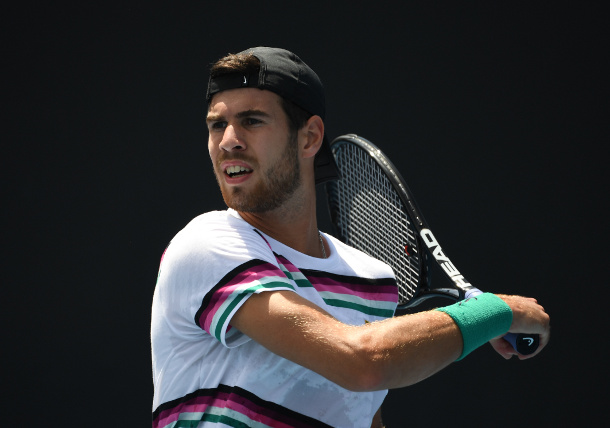 Rod Laver, the only player in history to win the Grand Slam twice, briefly switched from Dunlop to Spalding but could not find the feel and went back to Dunlop.
Roger Federer's switch from a 90-square inch Wilson Pro Staff to a more powerful 97-square inch sized version of the frame back in 2014 was a game-changer that gave him easier access to power on his backhand and serve.
Asked about Khachanov's racquet change today, Federer said trust is the quality he values most in his frame.
"It's the extension of the arm, essentially, and your hand," Federer said. "So from that standpoint the question is you always have to ask yourself, is your racquet and your mind going to be aligned at 5-All in the third set at 30-All?
"Can you hit it into the corner? Some days you just can't. That's nothing to do with the racquet. But that's why racquet changes need to be taken very seriously and at the right time of the year and with the right mindset, a positive one, not one in frustration."
Federer said he advocates experimenting with racquet and string technolog in the offseason, but cautions making the change can be a tricky process.
"(Khachanov) did it in a position of strength after a good season. Breakthrough season, essentially," Federer said. "But it's definitely not easy, you know. I never heard anybody say, This was, like, such a simple move for me. It just takes time, you know. I think it seems like he's back to his old racquet again.
"But I think it's good to test racquets, test frames, test new technology, because all of a sudden you realize that something is working better for you. Same with strings, for that matter. There is so much out there in the market that I have always been curious to find out what's out there, because maybe you find some that's better."
Photo credit: BNP Paribas Masters