Operation Game Thief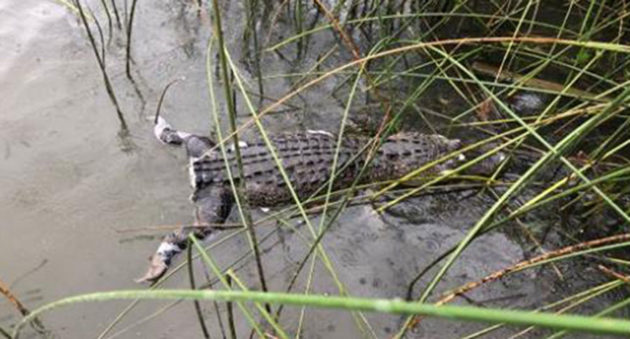 You've got to be brazen to cut the tail off an alligator and leave the rest to waste.
Texas Game Wardens are in search of information they're hoping can lead to the arrest and conviction of those responsible for cutting the tail off an alligator in Tarrant County.
The incident, according to Operation Game Thief's Facebook page, happened around August 1, 2019 on Lake Worth, near the mouth of the West Fork of the Trinity River. The lake is about eight miles from Fort Worth, Texas.
The mid-sized alligator was found dead with its tail removed, and odds are it was a case of poaching. The meat, skin, or both were likely harvested, with the rest left in the water.
Texas Game Wardens in Tarrant County are seeking information leading to the individual(s) responsible for this illegal…
A reward of $1,000 is being offered for information leading to an arrest. Alligator season in Tarrant County ended in June.
Alligator hide and meat, when harvested legally, is a decent business in southern states with gator populations. However, in Texas, only lawfully harvested alligators may be sold and only to a licensed wholesale dealer or alligator farmer. Gator hunters in the state also need a CITES (Convention on International Trade in Endangered Species) tag, which is an international agreement between governments to ensure that international trade in wild animals and plants does not threaten their survival.
It is unlawful to take an alligator by means of firearms from, in, on, across, or over public water, according to the Texas Parks and Wildlife Department.
Operation Game Thief is technically the Texas state wildlife crime stopper program, where tips and reports can be sent to those in charge of wildlife regulation enforcement.
NEXT: HERE'S WHAT IT LOOKS LIKE WHEN A PYTHON SWALLOWS A CROC WHOLE
WATCH
The post Texas Game Wardens Want to Know Who Cut the Tail Off an Alligator appeared first on Wide Open Spaces.