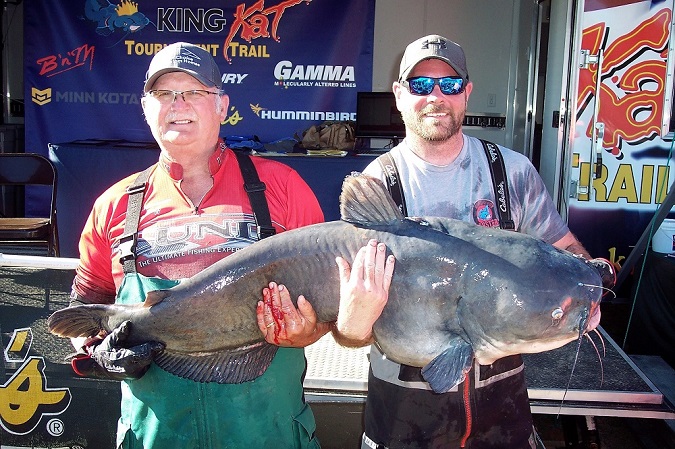 Catfish anglers from eight states traveled to Lake Tawakoni, TX  for a King Kat Tournament Trail presented by Bass Pro Shops Cabela's event. Thirty-eight teams were hosted by the cities of West Tawakoni and Emory, TX to test their catfishing skills against other anglers and Mother Nature.
Because of its history, anglers approached the event on March 9, 2019, with optimism. The winning weight in 2018 was 181.26 pounds, the heaviest one-day weight on the trail all year. Competitors were vying for $9,500 in cash and prizes, and an opportunity to qualify for the $120,000 Classic Championship to be held November 1 and 2, 2019, on the Tennessee River (Wheeler Lake) at Decatur, Alabama.
Friday temperatures were in the 80's, but a cold front blew into the area over night. Anglers began the day on Saturday with very severe thunderstorms in the area. One angler reported seeking cover under a boat shed as the hail fell and lightning was striking the water. The storms passed by mid-morning and the sun came out. Still, the front left the area with winds of 20-25 mph and temperatures in the high 60s to low 70s.
Results for the Top Catfish Teams
Justin Neece from Odessa, MO and John Jamison from Spring Hill, KS teamed up to take the title on Tawakoni on their first visit to the popular Texas lake. They brought 159.08 pounds to the scales to claim first place and earn a cash award of $3,800. They added the Big Kat Bonus of $740 and the Driftmaster bonus of $300. The big fish weighed 72.44 pounds.
All the anglers were challenged by bad weather. Jamison said there was hard rain, hail, and wind that he estimated to be 40-50 mph.
"The wind blew our boat in a complete circle," said Jamison. We caught our fish immediately after the front and before the high pressure moved in. It was a typical spring pattern. The main lake temperature was 48 degrees and jumped up to 61 degrees. This type of pattern is just getting started. As the increasing temps drive the shad in the blues are right behind them."
Neece and Jamison caught their fish in 2.5 feet of water on gizzard shad. They were fishing on the rope in the north end of the lake. They made fan casts around the boat and waited for the fish to move in. They caught their fish right after the thunderstorms and before the bluebird skies and high pressure ended the bite.
"In another week of warm temps there will be a lot more fish make this typical spring movement," predicted Jamison. "Today the wind was blowing bait up on the bank and that moved the tournament fish up shallow. Bluebird skies and high pressure after the front hurt our bite."
Wade McMillan and Wesley Mann claimed the runner-up spot with 128.58 pounds. McMillian from Dekalb, TX, and Mann from Texarkana fished the middle part of the lake around Waco Bay. They fished deeper 36-40 feet water to earn $1,800.00 for the day.
They began their preparation for Tawakoni a few months ago by visiting the lake when they could. They had developed a shallow water game plan a couple of weeks before the tournament.
"We had a very cold, cold front push through on Monday before the tournament," reported Mann. "We pre-fished the Thursday before and due to the cold snap, all the fish vacated the cold waters where they had been."
McMillan and Mann decided to come out of Waco Bay where the fish had been stacked for weeks and head toward deeper water.
"When we launched on tournament morning there was a large storm heading straight towards us," continued Mann. "As the storm approached, we had our first fish slam a rod. By the time we got it in we just had enough time to pull in everything and get to the shore for safety."
The storm passed and winds changed from south to west and they returned to where they had caught their fish and went over it again.
"We drug our lines across different terrain and elevation for over 3.5 miles into the middle of the lake," explained Mann. "On that 4-hour long drag we landed 4 of the seven fish we caught. With 2 hours left we moved south and tried to repeat. We only got one 5-pound fish on the 2-hour drag."  
The team used Spread Em Planer Boards and 5 drift socks to fish the windy lake. They said having enough drift socks on board was essential in keeping their speed down to an acceptable range in the 40 mph gusts.
Third place went to Josh Smith from Baldwin, KS and Brandon Kennedy from Lawrence, KS. The team weighed in 127.78 pounds to earn $1,400.00.
"Prefishing was very tough," said Smith. "The weather was crazy on tournament morning. We found some fish shallow and anchored on them. All said and done, it was a pretty tough day. It was a fish or two every spot we sat up on. Everything came before 1 pm."     
Smith and Kennedy found their fish on the west side of the lake. Picking up on the spring pattern they also fished shallow in 3-8 feet of water. The fish were shallow feeding on shad. The team moved around marking fish and then stop to anchor-up again and fish on top of them. They caught 7 fish on the day.
The local team of Mickey Casey, from Mesquite, TX and Kelly Lowman from Wills Point, TX, finished fourth with 122.56 pounds and earned a cash award of  $750.00. Being local they have the opportunity to fish Tawakoni about 4 times a week. They both operate guides services.
Casey and Wills targeted fish in deeper water in Oak Cove. They described the tournament day as "the absolute worst fishing conditions." They drifted all day using big pieces of cut shad to land 7 fish for the day. They were the top finishing Texans in the tournament.       
Rounding out the top five was another Texas team.  Steve Jones from Dallas, TX and Travis Brown from Sanger, TX. The Texas team weighed in 105.8 pounds and earned $500.00 for their day of tournament fishing.
Jones and Brown fished the middle part of the lake in 30-40 feet of water. They targeted open water, drifting with shad for bait.
The Remaining Top Ten
6th Place – Devin Hogan and Larry Johnson – 89.96                                                               
7th Place – Tony Pennebaker and Colton Quattlebaum  – 85.54
8th Place – Justin Cook and Gary Ryan – 85.46
9th Place – Kevin Parks and Ryan Gnagy – 72.32
10 Place – Ty Wolf and Troy Kulhmann – 60.28
Epilogue
Tournament director, Jeremy Coe thanked the West Tawakoni EDC and the City of Emory for hosting the event and making it possible to return in 2019. "We also want to thank Louis Parker with the Texas Trophy Catfish Association for their efforts in protecting and studying the trophy catfish in Texas," said Coe. They came out and made the weigh-in part of their tagging efforts and tagged over 50 catfish."      
"We would also like to thank the Cabela's staff from Allen, TX for joining us this weekend," added Coe. "It's always a great time having them out. A special thank you also to the American Legion Post #517 for hosting the captains meeting and feeding the anglers on Friday night."
National Sponsors
Bass Pro Shops Cabela's King Kat Tournament Trail sponsors include: Bass Pro Shops Cabela's, Excel Boats, Mercury Marine, Mustad Hooks, Humminbird, Minn Kota, B'n'M Poles, Gamma Line, Driftmaster Rod Holders, Ego Nets, Xtreme Bait Systems, Clear Boards, EFX Graphics, Catfish Now, Fin n' Frames, and Crown Trophy
For more information on the championship and other King Kat activities visit their website at www.kingkatusa.com. Anglers can also follow the trail on the King Kat Facebook Page.
Visit ODU's tournament coverage including bass, crappie, redfish, walleye and more at this link https://www.odumagazine.com/topics/fishing_freshwater/tournament-results-bass-walleye-crappie-redfish-and-more/
The post Team Neece/ Jamison win Cabela's King Kat Tournament on Tawakoni appeared first on OutDoors Unlimited Media and Magazine.