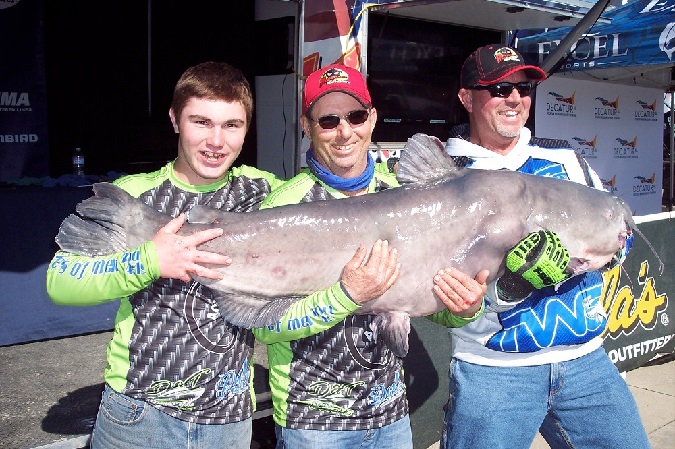 Catfish anglers from 13 states traveled to Wheeler Lake for a King Kat Tournament Trail event presented by Bass Pro Shops Cabela's. Fifty-eight teams gathered at Decatur, AL to test their catfishing skills against other anglers and Mother Nature.
Pre-fishing produced some good fish and anglers approached the event on March 16, 2019, with optimism. Competitors were vying for $15,700 in cash and prizes, and an opportunity to qualify for the $120,000 Classic Championship. Qualified anglers from all over the county will be coming on November 1 and 2, 2019, right back here on the Tennessee River (Wheeler Lake), at Decatur, Alabama.
The weather was sunny with high temperatures in the 50's and winds blowing from the NNW at 10 to 15 mph. With plenty of recent rains in the area there was lots of current running with water temps at and around 56 degrees.                                                 
A good tournament day bite resulted in some huge fish coming to the scales, including the biggest blue catfish ever weighed at a King Kat event.
Results for the Top Catfish Teams
First Place
An outstanding day for Jerry and Noah Ishcomer and Stacey Gaston gave them the win on Wheeler Lake. The father and son from Jasper, TX teamed up with Gaston from Greenville, AL and brought 156.9 pounds to the scales to claim the victory. They caught only 4 fish of a 5 fish limit to post the victory. One of their 4 fish was an 89.28-pound personal best for Gaston. Not bad, considering they were not sure they were even going to fish the tournament.
The team competes under the name of the "Catfishing Christians." They fished downriver from Decatur using both anchoring and drifting techniques and caught fish both ways. They used skipjack for bait targeting fish at 25 to 30 feet deep in cover.
"When we left Tawakoni, TX on the 10th of March headed for Decatur Alabama, we had no idea if our boat would be fixed in time for the March 16th King Kat tournament on Wheeler," said Jerry Ishcomer.
They pulled their boat into Dry Creek Marine in Decatur and found the entire lower unit was damaged. Parts were ordered and prayers began.
"Stacey Gaston was one of the people who had called and offered to let us use his boat," added Jerry. "After we knew that the boat would be fixed by Saturday, I called Stacey to ask him if he would like to partner up and fish the tournament with me and Noah. He said that he would. We had no time to prefish the tournament, we just trusted that the Lord would provide the fish."
"First and foremost, I enjoyed spending the day fishing with Jerry and his son Noah," offered Gaston. "We shared stories about how good the Lord has been to us and what kind of effect that Jesus has made in our lives."
"Putting that big 89.28-pound blue cat in the boat will always be an unforgettable moment," continued Gaston. "Not to mention all the talk, excitement and adrenaline that was going on between us three during the fight as we landed that big fish with the drag ripping."
"Coming to the weigh-in knowing that we had around 150 pounds was exciting," concluded Gaston. "As was being able to share that moment with a family that was enjoying the moment as much as I was. The only thing that would have made it better would have been having my wife Dawn to experience that moment with me."
"My favorite part was just hanging out with dad and Stacey "Smackdown" Gaston while we waited for the fish to bite," said Noah.
"While the boat was at the shop my wife and daughter both told me that they believed in JESUS NAME, that I would either win, or place in this tournament," concluded Jerry. "Because after everything that happened the Lord was going to give us a victory."
Second Place
Carl Morris Jr. and Rob Parsons broke the King Kat record for biggest fish ever weighed at a King Kat event. The huge 114.96-pound Wheeler beast contributed to a total weighed of 143.72 pounds to claim the runner-up spot and earn $2,600 for second place and $1,160 for Big Kat. The team used skipjack to catch 3 fish of a 5 fish limit that included the record-breaking blue. They had to throw a 34.5-inch fish back when they caught the big one.
Morris, from Johnstown, OH, and Parsons, from Mt. Vernon, OH, fished downriver near the dam where they had thoughts of drifting but circumstances left them spot-locked all day.
"We spent most of our tournament day spot-locking on different structure," reported Parsons. "We had scouted it out the previous two days. We were marking some fish, but they were not cooperating for us."
By 2:00 pm they only had 3 fish in the boat that weighed around 45 pounds. They were sitting on their last spot when they observed a boat drifting by and catching a few fish.
"We made a split moment decision to spend our last little bit of time drifting," said Parsons. "We wanted to see if we could at least put a limit on the boat. We had reeled 5 of the 6 rods in and as I grabbed the 6th rod to start reeling, it felt like it was snagged. A couple more cranks and the snag started fighting back."
After about half of the fight, they realize that they had something special on the other end of the line. Parsons would crank it up 10 to 15 feet then it would scream right back to the bottom.
"After doing this for what felt like forever, but really only about 10 minutes, we started seeing bubbles," continued Parsons. "Then we really got excited. Carl netted the fish the best he could, considering it wouldn't totally fit, and it took both of us to get it over the side. That's when we exploded."
The scale they were using pulled to 100 pounds and bottomed out. It went to a point where it reads "FULL." They did not know how much the fish weighed until they got to the weigh-in.
 "The Fat Boy custom bumping rod along with Monster Rod Holders got a work out on this trip," added Parsons. "Congrats to all the teams that placed well. You needed over 100 pounds just to reach the top 10! The Ishcomer/Gaston team were a deadly combination this weekend."
"We really didn't know the true size of the fish," concluded Parsons. "We found out at the weigh-in with the rest of the crowd. It was a once in a lifetime fish for sure!
Third Place
The B'n'M Poles team of Joey Pounders and Brad Box from Caledonia, MS fished downriver from Decatur to bag their third-place fish. They weighed in a total of 136.78 pounds to earn $1,900.
Pounders and Box fished around the dam downriver from Decatur using 10-foot B'n'M Silver Cat Magnum rods. They anchored both days but had to make an adjustment to do so, because of the windy conditions.
"Brad and I fished a tournament on Wheeler a few months ago," reported Pounders. "We found a pattern on fish close to Spring Creek late in that event but ran out of time. In the Cabela's tournament we went right back to that area we found before and was able to stay there all day."
Fishing was good enough that the team culled three over 34-inch fish. In fact, Box landed 49- and 47-pounders back to back that had to be returned.
"We were using live shad and skipjack," said Pounders. "The bite was better on skipjack filets. We were working ledges in 21 to 28 feet deep areas most of the day. The current was mild and the wind did cause a little problem. We were able to adjust to the windy conditions by using up to 4 drift socks in certain areas. That allowed us to anchor most of the day. We caught around a dozen fish on the day."
Fourth Place
Fourth place went to James Rice and Maurice Rice from Ashley, OH. They brought a weight of 126.52 pounds to the scales to earn $1,200.
Team Rice found the fish to be scattered so they decided to drift. They targeted fish in about 40 feet of water. They used skipjack to land more than 20 fish for the day.
Fifth Place
The fifth-place spot went to Greg Edwards and Dale Kerns. The Norris City, IL team weighed 123.8 pounds and earned a check for $800.
Edwards and Kern drifted right out in front of Ingalls Harbor. They were targeting fish that were holding on ledges in 25 feet of water. They used skipjack for bait to land 6 fish on the day.
Other Top Catfish Teams
6th Place – Mike and Jackson Mitchell and Rick Sexton – 114.86
7th Place – Casey Tutorow and Andrew Han – 110.7
8th Place – Mark and Donald Robbins, and Randy Carie – 108.50
9th Place – Josh, Zed, and Les Moore – 105.32
10th Place – Jason Shaw and Kevin Woolfolk – 101.78
Epilogue
Tournament director, Jeremy Coe sent out a special thanks to Danielle Gibson and Staff at Decatur Morgan County Tourism for making the event possible. He also thanked the City of Decatur for their hospitality and support of catfishing and for the wonderful facilities at Ingles Harbor.
"We cannot wait to return to Decatur, AL for the $120,000 Classic in November," said Coe. " After this weekend's outstanding weights November cannot come fast enough."
"Congrats to the winners, Jerry and Noah, and Stacey Gaston on their winning weight that include a near 90-pound second big fish," continued Coe. "Congrats also to Carl Morris Jr. and Rob Parsons for taking Big Kat and breaking the King Kat heaviest fish on record with a blue cat the weighed almost 115 pounds."
National Sponsors
Bass Pro Shops Cabela's King Kat Tournament Trail sponsors include: Bass Pro Shops Cabela's, Excel Boats, Mercury Marine, Mustad Hooks, Humminbird, Minn Kota, B'n'M Poles, Gamma Line, Driftmaster Rod Holders, Ego Nets, Xtreme Bait Systems, Clear Boards, EFX Graphics, Catfish Now, Fin n' Frames, and Crown Trophy
For more information on the championship and other King Kat activities visit their website at www.kingkatusa.com. Anglers can also follow the trail on the King Kat Facebook Page.
Related articles:
Vexilar Video – Ice Fishing Today – Ice Team U Catfish
Record breaking blue catfish caught in Western Kentucky
SeaArk Owner's Tournament Turns out Monster Alabama Catfish
The post Team Ishcomer/Gaston wins Cabela's King Kat Tournament on Wheeler Lake appeared first on OutDoors Unlimited Media and Magazine.