YouTube: sam olson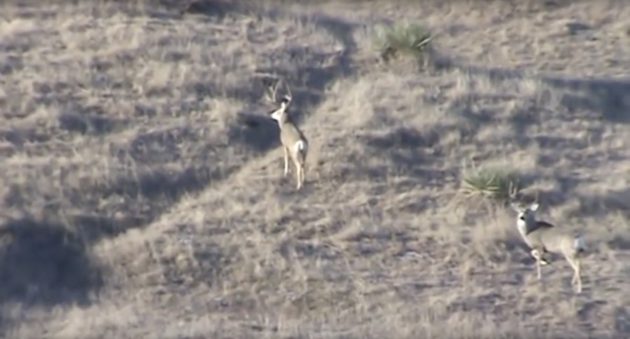 Here's a good example of what sort of performance you can expect out of a suppressed 6.5 Creedmoor on a mule deer.
The 6.5 Creedmoor has made a big splash since it entered the mainstream hunting community a few years ago and hunters have used it to take everything from pronghorn to Rocky Mountain Elk. In short, this is because many hunters love the mild recoil, minimal wind drift, flat trajectory and good penetrating characteristics of the cartridge.
This particular hunter took things one step further by adding a suppressor the his rifle, which enabled him to enjoy all the benefits of the Creedmoor with an even milder report. There are many benefits to using a suppressor, not the least of which is the fact that suppressed gunshots don't disturb game as much as an unsuppressed gunshot. This video does a good job of putting that benefit on display.
Check out the video and pay close attention to the reaction of the other deer standing next to the one he shot.
Pretty good reaction, right? That other buck had no idea what was going on!
As Keith Warren has demonstrated, using a suppressor can give hunters the opportunity to take another animal out of the same group. Even though he certainly had the opportunity to do so, the hunter in the video did not shoot the other buck because he only had one deer tag. However, using the suppressor would probably have helped him take a follow up shot if he missed with his initial one.
Fortunately, he made a good shot and the 140-grain A-Max bullet from his 6.5 Creedmoor performed as advertised on that big South Dakota mule deer. Nice work!

Like what you see here? Check out John McAdams on his hunting blog. Learn more about the New Zealand Hunting packages Big Game Hunting Adventures offers on their web site or follow them on Facebook, YouTube, & Instagram.
NEXT: EVERYTHING YOU WANTED TO KNOW ABOUT WINCHESTER DEER SEASON XP AMMO
WATCH
The post Suppressed 6.5 Creedmoor Fits the Bill for South Dakota Mule Deer Hunt appeared first on Wide Open Spaces.