Stripers Forever, the not-for-profit, all volunteer conservation organization is holding their Annual, online Fund-Raising Auction to raise much needed funds to help save wild striped bass. Everyone that cares about this marvelous fish and fishery is invited to join in on the bidding. The auction began on 2/1/18 will last for only two weeks ending on 2/18/2018 so check it out today at www.stripersforever.org/auctions/.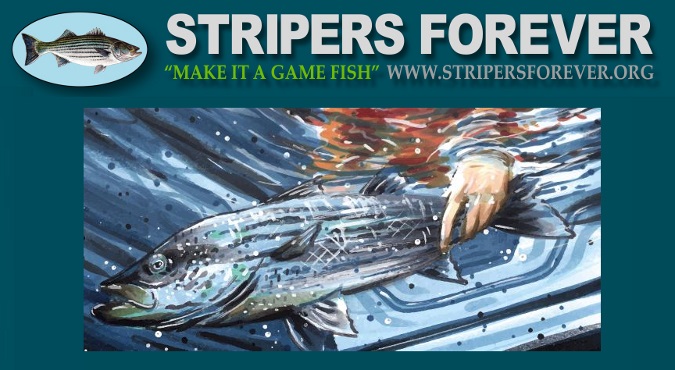 There are works of art, soft plastic lures, merchandise from top manufacturers like Orvis, Hatch, and Sci Anglers, hand tied flies, custom plugs, guided fishing trips to New Brunswick, Cape Cod, Nantucket and many other places up for bid. All proceeds help fund Stripers forever's efforts to have our striped bass managed responsibly for the future.
From Their Website: "Stripers Forever is an all-volunteer, conservation organization with no paid administrative staff.  Everything that we raise goes into our advocacy efforts.  It takes money to run our communications, fund our various programs and pay our lobbyist.  Striped bass enthusiasts can get no greater bang for their donated conservation dollars than by helping Stripers Forever raise the funds needed to cover our modest budget.  Unless it says otherwise the item is shipped free to the winning bidder.
The items being auctioned here are either wholly or in great part donated to SF by fellow striped bass fishermen. Please, bid early and often, and email your friends this link so they too can get in on the bidding fun. Remember, all monies raised go directly into wild striped bass conservation.
Do you have a product or service that we could add to the auction? If you complete and return the 2018 Donation Form to stripers@stripersforever.org. You will get great recognition and advertising value through the exposure to our other members.
Before the auction begins you can visit the My Account page and setup your account so you can be ready to bid on items when the auction begins. Each item has a auction history tab on its individual page, here you can see the status of the bidding. Shipping is included in the winning auction price. Guide trips will be delivered by email. Please feel free to email Brad Burns at stripers@stripersforever.org with any questions."
The post Stripers Forever Fund-Raising Auction appeared first on ODU Magazine-North America's #1 Digital Fishing Magazine.