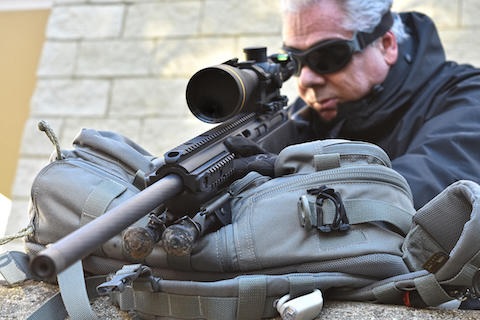 Steyr Arms has announced the first 2018 dates for the new Steyr Arms Training Academy at the company's headquarters in Bessemer, Ala. Led by Academy Director Eduardo Abril de Fontcuberta, the first two courses, SPR-I (Steyr Precision Rifle) and SPA (Steyr Precision Armorer), will be conducted March 9 through 11and March 30 through April 1, respectively, with more courses slated for May.
Fontcuberta, a native of Spain, is a world champion long-range competitor with more than 25 years of experience as a military and law enforcement sniper trainer and armorer. His name is probably most recognizable from his frequent writing in national firearm magazines and his book, 100+ Sniper Exercises. In order to provide more personal-trainer-like sessions with ample individual instruction, Fontcuberta is limiting each of the three-day courses to a maximum seven students. Each of the courses will provide students with a total of more than 24 hours of intensive instruction.
The SPR-I course is meant to provide students with theoretical knowledge, shooting practice and the ballistic skills needed to reach each Steyr rifle's accuracy potential. The course covers the fundamentals of rifle marksmanship, creation of extremely accurate paper and electronic tables, as well as understanding of how different factors affect shooting. During the dynamic classroom sessions as well as range practice, Fontcuberta will adapt to the students' needs while covering all the components of successful long-range shooting, including equipment selection and refinement, proper zeroing techniques, zero-distance selection, scope and rifle accuracy testing, wind estimation, new hardware, and ballistics know-how and software options. A Steyr Logbook is also included with the course. Students who don't own a Steyr rifle prior to the course can rent a Steyr Pro THB rifle, and other rifle models will be available on request. By the end of the course, students will be able to operate on their own with supreme confidence when shooting targets or hunting.
Rather than a typical parts-replacement class, the SPA course focuses on the art of assembling and maintaining a precision rifle to include all special needs, optics, ammunition, and complex adjustments. Fontcuberta will provide students the knowledge to gain 100-percent effectiveness from their Steyr precision rifles, as well as complete repairs and keep them performing at competition/sniper standards. The course will cover all the maintenance, replacement, disassembly and re-assembly procedures, trigger adjustment and even barrel changes. Students will also learn about scope-rail selection, scope-base types, proper mounting of optics and night-vision systems and advanced stock adjustment and how to test and evaluate a scope system. In addition, the course will cover advanced zero procedures for armorers, no-shooting field zero and how to create custom tables adapted to the scope, ammunition and performance for each individual rifle setup. Students will also be able to test-fire their work both at Steyr's indoor test range as well as on a 600-yard outdoor range.
Tuition for each course is $995, and Fontcuberta has plans for future courses that will focus on other Steyr firearms platforms and their employment. For more information on the Steyr Arms Training Academy and the courses offered, visit http://steyrarms.com/academy/.
The post Steyr Arms Kicks Off Its New Training Academy appeared first on ODU Magazine-North America's #1 Digital Fishing Magazine.