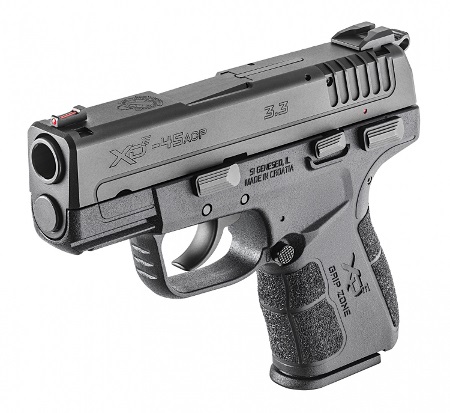 Springfield Armory® is pleased to announce a new XD-E chambered for .45 ACP. Now buyers have a choice of 9mm or .45 stopping power in a pistol designed for comfort, concealability, safety and with special attention to its ease of operation.
Like its 9mm sibling, the new .45 model sculpts XD-E Point & Shoot Ergonomics

into a sleek polymer frame just an inch wide, for ideal hand and holster fit. The Low Effort Slide (L.E.S.) requires 27% less effort to manipulate compared to striker-fired handguns in the same class. Chambering a round has never been easier thanks to the patent-pending hammer design, resulting in far fewer slipped pulls, and quicker, possibly life-saving operation when it counts.
For customers who are hesitant to carry a striker-fired pistol in their waistband or handbag, the XD-E offers an undeniable set of safety features that will give new shooters the confidence to carry concealed. The external hammer and loaded chamber indicator allows you to both see and feel gun mode for added safety and confidence. The double action trigger has a smooth, yet long and deliberate trigger pull giving shooters a sense of comfort while carrying on the go, while the follow up shots from the single action trigger are light, crisp and accurate.
The XD-E features an ambidextrous thumb safety/decocker and magazine release. Anti-slip texturing has been applied to strategic positions of the grip surface designed to provide comfort and control by making contact with your hand where maximum hold is needed.
For easy sight acquisition, the XD-E .45 ships with high quality steel sights right out of the box. The fiber optic front sight paired with a low-profile white-dot rear, provides a positive sight picture that's easily picked up in low light conditions. The serrated rear surfaces help to reduce glare. To enhance reliable accuracy, the 3.3-inch barrel is hammer-forged with a precise 1:16 twist and Melonite® treated to match the challenge of constant carry in all conditions. Beneath the barrel, a dual recoil spring system, managed by a full-length guide rod, facilitates steadfast reliability and a soft-shooting feel.
Three magazine options let you personalize concealability and capacity. The XD-E .45 ships with a 6-round magazine with pinky extension and 7-round magazine with the grip extension. It also ships with an interchangeable flush base plate for maximum concealability.
"Our customers told us they'd like the fight-stopping power of a .45 ACP, with the easy racking ability of our XD-E Series," says Springfield Armory CEO Dennis Reese. "The new XD-E .45 gives them exactly what they asked for: a no-compromise pistol that offers multiple safety modes for peace of mind no matter how you choose to carry."
The XD-E is also available with Viridian E-Series laser in both 9mm and .45 ACP. It features ambidextrous operation and an extra secure dual attachment system that clamps onto the trigger guard and accessory rail. Easily removable should warranty repair be required. No need to be separated from your everyday concealed carry pistol.
With its sleek profile, secure feel and perfect balance, it goes from invisible to operational in an instant, for the all-situation security every American citizen deserves.
Now available in four configurations:
XDE9339BE, 9mm, MSRP: $525
XDE9339BVR, 9mm with Viridian Laser, MSRP: $555
XDE93345BE, .45 ACP, MSRP: $568
XDE93345BVR, .45 ACP with Viridian Laser, MSRP: $598
About Springfield Armory®
Founded in 1974, Springfield Armory Inc. is located in Geneseo, Illinois. Its iconic brand remains unmatched in quality, precision engineering, manufacturing and unparalleled customer service in the firearms industry. The USA facility in Geneseo engineers, manufactures and assembles the legendary M1A

, 1911 and SAINT® AR-15 line of firearms. Since 2001, Springfield Armory has enjoyed a strategic, collaborative partnership with the state-of the-art factory in Croatia working hand in hand in the development and engineering of the multiple award-winning line of XD® polymer pistols that have become staples in the US marketplace. For over 40 years Springfield Armory has been committed to providing customers with trusted and reliable defensive products and a time-honored dedication to customer service excellence.
The post Springfield Armory XD-E .45 ACP appeared first on ODU Magazine-North America's #1 Digital Fishing Magazine.