In observance of its 20th Anniversary in 2017, Henry Repeating Arms has created a superb, highly collectible "One of Twenty" Edition of its highly popular Big Boy .44 magnum lever-action rifle. The "One of Twenty" Edition will feature hand-engraving, AAA-grade American Walnut, special "One of Twenty" serial numbers and Presentation Walnut Display Cases.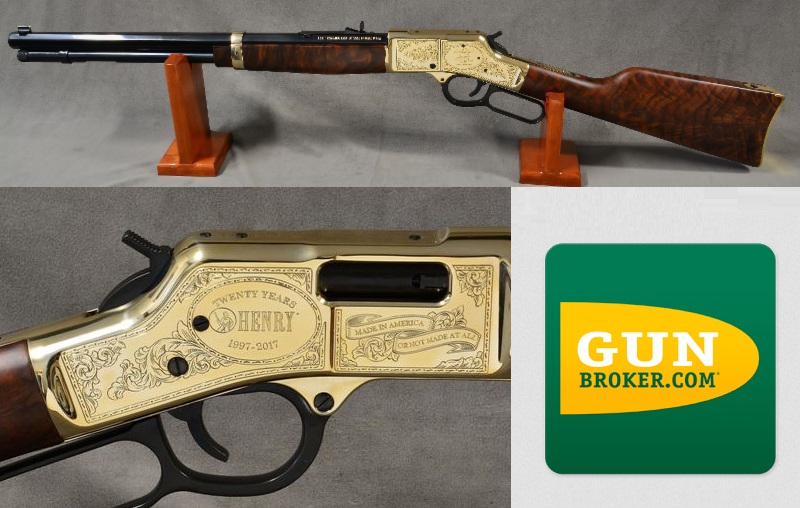 This rifle bears serial number "20HENRY13." The auction begins December 24 on GunBroker.com and runs through January 7.
Auction proceeds will go 100 percent to support the Project ChildSafe Foundation and the National Shooting Sports Foundation's Project ChildSafe® program. Project ChildSafe Foundation is a 501(c)(3) non-profit charity. NSSF's Project ChildSafe program works with communities to encourage gun owners to securely store their firearms when not in use to help prevent accidents, thefts and misuse. The program has distributed more than 37 million firearm safety kits that include a gun lock and safety literature, and makes many firearms safety resources available at ProjectChildSafe.org.
Each of the "One of Twenty" Big Boys has been donated by Henry to an organization working in support of America's hunting and shooting sports heritage. Each will be auctioned to provide important funding in support of hunting, shooting and conservation in America.
This handsome serial number "20HENRY13" is fully hand engraved just like the hand-engraved 20HENRY01 which recently auctioned on GunBroker.com for $25,225.00
The engraving on this rifle is by the internationally-known and award-winning Baron Engraving of Trumbull, Connecticut. Baron has provided custom engraving services for most of America's major firearm manufacturers and hunting and conservation organizations, including Ducks Unlimited, National Wild Turkey Federation, Rocky Mountain Elk Foundation, National Rifle Association, U.S. Military Academy at West Point and others. Baron has also designed and engraved more than 25 one-of-a-kind firearms for the official SHOT Show Auction.
An icon in the firearms industry, Henry Repeating Arms is proudly celebrating 20 years of American manufacturing. Since 1997, Henry Repeating Arms has stood for quality, reliability and has provided award-winning customer service on a personalized level that sets the brand apart. Throughout its history, Henry Repeating Arms has had a steadfast and unwavering commitment to keeping its manufacturing operations in the United States and providing its customers with firearms that are "Made in America or Not Made at All."
"Over the past two decades, I've come to realize that it's our customers that make Henry the brand it is today," said Anthony Imperato, President and owner of Henry Repeating Arms. "Henry is a brand that represents many different things for customers from all walks of life. It's their stories, their passion for Henry and shooting sports that continue to push us to be the best possible firearms manufacturer we can be."
Supporting the shooting sports has always been at the core of Henry Repeating Arms' DNA, so Imperato felt it would be fitting to continue that tradition as the company marks its 20th anniversary. Henry has partnered with the Hunting Heritage Trust to auction the "One of Twenty" Anniversary Edition Big Boy .44 Magnum rifles with 100% of the proceeds going to non-profit organizations working to support hunting, shooting and wildlife conservation in America.
"The incredible, positive impact that these organizations have had on the shooting sports industry is immeasurable and we're proud to have the opportunity to help fund their work for years to come," added Imperato. "Collectors and Henry enthusiasts alike will be drawn to the intricate, hand-engraved details these rifles will feature, along with their extraordinary AAA grade American Walnut and special "One of Twenty" Edition serial numbers."
All rifles in the "One of Twenty" Edition will come with the custom Henry Walnut Wall Display shown in the listing photographs.
The High Bidder for each "One of Twenty" rifle will receive a signed "Certificate of Authenticity" from Henry Repeating Arms President Anthony Imperato certifying that the rifle was one of only 20 produced in recognition of the company's 20th Anniversary and auctioned to raise funds in support of America's hunting and shooting sports heritage and highlighting the organization that benefited from the auction.
Henry collectors estimate that the "One of Twenty" edition will raise in excess of $100,000.00 for programs in support of America's hunting and shooting sports heritage.
The post Special Henry Big Boy .44 Magnum 'One of Twenty' Rifle to Benefit Project ChildSafe Foundation appeared first on ODU Magazine-North America's #1 Digital Fishing Magazine.