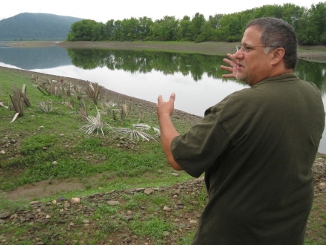 For more than four decades, Shane Titus has been helping create fish habitats in the Allegheny Reservoir — one Christmas tree at a time.
This year, Titus, the Seneca Nation of Indians fisheries manager for the Allegany Territory, has been part of a significant effort to improve habitats, connect landlocked sections of water to the reservoir and use passive erosion-control structures at creek mouths.
"I've been camping here for 43 years," Titus said, pointing to an area behind a dock that normally would be jutting into the waters of the reservoir in a large cove. There was a pile of what looked like Christmas trees sitting on the bottom of the reservoir, where grass is quickly growing.
"I started putting Christmas trees in the reservoir when I was a kid," Titus said.
He's still doing it. But the trees only last a couple of years underwater, where they provide shelter and food for small fish that use the cove as a nursery.
Titus wrote a grant request to the National Fish and Wildlife Foundation, which awarded the Seneca Nation a $350,000 grant, which leveraged another $225,000 from other sources including the Seneca Nation.
On Monday morning, Titus and Allegany Territory Conservation Manager Larry Becelia checked on new artificial habitat structures and channels to connect landlocked portions of the reservoir.
The artificial structures, designed to mimic natural habitat, consists of cut-up scrap vinyl siding anchored in concrete poured into a piece of 4-inch drainage pipe. More than 2,300 of the pipes are secured in holes drilled into the reservoir bottom.
Many were installed in the winter, when the reservoir level is low. This year's drought has left many parts of the reservoir more than 10 feet below the normal summer pool level. With the reservoir level about a month ahead of schedule, more are being installed.
As soon as the bottom dries out again, a mini excavator will be brought in to deepen ditches that will reconnect the isolated water sections to the reservoir.
"We lose fish every year due to evaporation, lack of oxygen and predation," Titus said. "We're opening up ways so they will drain and the fish won't get stranded."
Titus, who relies on his experience and common sense in his job, started researching artificial habitats six or seven years ago. He came across Fishiding, a Wonder Lake, Ill., company that turned scrap PVC and vinyl siding into fish habitat. When the grant came through, Titus looked to the company for part of the project.
It turns out that this vinyl, after being bent into more flexible shapes that mimic underwater plants, not only provides protection for small fish — the algae that clings to the artificial habitat also provides a source of food for fish and invertebrates. Several area youths were hired by the nation this summer to "bend" the vinyl pieces, Titus said.
Fishers soon learn the artificial strictures draw fish. They're also a little more forgiving with fishing lures because the hooks often slide off rather than getting snagged on a tree branch.
"It works," Titus said. "It will last for my lifetime."
The biggest beneficiaries at this location on the east side of the reservoir off Route 280 seem to be crappies, or calico basses and perches. Several other species use the cove at one time or another, including walleyes and smallmouth and largemouth basses.
There are many benefits of shallow-water nurseries, Titus said. Not only do many fish spawn in the gravel areas beneath the surface that were once roads or railroads, but newly feeding fish also grow and survive longer in the protected areas before going out into the main part of the reservoir.
Besides extending channels to the landlocked areas of the reservoir, erosion control is another important phase of the project. Clusters of posts near the mouth of a creek will trap debris and help stabilize the area, Titus said.
"It's my passion," Titus said of his dreams of improving the fisheries. "I grew up here. It's our culture. Our heritage."
Walking down an old railroad bed usually beneath the surface of the reservoir, Titus points out nests fish have made in the gravel.
Titus, a Salamanca High School graduate who joined the military and was later involved in sales, said the job is where he wants to be. He got some hands-on experience with Department of Environmental Conservation fisheries staff and later joined the Seneca fisheries law enforcement team.
Several years ago, Titus asked his boss if he could draw up a grant for a walleye hatchery. That was successful. Now turtles and hellbenders are also being raised at Seneca hatcheries, he said.
"We're two-thirds of the way finished with the project," which will continue into the winter months while the reservoir level is still low, Titus said.
By Rick Miller. Follow him on Twitter, @RMillerOTH)
The post Seneca Nation using grant to improve reservoir fisheries appeared first on .