Savage Arms has great news for southpaws. The company is expanding its already extensive catalog of firearms geared to left-handed shooters with the release of additional options in center-fire target, hunting and rimfire rifles. The new models were launched at the 2018 SHOT Show.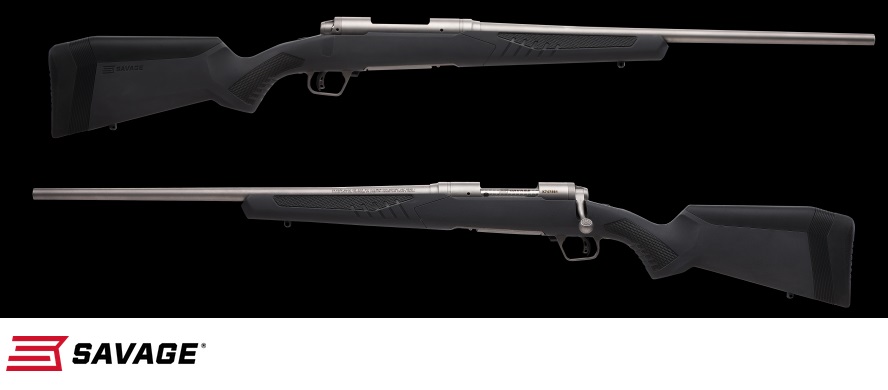 "Research reports approximately 10 percent of Americans are left-handed," said Firearms Senior Brand Manager Jessica Treglia. "Then there are those who are right-handed, but left-eye dominant. These hunters and shooters greatly benefit from a left-handed firearm, and Savage is proud to supply them with dependable and accurate left-handed choices."New on the precision-chassis rifle front is the left-handed Model 10/110 BA Stealth and Stealth Evolution. Both feature a heavy fluted barrel with a monolithic aluminum chassis, which are popular among long-range precision shooters.
Both models also feature Savage's zero-tolerance, thread-in headspacing, user-adjustable AccuTrigger and 5R button rifling, and produce sub-MOA accuracy at extreme ranges, right out of the box. The rifles are available in .338 Lapua Mag., .300 Win. Mag. 6.5 Creedmoor, .308 Win. and .223 Rem. The Stealth Evolution is also available in 6 mm Creedmoor.
For the hunters, the upgraded Model 110 Storm is available in a left-handed configuration. It is built off the same 110 action as the past but now features the all-new user-adjustable AccuFit system, which allows shooters to customize comb height and length-of-pull for better fit and function.
The Model 110 Storm also features a detachable box magazine, stainless steel action and stainless steel matte-finish barrel to withstand the most brutal weather conditions. The left-handed version comes in .223 Rem., .22-250 Rem., .243 Win., .270 Win., 7 mm-08 Rem., 7 mm Rem. Mag., .308 Win., .30-06 Sprg. and .300 Win. Mag.
The Model 110 Tactical also comes in a left-handed .308 Win. It is suppressor-ready and fitted with a heavy, fluted, 24″ barrel, ideal for extreme accuracy in all conditions.
Savage adds to its rimfire family with left-handed versions of the B17 17 HMR, B22 22 LR and B22 22 WMR bolt-action rimfire rifles. "All feature a sporter barrel and black synthetic stock," said Treglia. "The B Series' ergonomic stock, higher comb, top tang safety and target-style, vertical pistol grip allow shooters to hold the rifle in a more natural position that puts less pressure on the wrist."
Like the popular A Series rimfires, all B Series rifles feature a 10-round rotary magazine and the accuracy-boosting adjustable AccuTrigger. The B Series also features Savage's accuracy-boosting zero-tolerance, thread-in headspace system similar to that of the company's center-fire mode.
For more information visit savagearms.com
The post Savage Arms Expands Left-Handed Rifle Lineup appeared first on ODU Magazine-North America's #1 Digital Fishing Magazine.