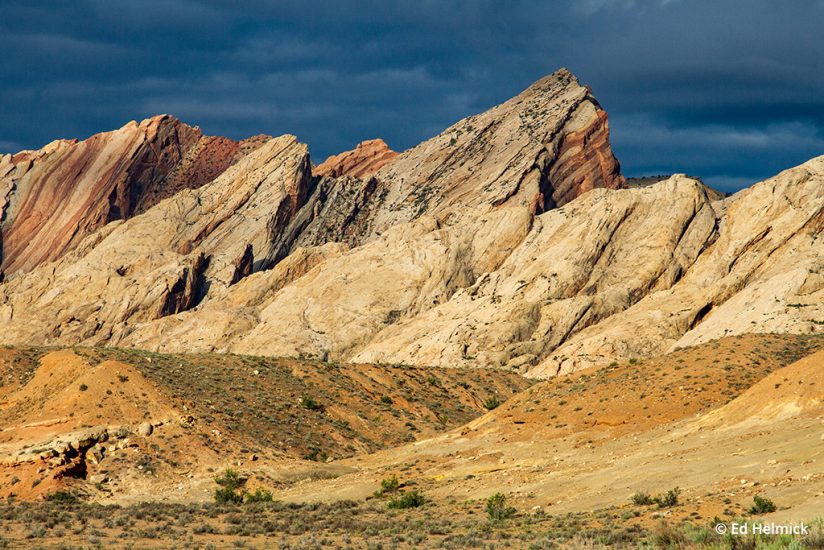 San Rafael Swell is a vast area of almost 2,000 square miles of uplifted layered rocks eroded into canyons, mesa, buttes, rock towers and natural arches. It's Bureau of Land Management real estate bisected by Interstate 70, which provides much of the access to the area. As you leave Green River, Utah, westbound on I-70, a sign advises "No Services for the Next 106 Miles." You'll see a similar sign if you're traveling eastbound on I-70 from the San Rafael Swell. A maze of gravel roads maintained by Emery County is suitable for automobile and light truck travel, though a few roads in the area require a four-wheel-drive vehicle.
The San Rafael Swell is ringed by the towns of Price, Green River, Hanksville, Caineville, Emery, Castle Dale, Huntington and Cleveland. In addition to I-70, other roads that circumnavigate the Swell include Utah State Route 10 on the west side between Price and I-70, U.S. Route 6 connecting Price and Green River on the northeast side of the Swell, and Utah State Route 24 connecting the southeast and south side of the area.
Weather At San Rafael Swell
The area is classified as a semi-arid continental interior climate with cold winters and hot summers that can reach 100 degrees Fahrenheit. The elevation of the region varies from 4,078 feet to 7,900 feet.
Photo Experience
This photo of the dramatic San Rafael Swell uplift was taken about 10 miles west of Green River, Utah, on a side road off I-70 that leads to Black Dragon Canyon. The Swell—unlike Utah's national parks and monuments—isn't crowded with people and use of your tripod isn't a problem.
My favorite landscape features to photograph are the Wedge Overlook, which is called Utah's little Grand Canyon, Reds Canyon and Hondu Arch, Eagle Canyon and Eagle Arch. The Temple Mountain area, Cedar Mountain Overlook, Buckhorn Wash and Link Flats with its views of Reds Canyon and the Hondu country are other great photo spots. There are also numerous ancient Native American rock art sites to be photographed, and the Swell is home to a herd of wild horses and a herd of wild burros that can be fun to photograph with a telephoto lens.
Best Times To Visit San Rafael Swell
Spring and fall are the best times of year to visit the area. Storms can make the gravel and dirt roads impassable and may also present a risk of flash floods. Keep in mind that the area is remote, and you should travel prepared. The winter season can create some amazing color contrasts.
Contact: Utah.com, utah.com/san-rafael.
---
Ed Helmick is the author San Rafael Swell Off Road, a trail guide to 42 destinations.
The post San Rafael Swell appeared first on Outdoor Photographer.