Facebook Screenshot:Catchin' Deers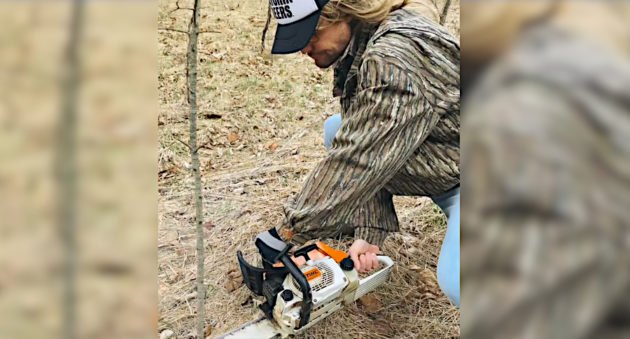 Rut Daniels is at it again!
One of our favorite Internet hunting characters is at it again. Rut Daniels, the Olympic archery and bowhunting legend you've never heard of before is always up to some sort of mischief. Today he's preparing for turkey season.
Like any good hunter, he understands that a blind will stick out like a sore thumb to a sharp-eyed bird if it isn't properly brushed in.
Watch the video below and let Rut give you some solid tips on brushing in that are sure to help you down a big gobbler this year.
"If you can't smell the morning breath off the lead hen I ain't huntin".

Posted by Catchin' Deers on Friday, April 17, 2020
"A blind in the middle of a field is like a vegan in a butcher shop, something ain't right!"
That line had us on the floor laughing. Rut Daniels is the brainchild of retired NHL start Mike Fisher and his brother Bud Fisher. Bud is the one who plays the persona of Rut Daniels as a way of making people laugh and promoting their outdoor clothing line known as "Catchin' Deers."
Check out their website for a line hoodies, flannels, hats and T-shirts. Many of them are quite humorous and sure to give your buddies a good chuckle when they see them.
So far, these guys have produced hilarious parody videos about Rut's time in the Olympics, vegan hunters and more. This character and parody videos are clearly something Mike and Bud have a lot of fun doing. As funny as Rut's one-liners are, he's right, it IS important to properly brush in your blind. Especially when you're dealing with a sharp-eyed wild turkey. Parody and practical tips in the same video. Well done Rut!
We're already looking forward to seeing what misadventures Rut gets up to next. It's a long way till the next deer hunting season and these videos help fill the void that exists here in the off-season!
For more outdoor content from Travis Smola, be sure to follow him on Twitter and check out his YouTube channel.
NEXT: MEET RUT DANIELS: THE GREATEST ARCHER AND BOWHUNTER YOU'VE NEVER HEARD OF
WATCH
The post Rut Daniels Shows You How to Properly Brush in a Blind appeared first on Wide Open Spaces.