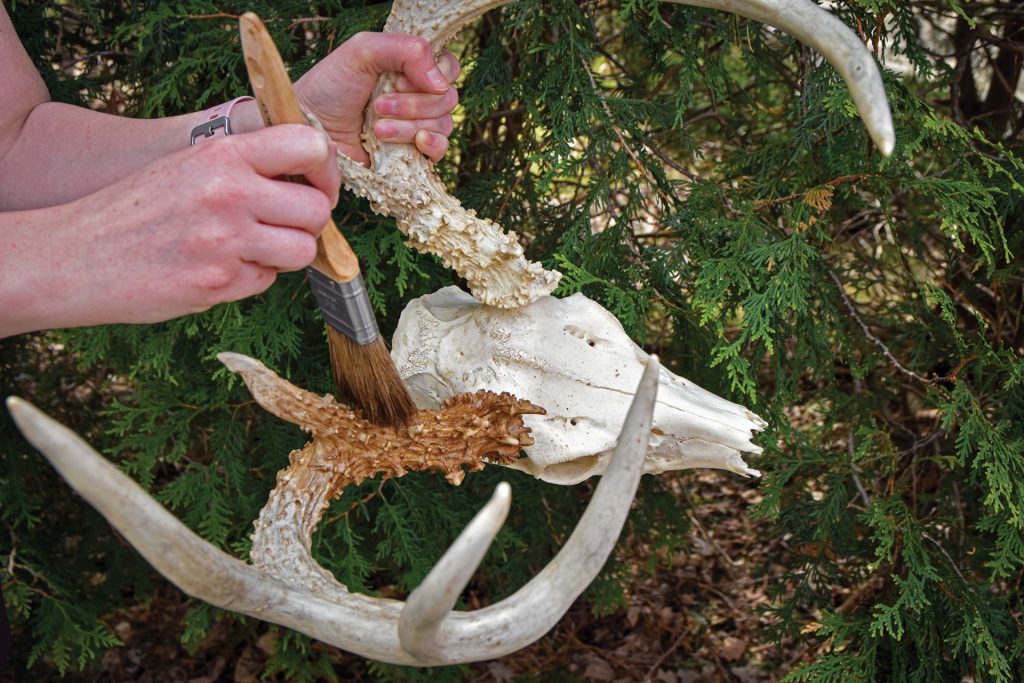 Have you ever left a deer mount outside for too long and now the antlers are chalky and bleached? All you need to restore them is dish soap, a paintbrush, wood stain and fine steel wool. If the antlers are chalky and porous you will also need two-part molding compound and fine sandpaper.
Start by cleaning the antlers with soap and water and allow them to dry. Wrap the skull in paper to protect it during restoration. When the skull is dry, use molding compound to lightly coat the antlers, filling in holes and crevices. Again, this step is only necessary on badly deteriorated antlers. Use as little compound as possible to preserve the antlers' character. Once you are finished, allow the compound to dry for at least 24 hours and sand it smooth.
Antlers are naturally white, but they pick up stains in late summer when rubbing on trees to remove velvet. One buck might have rubbed on cedar trees while another picked up dark blemishes from walnut trees. No two antlers are the same. If you have a photo of the buck, use it as a reference. For all but the darkest antlers, I use early American wood stain. It's light enough to match most bucks by varying the number of coats. For darkly stained antlers, provincial wood stain is an excellent match.
Starting at the base of the antlers, brush on a light coat of stain, immediately wiping away any runs. Use as little stain as possible, brushing the excess up the antler until it's coated. Most antlers are darker near the base and gradually lighten toward the top. This method does a good job of imitating that color transition. When both antlers are dry, compare them to the photo of your buck and apply more stain as needed.
At this point, the antlers will be tacky with a slight sheen. Use fine steel wool and lightly brush the antlers to remove this gloss. Now the antler should have a natural matte appearance. Some bucks will have areas that are totally white, like around the antler tips. For this, use a wire brush to remove the stain. Then let the antlers dry for an additional 24 hours. Taking the time to breathe life into aging antlers allows you to remember the hunt for years to come.  ■
Ryan Sparks is a writer and photographer originally from Cass County. To see more of his work visit sparksryan.com.
The post Restoring Antlers appeared first on Nebraskaland Magazine.