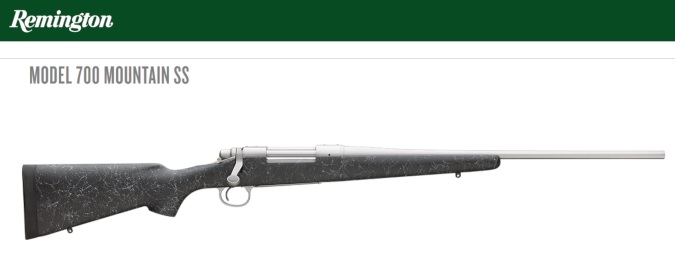 The Model 700 Mountain Stainless is a light-weight and durable rifle ideal for extended periods of handling in the worst weather conditions. The stainless-steel barreled action has an attractive satin finish and is coupled with a tough Bell & Carlson stock with an aluminum bedding block that provides the receiver with a sturdy platform. Featuring a mountain contour barrel, it weighs in at just over 6lbs. so you can carry it all day long and rest assured that when the time comes to take that shot of a lifetime, it will exceed all your expectations.
Key Features
Stainless steel barreled action with satin finish

22" cold hammer forged light contour barrel

Premium Bell & Carlson stock with aluminum bedding block

Just 6.2 lbs

User adjustable X Mark Pro trigger
The Model 700 Mountain SS has a suggested retail price of $1152.00 and comes with a Limited Lifetime Warranty.

—
For more than 200 years, Remington firearms have been forged from the untamed spirit that will always define our nation. The proud tradition that began with Eliphalet Remington's first hand-built rifle in 1816, continues to this day. Remington innovation is always ahead of its time, as evidenced by our rich history and long line of legendary firearms. The Model 700 and Model 870 have claimed their rightful places among the best-selling firearms of all time. Today, the Versa Max is quickly becoming the go-to firearm of choice for hardcore waterfowlers and the most demanding 3-gun competitors—an American icon on the rise. And Remington handguns like the Model 1911 R1 and the R51 are reinventing shootability and redefining performance. At our state-of-the-art R&D facility – the Rock – we're shattering convention and setting the performance standard all others must follow. As new generations inherit the American sporting heritage, we continue to expand, – building new plants and acquiring new companies to meet the challenge of increased demand. Revolutionizing an industry. Building a nation. Remington Country is, was and always will be bigger than any one place—boundless as the American spirit.
Related:
The Remington Model Seven Threaded Kuiu
Remington adds new loads to Performance WheelGun Ammunition
The post Remington 700 Mountain Stainless now available in 6.5 Creedmoor appeared first on OutDoors Unlimited Media and Magazine.