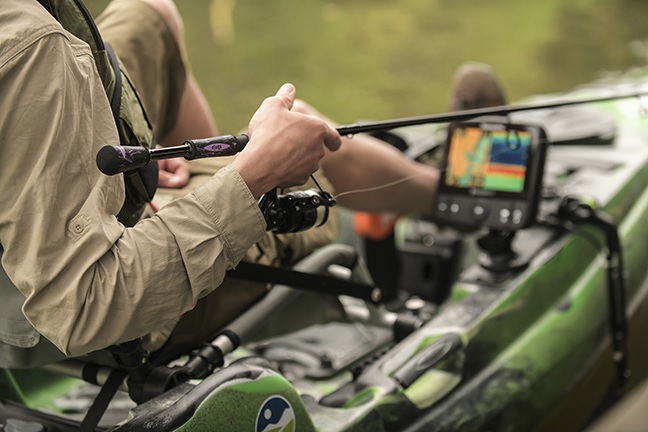 Within the hierarchy of fishing craft, kayaks are extremely economical, easy to transport and store, and afford access to virtually any waters, including those unreachable by bigger boats. These are the primary reasons why kayak fishing's popularity continues to explode. But the kayak-fishing revolution has been further fueled by manufacturers who have given anglers everything they need to make these small, human-powered vessels function with the fish-catching performance of the bigger boats many anglers are accustomed to. Today's fishing kayaks are purpose engineered to maximize fishability, and are supported by a full range of aftermarket angling accessories—including the latest sonar and GPS technologies.
Raymarine makes the electronics that help anglers get to the fish quickly and catch more once they're there—no matter what type of boat they're fishing from.
Technologies like RealVisionTM 3D, ultra-high-frequency HyperVisionTM sonar and Fishing Hot Spots mapping are invaluable assets to kayak anglers, which is why Raymarine's Dragonfly, Axiom multifunction displays and new Element sonar/GPS units are the electronics of choice on so many of today's recreational and competition fishing kayaks, including those of World Champion, James McBeath.
McBeath, of Carleton Place, Ontario, finished on top at the Los Buzos World Kayak Fishing Championships held in Cambutal, Panama last month. The Jackson Kayak Factory Team member was outfitted with a Raymarine Dragonfly Pro sonar/GPS, which he credited for his win on the vast waters of the Pacific Ocean. "It was a very electronics-intensive competition, as you were simply lost and shooting blind without any support out there," he said. "I was able to seal the deal finding bait balls at 150 feet with the Dragonfly."
International kayak-fishing competition is on the rise, prompting USA Bass, a division of the United States Angling Confederation (U.S. Angling), to assemble a team of U.S. kayak anglers to compete in the first ever Pan-Am Kayak Bass Fishing Championship to be held at Cookeville, Tennessee's Center Hill Lake, May 28-31, 2019.
"Kayak bass fishing is an exciting sport and we are thrilled to bring the Pan-American championship to the United States" says USA Bass President, Tony Forte. "The officials at the Confederation Internationale de Peche Sportive (CIPS) will also be evaluating the event to establish Kayak Bass as a World Championship sport. We will be announcing our USA Team of men and women anglers very soon, and have already selected Olympian Eric Jackson as our team captain. We're excited to have Raymarine on board as a key sponsor, and thank them for having the vision to invest in the future of kayak angling."
Kayak fishing fans are invited to be a part of the Pan-American Championship, and follow along via several media outlets. Updates on the event will be posted on www.facebook.com/usabass.org and www.usabass.org.
The post RAYMARINE Supporting Kayak Anglers appeared first on OutDoors Unlimited Media and Magazine.