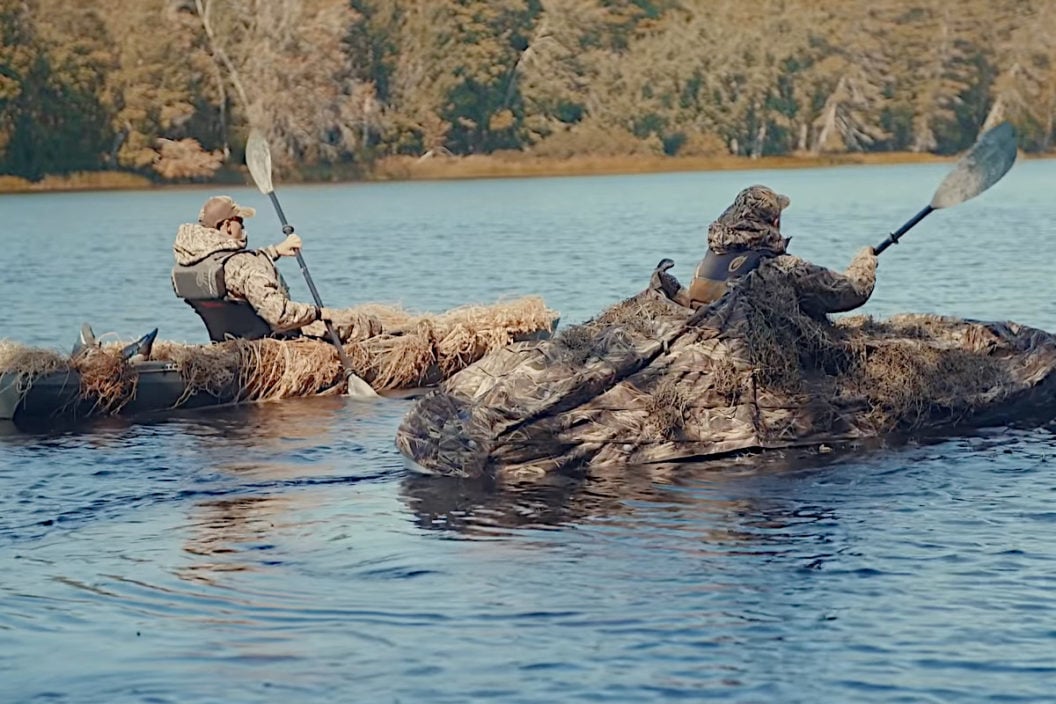 Duck hunting from a kayak gives outdoorsmen and women a decided advantage over those in larger crafts. They can paddle back into shallower areas away from the crowds, their approach is silent, and the kayak makes for a smaller profile that's less likely to spook cautious ducks than a full-size boat. However, kayak concealment is important! You need to properly conceal your kayak to ensure it stays hidden from the prying eyes of waterfowl, especially in public areas where the birds are already cautious.
The fine folks at Old Town have two suggestions for accomplishing just that: a high budget and a no-budget method of breaking up the outline. Both are relatively simple and can be achieved quickly with minimal prep work. Check out the video below to see them and hear some additional concealment tips from Old Town's Ryan Lilly.
As duck hunting from kayaks returns to style, more manufacturers are starting to cater products to waterfowlers sticking with a kayak or canoe as their watercraft of choice. We appreciate that they are now making blinds designed explicitly with kayak concealment in mind. In the past, hunters had to jerry-rig their own using whatever camo materials they could find. Not that making your camo is a bad idea, either.
The apparent benefit to option two is that you can perfectly match the foliage of your camo on the kayak to the area you are hunting. We like the second option for more wary birds on heavily pressured flyways. In truth, it probably doesn't hurt to add a bit of extra foliage to a kayak blind to give a layer of depth to the patterns and help you blend into the background.
Be sure to check out our extensive interview with Old Town, where we get into more of the nuts and bolts of concealing your kayak. And be sure to check out the Old Town website for the latest information on their new hunting models. We
For more outdoor content from Travis Smola, follow him on Twitter and Instagram. Check out his Geocaching and Outdoors with Travis YouTube channels for original videos.
The post Proper Kayak Concealment Will Help You Limit Out More While Duck Hunting appeared first on Wide Open Spaces.