Siberian Coolers, a company dedicated to meeting the needs of outdoorsmen who push themselves and their gear beyond the normal limits, is pleased to announce its popular Certified Bear Resistant ALPHA Pro Series Coolers will come fully accessorized in 2018.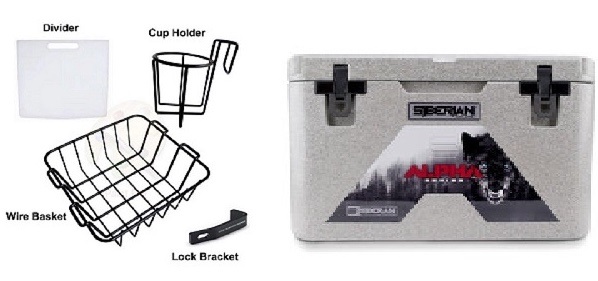 The 45, 65 and 85-quart ALPHA Series Coolers will now come complete with a wire storage basket, food grade polyethylene divider that conveniently doubles as a cutting board, a heavy-duty lock bracket, beverage can holder and a window decal.  The smaller, 22-quart Sidekick will come accessorized as well, however it will not include the divider due to its compact nature and easy to transport size.
"We wanted to give our customers the ability to utilize the ALPHA Pro Series Coolers to its fullest capabilities right out of the box," stated Frank Duff, National Sales Manager.
The ALPHA wire basket is rated for dry ice use, the cutting board/ divider is constructed using food grade polyethylene and the heavy-duty powder coated lock bracket will deter those nefarious individuals from taking off with your cooler and its valuable contents.  Whether using on an extended hunting trip in the back country, a day at the beach, tailgating at your favorite sporting event, or keeping your fresh catch chilled and ready for the trip home, the ALPHA Pro Series can handle just about anything you throw at it without losing its cool.
The high performance, affordably priced ALPHA Pro Series of Siberian Coolers feature:
IGBC Certified Bear Resistant

Roto-Molded One-Piece Design

PE Foam Injected for Superior Insulation up to 2.75"

Durable LLDPE (Linear Low-Density Polyethylene) Outer Shell

Military Grade Heavy Duty Hard Anodized Aluminum Latches

Reversible EZ Slide/Sticky Rubber Feet (available on the Alpha Pro 45, 65, 85)

Durable Aluminum Carry Handle W/Cushion Grip (available on the Alpha Pro Sidekick 22 quart)

Stainless Steel Hinges

Tie Down Strap Slots

Hidden Pad Lock Plates

Heavy Duty FDA Approved Wire Basket

Food Grade Cutting Board/Divider (available in the 45, 65, 85)

HD Security Lock Bracket

Beverage Cup Holder

Siberian Coolers Lifetime Warranty

Colors:  Granite or White
The post Popular Siberian ALPHA Pro Series Coolers Gets Accessorized appeared first on ODU Magazine-North America's #1 Digital Fishing Magazine.