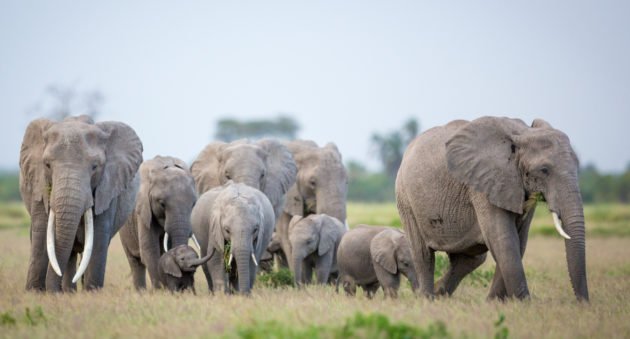 The Congo's most notorious elephant poacher will serve 30 years in prison.
One of the more frustrating aspects about wildlife crime is when violators get away with a slap on the wrist for their crimes. Prison sentences are exceedingly rare, but one poacher in the Republic of Congo has been ordered to serve 30 years after becoming the first wildlife trafficker to be convicted in Congo.
The poacher, Mobanzo Mobembo Gérard, also known as "Guyvanho," was responsible for the poaching of up to 500 elephants according to a press release from the Wildlife Conservation Society.
Authorities with Nouabalé-Ndoki National Park's anti-poaching unit and their wildlife crime unit worked on this case for nearly three years.
[embed_reccomendations]
Guyvanho was sentenced in criminal court not just for numerous charges of ivory trafficking and poaching, but for attempted murder too. The poacher allegedly got into multiple firefights with park rangers over the years. The courts hit Guyvanho in the wallet with his punishments too. He was ordered to pay 38 million francs or about $68,000 to those injured rangers.
In the release, WCS Regional Director Dr. Emma Stokes said that Guyvanho's criminal activities were mostly centered in that National Park. He is first believed to have arrived in the area around 2008. Authorities say he led a group of 25 other poachers on multiple illegal operations in the park over the years. They then illegally trafficked the ivory.
Guyvanho was captured once before in 2018 after he and his fellow poachers slaughtered 11 elephants. They then got into a gunfight with park rangers. Guyvanho escaped, but three of his accomplices were captured and gave statements that allowed authorities to arrest him. However, Guyvanho escaped from prison while awaiting trial in June of 2018 and went right back to poaching in the park.
Almost one year later, in May 2019, Guyvanho and his men again got into a firefight with park rangers. This time two rangers were injured, and one nearly died from his injuries. While Guyvanho escaped this encounter too, the release states he bragged about the shootout to others. This led to authorities discovering his home and he was finally arrested again on July 20, 2019.
Unbelievably, Guyvanho attempted escape again while in prison in Ouesso, Congo. This time the escape failed, and authorities decided to move him to the more secure Brazzaville prison. That is where he will serve out the rest of his sentence. Prior to this, wildlife crimes in the Congo were subjected to civil courts where a maximum sentence was only five years. Stokes and others are hoping this will help slow the spread of organized poaching activity in the country.
"Today's sentencing sends an extremely strong message that wildlife crime will not be tolerated and will be prosecuted at the highest levels," Stokes said in the press release. "We are confident that today's sentence will serve as a deterrent to would-be criminals that you will serve hard time if you break our wildlife laws and put park rangers and Congo's national security in danger."

For more outdoor content from Travis Smola, be sure to follow him on Twitter and check out his Geocaching and Outdoors with Travis YouTube channels. 
NEXT: THE AXIS DEER AND HOW THEY'RE IMPACTING PARTS OF THE UNITED STATES
WATCH
The post Poacher Who Killed Over 500 Elephants Gets 30 Years in Congo's First Wildlife Trafficker Conviction appeared first on Wide Open Spaces.