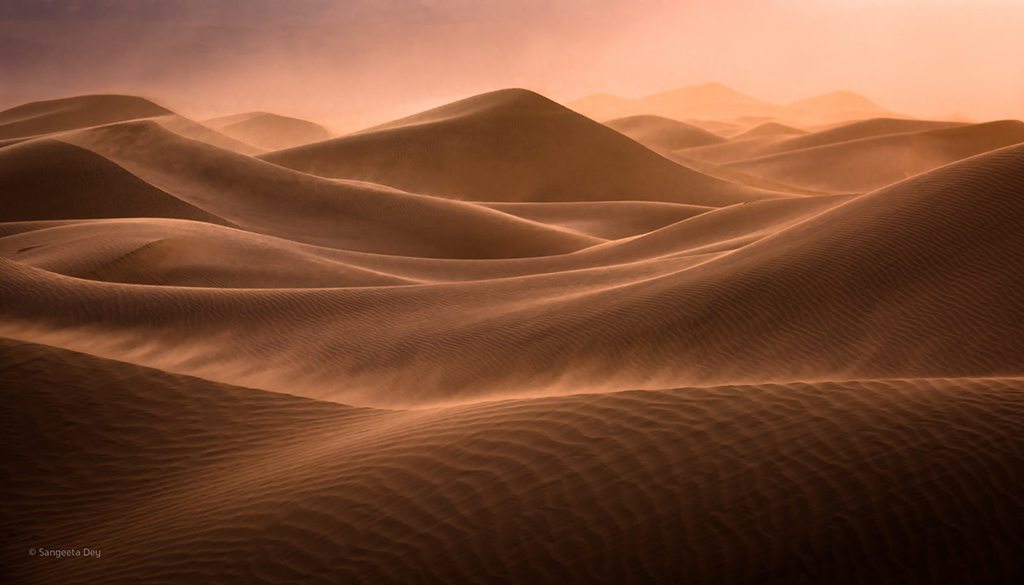 Today's Photo Of The Day is "Dancing in the Storm" by Sangeeta Dey. Location: California.
"I was the kind of person who would sit inside the car or in a comfortable restaurant sipping a cappuccino while waiting for the storm to subside," says Dey. "After all, I didn't want to get my hair messy or my shoes dirty. While I have always been an outdoorsy person, the thought of getting inside sand dunes during high winds was like giving a cat a bath. Therefore, imagine my shock when I was told that we would have to brave high winds inside the dunes of Death Valley. My first reaction was, "Wait, that will ruin my camera" (and my hair, but could not say that loudly). I forgot that I was complaining to these hardcore world-class photographers who live for these storms. In fact, when they heard that high winds are approaching, they were smiling ear to ear, and probably they did not sleep through the night due to the excitement. Well, I could not sleep as well, but that was for a different reason. In the middle of the night, these same high winds sent my tent flying to a nearby bush. That's a story for another day. However, I have to say that stepping inside those intense conditions made me see things in a new light. For almost a month, every moving component of my gear made a "crunchy" noise because of sand particles in it. I still can't understand how sand managed to get inside the deepest zippered pockets. Nonetheless, the camera worked fine, and now I have a new respect for my Nikon's capacity to handle these stormy conditions. Also, besides my fellow photographers, not having a single soul in the entire desert made me realize how much fun it is to shoot during these conditions when everyone has left. There are some things in life that you can only learn in a storm."
See more of Sangeeta Dey's photography on Facebook.
Photo of the Day is chosen from various OP galleries, including Assignments, Galleries and the OP Contests. Assignments have weekly winners that are featured on the OP website homepage, Facebook, Twitter and Instagram. To get your photos in the running, all you have to do is submit them.
The post Photo Of The Day By Sangeeta Dey appeared first on Outdoor Photographer.