YouTube/Shout! Factory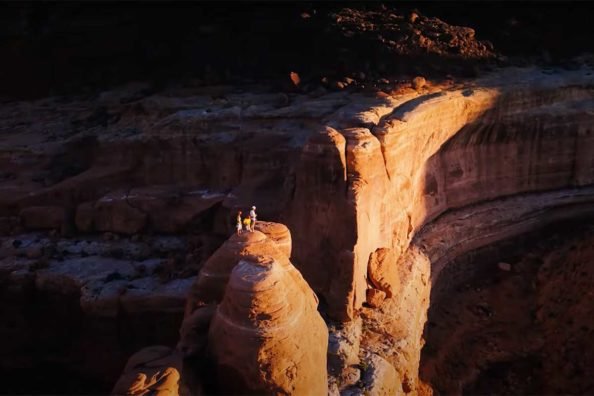 Here's the lineup of outdoor shows on Netflix that you've been looking for.
Whether you're into hunting, fishing, or general outdoor and nature shows, Netflix seems to have something for everyone. It's become a great place for outdoors loving men and women everywhere to absorb quality content.
So when the time comes for every outdoorsman to take their hunting boots off, kick back on their own sofa, and relax, Netflix is there waiting. Mind you, it will just make you want to get right back up and go outside again, but that's part of the fun.
There's nothing wrong with getting a little inspiration from some video content every now and then. If you're looking for a hunting show, fishing show, or even an outdoor documentary, Netflix is the place to go.
Keep in mind, Netflix is always adding and subtracting shows and movies, so the list as it appears now (in June of 2021) may look different in the future. We'll do our best to keep updating this post as shows are deleted or added.
Hunting Shows on Netflix
Let's start with some hunting-specific shows.
MeatEater
When the MeatEater TV series made it to Netflix, outdoorsmen everywhere rejoiced. Saying that MeatEater is a good outdoors hunting TV show is like saying that Darcizzle is "cute."
Steven Rinella and his gang of hunting companions have found a way to entertain us on the hunt, in the podcast studio, and in the kitchen since 2012 and they're not going anywhere soon. Except on a hunting trip.
The Legacy of a Whitetail Deer Hunter
This Netflix film is the story about a once great hunter Buck Ferguson (Josh Brolin) and his trusted cameraman Don (Danny McBride) set out for an epic weekend adventure to reconnect with Buck's young son Jaden (Montana Jordan). It's silly and at times outrageous, but actually does capture a lot of what's great (and laughable) about deer hunting.
Stars In the Sky: A Hunting Story
Stars in the Sky is a feature documentary made by MeatEater's Steven Rinella that focuses acutely on the lives of a specific group of Rinella's hunting companions. It's presented as an honest exploration of the controversies, emotions, and traditions of hunters and hunting.
Calibre and Hold the Dark
These two Netflix films are mystery thrillers that involve the lives of hunters. In Calibre, the story revolves around two lifelong friends that head up to an isolated Scottish Highlands village for a weekend of hunting. Wouldn't you know it, things descend into a never-ending nightmare by the end.
Hold the Dark is about a naturalist who finds himself hunting for a wolf pack blamed for killing a local boy. He eventually learns there's much more to it than that.
Fishing Shows on Netflix
Are there any fishing shows on Netflix? Sure there are, take a look.
Battlefish
During the fishing season in the northwest, the toughest men and women pursue the lucrative albacore tuna in the ultra-competitive waters off the Oregon coast. Battlefish is the epitome of an American reality television show that follows the adventures of several west coast fishing boats as they search the Pacific Ocean for albacore tuna.
Chasing Monsters
Chasing Monsters features Cyril Chauquet, who goes after seriously big and predatory fish species.
According to IMDB, "From the crystal-clear, shark-infested waters of Florida, to the caiman's of the Brazilian Amazon, our brave adventurer tests the ferociousness of the alligator gar, fights giant cat fish with his bare hands and battles with giant Mexican sailfish."
Fishing and hunting aside, here are some more generalized nature and outdoor movies and shows to watch on Netflix.
National Parks Adventure
National Parks Adventures is narrated by Robert Redford and was first released in IMAX theaters. The show features some truly breathtaking footage of North America's natural wonders and landscapes.
The Dawn Wall
The Dawn Wall features rock climbing expert Tommy Caldwell's consuming quest to successfully climb the Dawn Wall of El Capitan. This film will leave viewers anxious at each near fall and cheering with every chalk-handed success.
Night on Earth
This series uses ultra-sensitive night vision and thermal cameras to capture some of the never-before-seen action of our natural world after the sun goes down. Nocturnal predators, charismatic megafauna, and even the tiniest of insects are depicted in a way that gives us a unique glimpse into what happens after dark.
Our Planet
Each episode of 'Our Planet' is around 50 minutes long and includes truly amazing cinematography and wildlife insight from around the globe.
Survival Shows on Netflix
Survival shows have become all the rage, and Netflix isn't short on choices.
Southern Survival
Southern Survival follows two experts, Daniel Dabbs and Brandon Currin, as they test out everyday items that promise help in a survival or emergency situations. They then curate the best, highest-performing gear and offer it up through BattlBox, their subscription-based service.
Alone
Made by the History Channel and distributed to Netflix, Alone follows 10 new contestants each season as they're dropped off in the extreme wilderness and expected to survive as long as they can.
It's a seriously intense show that teaches real survival lessons while also capturing the physical and emotional stress a person goes through while trying to stay alive in grim circumstances.
You vs. Wild
Bear Grylls brought this "choose your own adventure" style show to Netflix, and it's not a stretch to say there's never been anything quite like it offered up on the streaming platform before.
Bear encounters specific survival situations in the interactive series, and then gives you the choice between a few different ways to handle them. Will Bear make it out alive? Only if you help him the right ways!
Win the Wilderness
In this survival-meets-real estate show, couples compete to see who's best at wilderness survival for the grand prize of an off-grid homestead. Originally a BBC production, the show has been marred with off-camera controversies, including the fact that the homestead owner apparently wanted the prize given back after Season 1 winners were declared. When there's that much intrigue connected to a reality show, there's no wonder it becomes popular.
Tales By Light
More travel-based than strictly wilderness-based, Tales By Light follows some of the world's best photographic storytellers and brings their global journeys to the screen in a fascinating depiction of the planet we live on.
How to Watch Netflix as an Outdoorsman
Starting and paying for a Netflix subscription is as easy as pie.
As of February 2022, Netflix has three choices of subscription services, depending on the video quality and other permissions you desire. A Basic Netflix streaming plan costs $9.99 per month (480p), it's $15.49 per month for the Standard Plan (HD available), and a Premium Plan costs $19.99 per month (Ultra HD available).
It is then easy to start your search for titles and content that you're interested in. Netflix's algorithm is smart enough to recommend shows and movies based on your watch history, meaning as you consume more hunting and fishing shows, more good recommendations will pour in.
Enjoying the Experience
From the Arctic to Alaska, it's easy to sit back and take a road trip to the outdoor world right on your TV with some of the best outdoor documentary series that you've ever seen. This streaming service provides some of the best storylines on nature documentary this side of Yosemite National Park.
Both filmmakers and the mountaineers, fishermen, and hunters that they report on have found a great way to share their experiences with the general public in ways that make us feel like we are right there with them as it happens.
Netflix is a great way to relax for a while and find an adventure that fits our own personal lifestyle while giving us an idea for something that we might like to try in the future, and that is one of the best things that outdoorsmen can have: a way to recruit others into the hunting, fishing, and outdoor world.
Looking for a little more or even hot lunch for your hunting blind? Follow my webpage, or on Facebook and YouTube.
NEXT: ESCANABA IN DA MOONLIGHT: THE UPROARIOUS MICHIGAN HUNTING CULTURE FILM
WATCH
The post Outdoors Shows on Netflix: Hunting, Fishing, and Survival Videos You've Got to See appeared first on Wide Open Spaces.