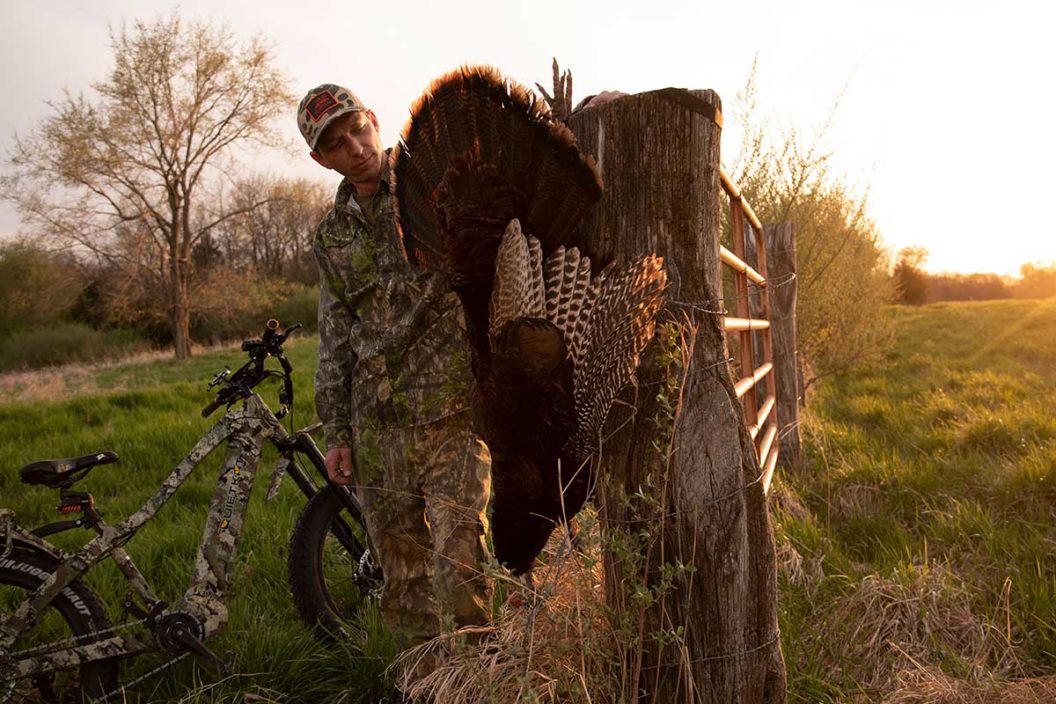 A trip to Illinois and my first Eastern turkey hunt made my introduction to QuietKat e-bikes memorable to say the least.
I, like a lot of us, had been cooped up.
The stretch from spring 2020 to early 2021 was unlike any period of time I'd lived through before, and I was itching for something to satisfy my outdoor urges. I'd only been on a small handful of hunting trips, far less than any normal year, and when I received an invite to Illinois for a turkey hunt with the folks from QuietKat e-bikes, agreeing to go was a no-brainer.
It was just what I needed.
My First Foray with QuietKat
Far from your average turkey hunt, this trip would feature my first application of an e-bike to a hunt. QuietKat has made noise in the hunting industry since its inception, and I'd heard plenty of people sing their praises over the last couple years. This would be my first chance to hop on and see what they could do, and I was pumped to get it going.
I'd be attending the trip to southeast Illinois with several other media members, as well as Thacher Stone, the public relations wizard who'd become a good acquaintance over the years. He's always been connected to big brands in the hunting and outdoors space, but his work with Stone Glacier and the success he'd come to see on this trip opened my eyes to some of the capabilities of their impressive apparel.
Once we arrived little time was wasted before straddling one of QuietKat's Apex models, the two-wheeled all-terrain machine that represents the brand's most popular fat tire off-road e-bike.
Though it took some getting used to, the Apex was about as cool as it gets in the e-bike world. The massive Kendra Juggernaut tires and inverted air suspension on the front fork do their jobs impeccably, and it's easy to get up to a good speed quickly. The 1500W battery (there are also 1000W and 750W mid-drive options) is not as heavy as you'd think at just 12 pounds, and has a typical range of about 58 miles. The Veil Caza camo scheme does well to hide the e-bike, and the 325-pound load capacity meant it was ready to do some work.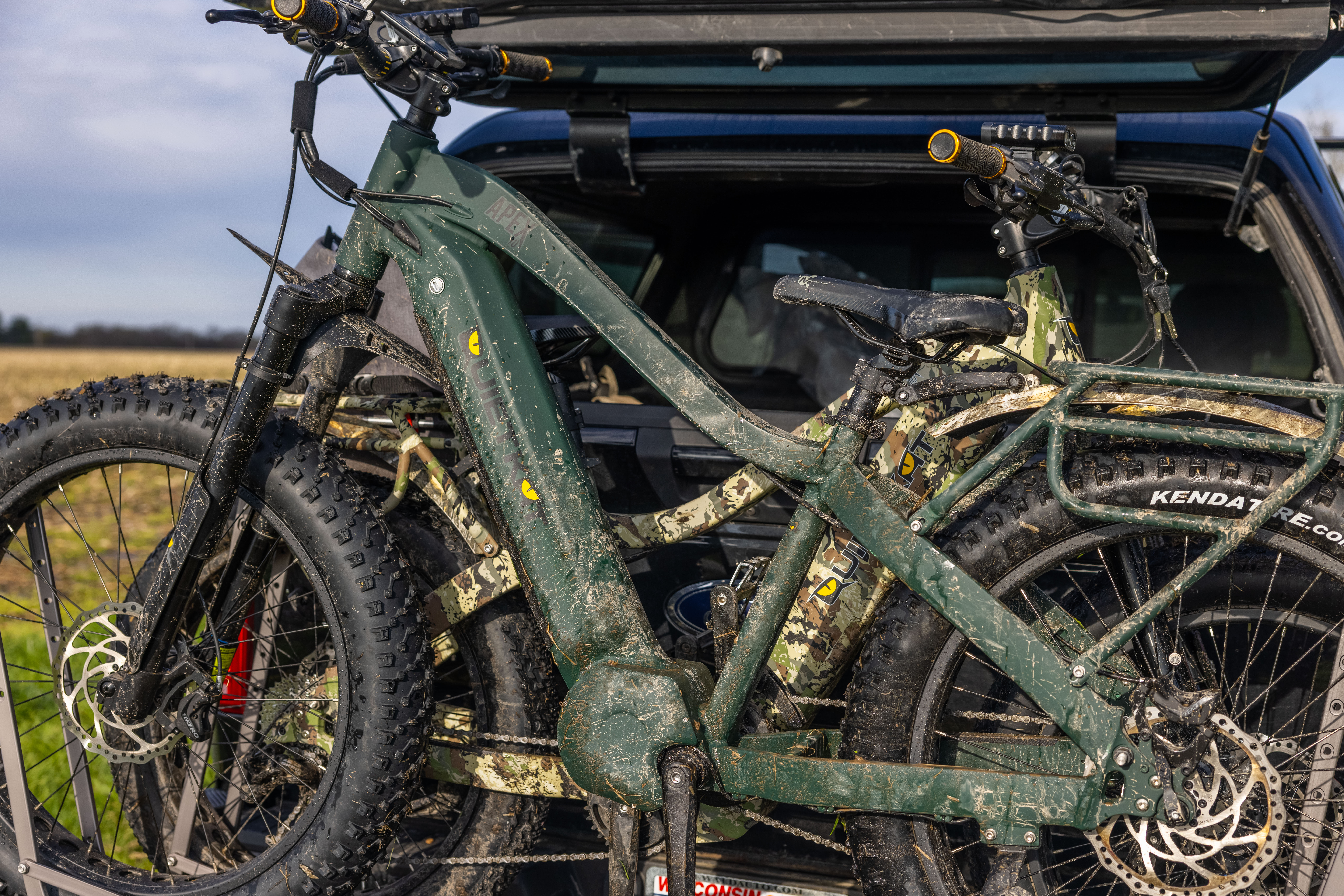 I think the kicker was the premium suspension seatpost, which honestly made the Apex one of the most comfortable bikes I've sat on, electric or otherwise. They were also really easy to load and unload from their racks, and able to be charged with a basi
We'd also be putting the HuntStand app to the test, which we'd use to map and navigate our way through the range of properties we had available. The team we were hunting with, Performance Outdoors, is primarily a whitetail operation, but happens to be owned by the QuietKat founders. The president of QuietKat is Justin Roach, and his team's intimate knowledge of the properties, combined with HuntStand's custom features, made the acclimation to a brand new group of hunting locations feel easier than most.
Franchi was the firearm provider, and I grabbed a 12-gauge Affinity semi-auto along with a box of Federal Heavyweight T.S.S. loads and hopped in the truck for my first morning hunt. Illinois only allows turkey hunting until 1:00 p.m., so this was the first of three mornings I'd have a chance at a gobbler.
The Ride In
Getting dropped off in pitch black darkness, in a totally new spot, can be a little nerve wracking. It can also introduce some, well, dicey situations at times. The nerves and the dicey-ness came to a head a short while into that first morning.
I'm going to back up, because we need a bit of scene-setting. The area of Illinois we were in had seen an unprecedented amount of rain just days before we arrived, and a lot of the agricultural fields we would be encountering were underwater. Nothing seemed too deep, and the QuietKats were made to handle some wet conditions with no problems. For reasons beyond my control (well, maybe that's debatable…), I was about to put this e-bike through one of the more rigorous tests it had ever witnessed, far beyond what QuietKat would ever recommend.
Now, back on that first morning, it was HuntStand on my cell phone (attached to the handlebars) that was guiding my way through the darkness. HuntStand was doing its job, and I had my pathway spelled out. Only, I missed the main turn onto a tough-to-spot path and was headed towards a large open field. It was purely my fault, and not on the part of HuntStand. The QuietKats we rode included a bright front headlamp on the handlebars, and through the gleam I could see this field was wet. Really wet.
I decided cutting through the field's corner could keep me in a safe spot and get me back on track, but I didn't take nearly enough time to fully consider what I was about to do. The sun would be up in about 15 minutes, and I needed to act fast to get to the blind in time to wait for a Tom.
I hit the throttle, sure to gain some speed before hitting the water. The wet stretch I wanted to make it through was about 20 yards long. Five yards into that 20, and I quickly realized this puddle was deeper than I'd thought.
My boots and pants were soaked. The air temperature was around 48 degrees F, and the water couldn't have been much warmer. I'd made what they call in the business a "dumb mistake."
Amazingly, the shock and panic quickly faded to determination. I needed to get this thing (and myself) out of the water. The throttle never quit, the motor kept running, and the battery never failed. Even though I'd basically given the QuietKat a soak bath, the components never wavered, and I managed to ride the thing out of the drink without much trouble at all.
My face was red, my pants were wet, and I still needed to get to the blind to have any hope of hunting that morning. Again, thanks to the QuietKat's reliability, I cruised safely and swiftly onto the correct path. The ride gave me a chance to see the ridiculousness of what had just happened, and I laughed to myself the whole time.
Things Get a Little Better
I eventually found my way to the blind as the sun was simultaneously peeking over the horizon. I was cold and wet, and used the interior of the ground blind as a warming hut. There I was, peering out the blind window with the gun at the ready, a short time away from a really, REALLY dumb move.
As eventful as that early morning was, the rest of it couldn't live up. One hen sauntered by, with no one in tow, and I started to think my determination to not give in was futile. Eventually, I made the phone call to the guide, fessed up to my dunk in the puddle, and said I was ready to head back. I still give myself some credit for sticking it out as long as I did; perhaps a weaker hunter would have called it a day the moment they got out of that puddle.
Back at the lodge I offered myself up as the butt of all jokes, because what other choice did I have? Everyone got in their shots, expressed their disbelief, and were equally impressed that the bike kept running.
I knew I'd have two more chances, and we had another activity on the agenda that would help take my mind off it: Fishing.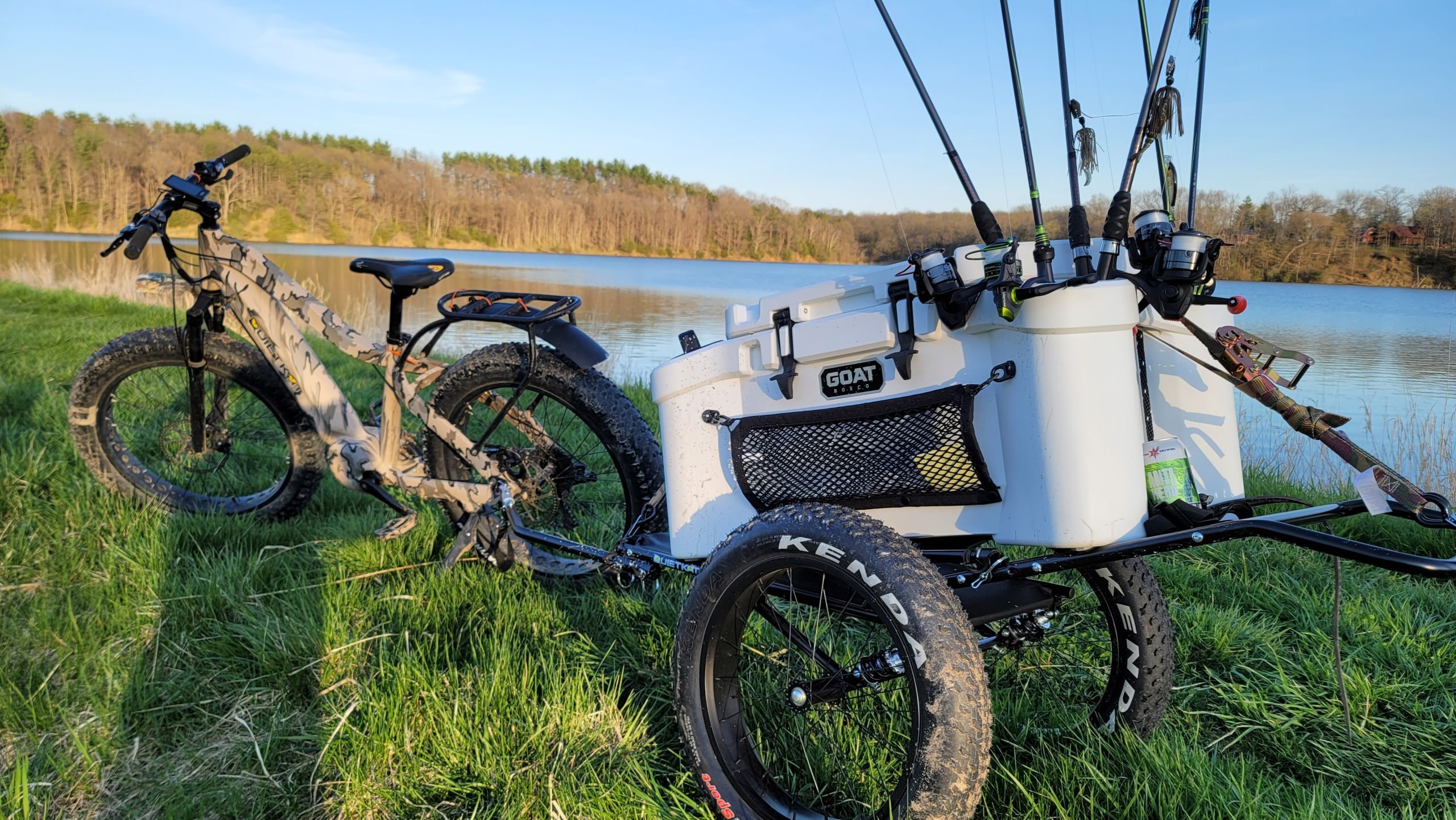 Another big part of the QuietKat appeal is the versatility; you don't just have to use these e-bikes as a hunting machine. QuietKat's easily-integrated trailers and side saddles are great for other things too, so we loaded them up with a cooler full of drinks, a few fishing rods, and plenty of artificial bait just waiting to get eaten by the bass in a local farm pond. It was a great way to spend an afternoon, especially after the morning I'd had.
It All Comes Together
For the second day's hunt, the guides decided they'd send someone with me to serve as a bit of an escort. I happily agreed, not sure how many more puddle/ponds I'd run across.
Our two-man team left the lodge for another property and made it safely to the first blind without issue. I was thankful for the company.
I was probably even more thankful for the calling assistance, because as it would turn out, I wouldn't have had much luck without a partner to act the part of the hen with some exceptional skills.
The first blind was fruitless, so we made a move to the edge of the property to see if we couldn't call in a gobbler we'd heard. As I followed our path oh HuntStand, I saw we were approaching the boundary, and the gobbler was surely on the neighboring land. The guide sat me down on a tree 10 yards from the boundary, motioned to where the Tom would likely come from, and moved to a hidden spot perpendicular with the neighboring fence.
His calls were almost immediately responded to, and the gobbler we'd heard made his appearance. Of course, he was still on the wrong side of the fence. A quick hop and he'd be directly in my sights. I was frozen to the tree, gun shouldered, ready to fire. I watched out of the corner of my eye as the turkey thought, long and hard, about whether or not he should jump the fence.
Only it never happened. The Tom paced back and forth along the fence line for what felt like an eternity, and thought I did my best to stay hidden, I think it must have spotted me. It didn't bolt, but slowly bailed and left the scene, giving me zero shots.
No trigger was pulled, but it was the kind of event that makes turkey hunting so great.
Back to Act 1
The decision was made to double back to the same property I was at the previous morning. I jokingly asked if I needed to get my boots and pants wet before I entered the blind again.
As we made our way back to the first location, my guide spotted what he was certain was new sign, an indication that turkeys had been on the pathway just prior. It was a great indication that we were in for some action, only we hadn't seen or heard any gobblers yet.
That introduced the moment the experienced calling of my guide really paid off. He used both his diaphragm call and box call, with the sounds coming immediately back-to-back, to emulate a few clucks and purrs. It was exactly what the Tom needed to hear.
An explosion of a gobble erupted on the heels of the double call, and we knew time was of the essence. We cruised to the blind, got set up as quickly as we could, and waited.
The wait didn't last long at all. In less than a minute, the guide spotted the turkey a mere 15 yards from the blind's window as it made its way into the small clearing. I froze, just as I had earlier at the tree, and readied the shotgun. The turkey came into vision seconds later, and as soon as it was lined up, I took my shot.
The turkey hammered into the ground, dead on the spot. My first Eastern was bagged, and I was as happy a hunter as I'd been throughout the entire previous year.
Hauling Out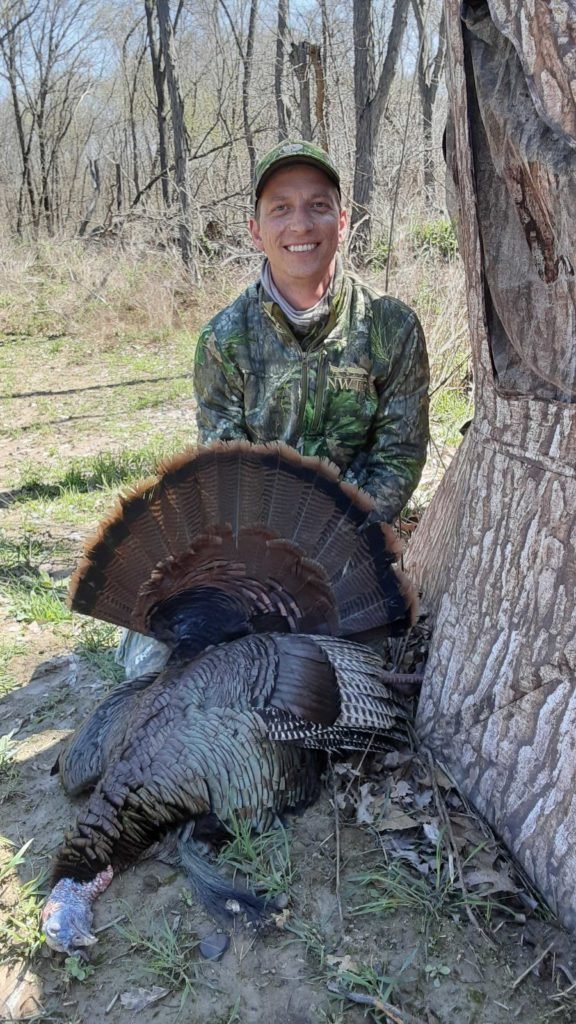 The rest of the morning was spent snapping some photos and hauling the turkey back to the truck, a process made much simpler thanks to the QuietKat Apex.
I was certainly proud of the accomplishment, but didn't realize until we got back to the lodge and did some measurements that the Tom had the longest beard of any turkey I'd ever harvested.
One single hair stretched to 11 inches, and I knew I'd found the cap to the kind of hunting story that I really love to tell.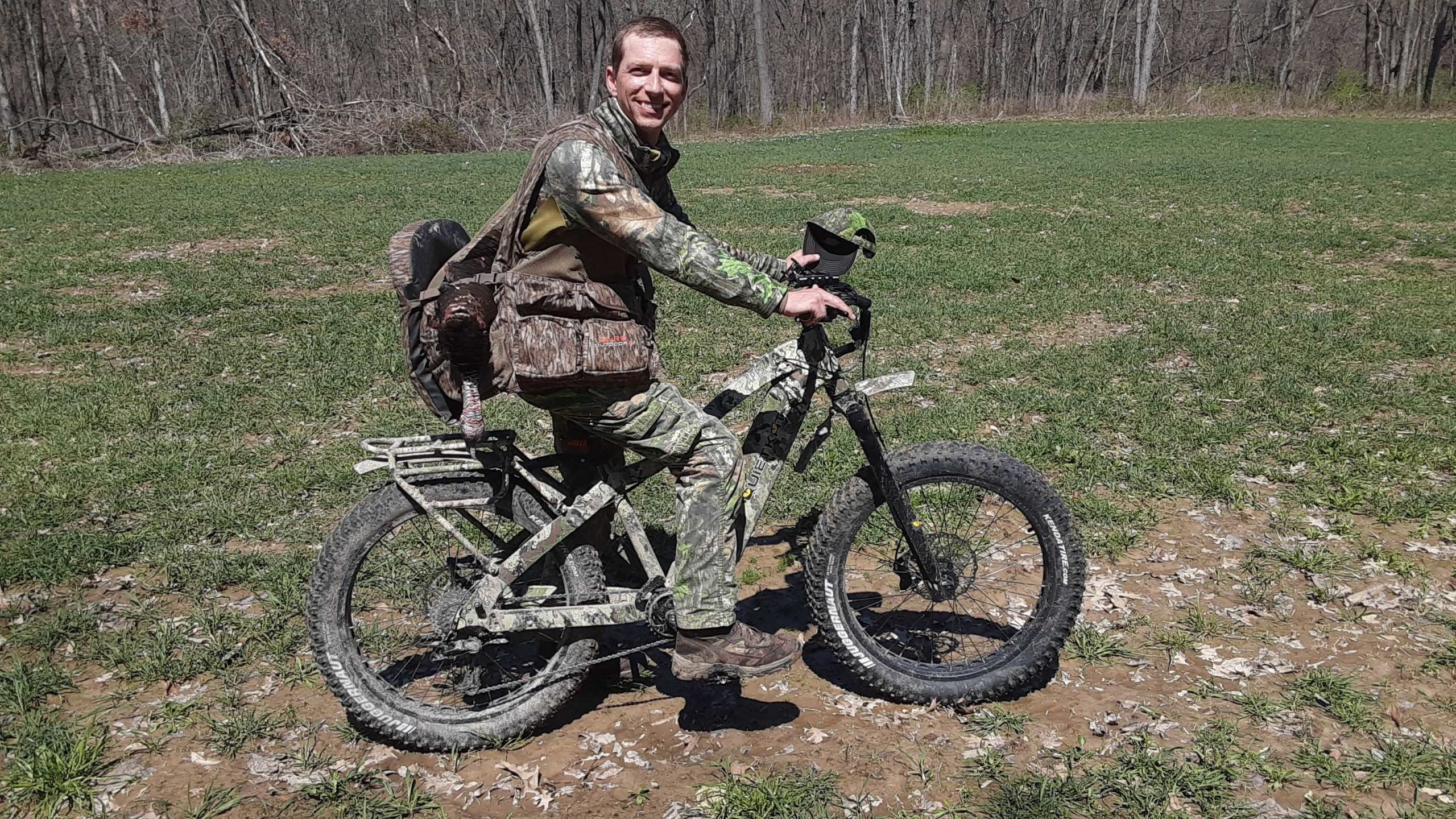 As for the rest of the hunting party, everyone else had bagged a bird by the end of the trip and seen the true effectiveness of a QuietKat as a hunting tool. Thacher, the PR rep and Stone Glacier devotee, came back to camp with a great story of how both he and another hunter had successfully stalked two birds wearing solid colors, no camo, and managed to stay concealed long enough to get good shots off. There's something to be said about turkey hunting sans camo, and it made for another cool story to add to the collection from the trip.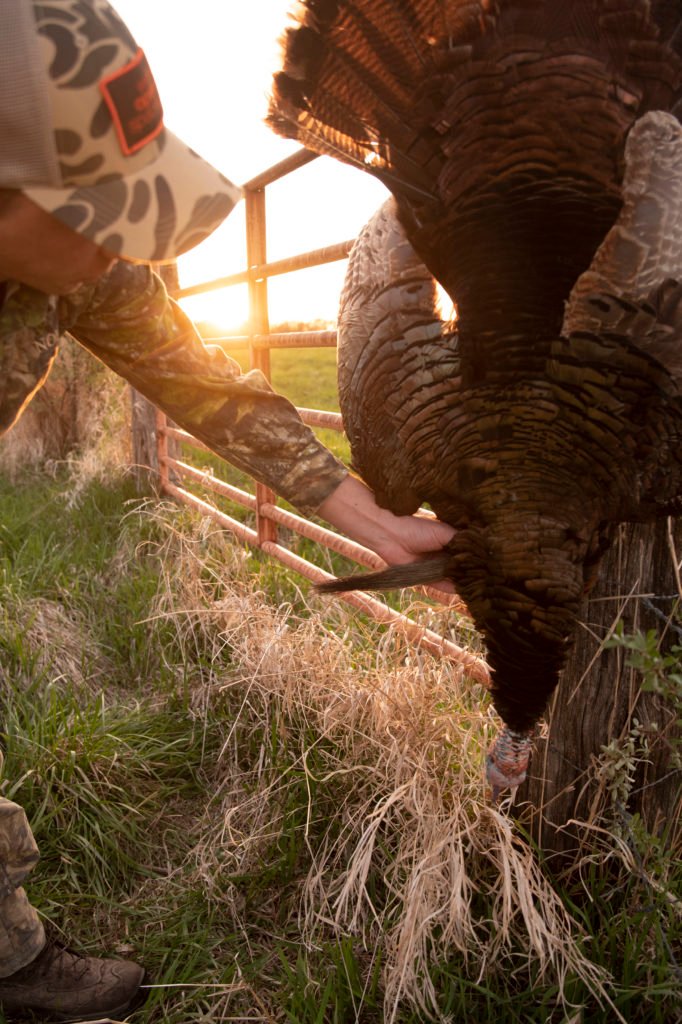 Overall, the group rivaled some of the best I'd spent time with in hunt camp, and I was so appreciative to be a part of it. I learned a lot about QuietKat and HuntStand, and felt like I had new perspective on some of the seemingly-futuristic hunting tools we have available these days, proving the modern age of hunting is keeping us interested, engaged, and ultimately still successful.
When you have gone as long as I did without that sort of reminder, without that kind of hunting trip that makes you recollect the reasons it's such a worthwhile pursuit, it's a privilege to get to experience.
I returned rejuvenated and enthusiastic about sharing the trip's story with anyone I could. It was that kind of never-forget trip that I'll always cherish.
NEXT: CAN YOU IDENTIFY ALL 6 SPECIES FOR A TURKEY SLAM?
The post One to Remember: Illinois Turkey Hunting with a QuietKat E-Bike appeared first on Wide Open Spaces.