Forget the bank for summer fishing success.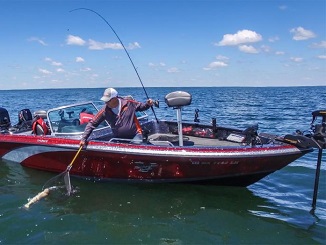 A variety of gamefish gravitate to offshore feeding grounds in the summer, giving savvy anglers ample reason to abandon the bank in favor of deep-water hotspots.
"This time of year, many walleyes, bass and other types of fish move away from shoreline areas that held fish in the spring," says noted fishing expert and tournament champion Scott Glorvigen. "The good news is, they don't scatter aimlessly. More often than not, the fish relocate to main-lake cover and structure that offers reliable feeding opportunities."
While more than a few anglers are intimidated at the prospect of searching for fish in the blue-water abyss, Glorvigen says finding and catching your favorite quarry is a simple process, provided you follow an easy yet effective plan of attack.
"The first step is using your electronics to find likely areas and scan them for fish," he begins. "The sport's pioneers used simple flashers to quickly sweep structure as they hunted for walleyes on massive bodies of water like Lake Oahe. They had the discipline not to fish until they saw them on their electronics.
"The concept still applies," he continues. "And today we're blessed with cutting edge sonar and GPS chartplotters with built-in mapping that make our searches far easier and more efficient."
For his part, Glorvigen rigs his boat with Lowrance HDS Gen3 units stationed at the bow, helm and stern, networked together for seamless shifts between presentations including trolling, backtrolling and live bait rigging. "I can share waypoints and maps, and even select multiple transducer locations, all without missing a beat," he explains.
And no matter how promising a spot may appear, Glorvigen doesn't linger if no fish are marked. "Too many times, anglers are guilty of fishing areas that look good, even if fish aren't present," he says. "That's a waste of precious fishing time."
If you're tempted to try a fishless spot based on memories or how it looks, he encourages you to reconsider. "Think of it in hunting terms," he says. "If you were spotting and stalking whitetails, and glassed every inch of a field or valley without seeing anything, would you still sneak out there on your hands and knees just because it looks so good?"
When fish are marked, Glorvigen uses sonar to gauge their mood, or activity level, so he can select a presentation to match it. "For example, walleyes suspended a foot off bottom on the top or crown of a breakline are most likely active and will respond to more aggressive tactics like crankbaits or spinners," he explains. "Bottom huggers lying on the side or base of a break usually need more finesse with a Roach Rig, Lindy Rig or some sort of snell and live bait."
Watch this video to see more of Scott's finesse fishing tactics.
Fish that move around also dictate different presentations than those content to hunker in one area. "Spinners and cranks help you keep up with cruisers," he says. "Jigging or slowly dragging a crawler on a live-bait rig is better for fish that stay in one spot."
He also advocates a more vertical approach when fish are concentrated in a small area. "People have a tendency to make long drifts or trolling passes, even when all their bites come from one spot," he says. "You'll catch more fish by staying on top of them."
Deep water or stained conditions such as algae blooms allow anglers to position themselves over a school of fish without spooking them. "Use your sonar to watch the bait and how fish react to it, similar to ice fishing," Glorvigen says.
If you have trouble holding the boat over a sweet spot, he suggests throwing a marker buoy for reference or dropping a waypoint on your GPS plotter. "Hands-free options like the Spot-Lock feature on Minn Kota's Ulterra bowmount trolling motor are a big help, too," he says. "They allow you to focus on fishing, not boat control, and keep the boat in place even when you're tending to a fish or otherwise preoccupied."
As he formulates a fishing strategy, Glorvigen also considers mitigating factors like the prevailing wind. "Fish are usually more active where the wind or a wind-driven current meets cover or structure," he says. Places where migratory baitfish such as smelt, shiners or ciscoes bump into a piece of structure when moving in from open water can also be hotspots, he notes.
While fishing an area, Glorvigen also pays close attention to which trolling passes and casts trigger the most strikes. "Predators are often conditioned to baitfish, wind-blown insects or other forage coming at them from a certain direction, such as deep to shallow," he says.
By piecing together such pertinent clues after locating fish on main-lake structure or cover, Glorvigen guarantees you're well on your way to enjoying successful offshore adventures all summer long.
The post Offshore Adventures appeared first on .