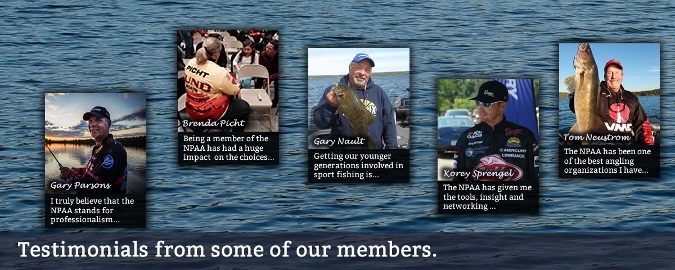 Anyone interested in creating or advancing their career in the fishing industry should mark their calendar for Jan. 4th-6th, the dates the National Professional Anglers Association (NPAA) will hold its 2019 Annual Conference at The DoubleTree by Hilton Conference Center in southwest Minneapolis.
"Since 2009, the NPAA Annual Conference has been a 'can't-miss it' event for anglers interested in making angling a career," says NPAA Executive Director Pat Neu. "The 2019 theme is 'Turn Ripples into Waves,' and we're looking forward to building on last year's extremely successful conference, which exceeded our attendance record with nearly 350 registered attendees."
The conference combines educational seminars, breakout sessions, keynote speakers, professional angler panels and NPAA partner displays planned with ample time to network with industry leaders as well as their peers and potential business partners. "This year's event will focus on the importance of staying informed about the issues and the opportunities that are affecting the future of sportfishing, Neu emphasized, "The hope is attendees will leave the event knowing that they can make a difference for the future of fishing by sharing their passion, knowledge and concerns about the sport with their customers, peers, and the general public."
This year's featured speakers are 2-time Bassmaster Classic champion Jordan Lee. Joining Jordan as a featured speaker will be Bassmaster Elite Champion, FLW Tour Champion, and MLF Champion Jacob Wheeler and the American Sportfishing Associations new president, Glenn Hughes. Also featured this year will be a Pro Panel discussion that will give the attendees the opportunity to pick the brain of Jordan Lee, pro walleye champion, Tom Keenan, and Freshwater Fishing Hall of Fame Member, guide, Dale Stroschein.
The content-rich itinerary also includes a full slate of in-depth presentations on topics ranging from taxes and DOT regulations that affect anglers, to social media, media relations, safety on the water, angling education and tournament winning tactics. The conference also features a Future Anglers Foundation benefit banquet, built into the Saturday evening schedule, with a ticket to the fundraiser included in the conference fee or available for separate purchase for those choosing to attend only the banquet.
Neu said the DoubleTree Southwest Minneapolis was selected to host the 2019 event to allow for attendee growth, and for the family-friendly amenities located at the nearby Mall of America. Flights into the Minneapolis Airport are traditionally very affordable and the hotel offers a no charge shuttle from the airport. He noted that special discounted room rates of $105 per night are available by calling toll free (866)-271-8967and referencing the group code NPA or a link can be found on the registration form on the website at www.npaa.net/Conference.
The NPAA conference is open to NPAA members and the general public. Conference registration options include NPAA Member Registration, $150; NPAA Student Angler – Future Pro Registration, $75; Non-Member Registration, $200; and FAF Banquet Guest, $30.
Student Anglers and Future Pro Members registering for the Conference by December 14th will receive a limited edition 2019 NPAA Conference T-shirt at no charge!
For more information call Ashley Garland, NPAA Admin Manager at: (937) 459-4444 or e-mail her at

[email protected]

.
About the National Professional Anglers Association
The National Professional Anglers Association (NPAA) is a non-profit, member-based association dedicated to sportfishing. The NPAA's membership is composed of professional guides, tournament anglers, angler educators and sportfishing/marine industry professionals who are passionate about the sport.
The NPAA's mission is: "To increase the professionalism of our members as we work to grow and protect sportfishing."
The NPAA is proud to have a very substantial list of Partners that support its efforts as an association. A complete list of those partners can be found on the NPAA Partners Page at http://npaa.net/partners/
More NPAA partner, member and industry news can be viewed at www.npaa.net .
The post NPAA NewsBLAST – Annual Conference appeared first on .