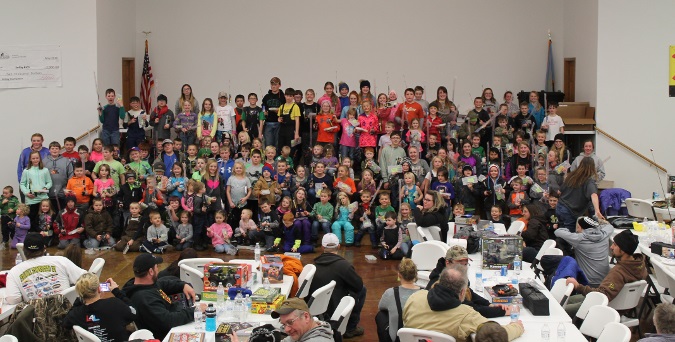 Lake Oahe itself has been long accepted as one of the premier walleye destinations in North America.  Rightly so as even when those of us familiar with the most well known of the Missouri River reservoirs feel it may be down a bit due to circumstance beyond our (although not man's) control, it is still pretty darned impressive.  Without getting overly political-as with many things-bloated, ill-informed and often unresponsive government agencies can and do have a substantial impact on a fishery of this size and diversity.  If given any semblance of common sense management, Oahe always seems to heal itself and bounces back quite well…each and every time. 
The last major episode of ineptitude occurred in 2011 when despite what I am sure are an impressive and expensive number of computer models and reporting stations stretching to beyond the very headwaters of the Missouri River that Lewis and Clark's famed expedition first reached in 1805; the Corps of Engineers totally missed any measure of an accurate prediction of the amount of run off that would be coming from the expansive watershed.  Nor had made any preparation for the coming onslaught by vacating water in advance downstream through the five mainstem Dams.
The result was the forced (and first time ever) opening of the emergency spillway on Oahe Dam near Pierre, SD.  An awful lot more than water rushed through the wide-open gates.  Most notable was flushing away a substantial portion of our most important baitfish, rainbow smelt.  Many species keyed on the smelt and as the fortunes of the silvery, oily little nuggets of protein go, so the walleyes went in particular.  The good news is that the smelt are now steadily recovering. 
Even better news is that the dynamic nature of these riverine gamefish have forced them to adapt to new food sources.  Taking some pressure off the smelt as they continue to recover.  In deep water, lake herring are becoming an increasingly important source of protein.  Gizzard shad also play an important role in open water and offer a further balancing effect.  To round things out, there is now a very distinct shallow pattern that some of the more savvy anglers have been exploiting.  Gamefish of all varieties can be found in the very backs of bays mowing down a multitude of prey.  Consisting of young of the year crappies, white bass, perch, skipjack, catfish and any number of minnow species.
To summarize, this ever-resilient reservoir is on the big side of the bounce back.  Of particular note, with recent studies by SD Game Fish and Parks along with reliable anecdotal evidence from hard-core anglers and guides who know and understand the system as well as anybody, the northern half has been confirmed to be doing quite well.  Not surprising, as the upstream portions of Oahe have always served as a nursery for our fish.  The expansive Grand and Moreau River arms are spawning magnets for our beloved walleyes along with just about everything else that swims. 
Large bays and creek arms also serve a similar role.  Some of the more well-known are from south to north: Stove Creek south of the Hwy. 212 bridge, Whitlock Bay just upstream from this bridge, Swiftbird Creek, Swan Creek, Oak Creek and of particular note, Pollock Bay.  This area yielded a piggish northern pike surpassing 30 pounds and an equally impressive walleye that went over 15 pounds coming through the ice in the winter of 2018.  These confirming indicators would certainly indicate that we are in the beginning stages of several years of fine fishing.  Not just numbers mind you, the sheer size of these two specimens just serve as testament to the trophy potential. 
In the Pioneer days it was Horace Greely who coined the phrase go West young man as advice for those seeking their fortunes.  I would suggest as it relates to finding fishing fortunes on Lake Oahe, we could modify this to heading North for the most consistent action.  I really do think you will find it to your liking and will most likely end up making it a regular destination once you discover the hospitality of the quaint little fishing villages and small towns along the upper stretches of the Reservoir.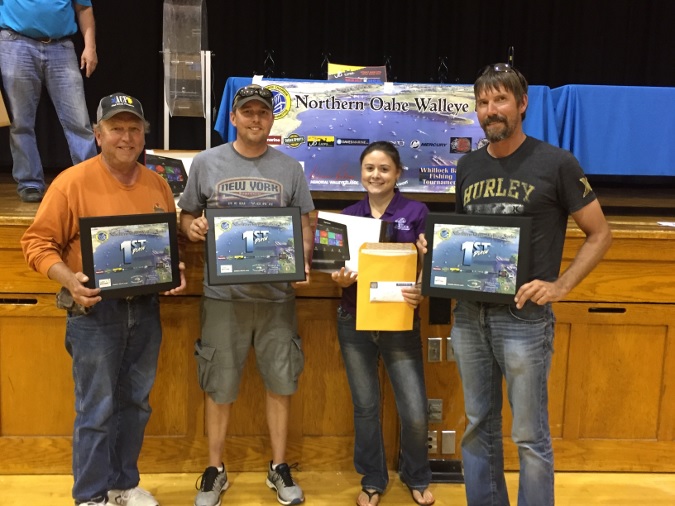 This leads into a perfect Segway to talk about some of these places that I so dearly love and more importantly, the people who make them so very special.  It also gives me the opportunity to unabashedly extoll the virtues of and promote another great opportunity for anglers who have a little competitive spirit and would like to take part in some good-natured competition and the ensuing camaraderie.  I am specifically referring to The Northern Lake Oahe Walleye Series which had its inaugural season two years ago and we are continuing to experience rapid expansion as we enter our third season.  I am proud to say that I am not aware of another walleye tournament venue that is drawing as many enthusiastic anglers as we are in this short amount of time.  The great news is that things are only going to get bigger and better.  Through the hard work of the supporting tournaments, communities and the generosity of all the volunteers combined with input from our true partners-the anglers themselves-the future of the Series is as bright as the prospects for the Lake Oahe itself. 
To paraphrase the format of the Series, 2 or 3 person teams will compete in 6 qualifying tournaments and a Championship Tournament with Team of the Year honors.  The qualifying tournaments are well run, established venues based out of locations ranging from Whitlock Bay near the Hwy. 212 bridge at the South end and on up to the state line near Pollock, SD.  The qualifiers in order are:  Wolves on the Water June 2nd at New Evarts Resort.  The Denny Palmer Memorial based in Mobridge, SD on June 8th and 9th, Pollock Men's Club on June 16th and 17th, Whitlock Bay Tournament July 7th and 8th, The South Dakota Walleye Classic out of Akaska, SD on July 21st and 22nd and finally the newest addition, The Grand River Casino Cup July 14th west of Mobridge, SD.  The culmination of the Series is the Championship Tournament to held out of Mobridge, SD on August 4th and 5th. 
For full details on the Northern Lake Oahe Walleye Series and links to all of the tournaments along with entry information, please visit www.northernoaheseries.com.  We are continually seeking to add new Sponsors for the Series and welcome any inquiries from those who may be interested in becoming one of our valued partners.  Contact Dennis Foster at 605-887-7069 or Dawn Konold at 605-845-6088 for specifics.   
 I would anticipate points for the much sought-after Team of the Year title to be very tight going into the final and deciding Championship event.  There is a lot on the line for this one.  The Championship winners are guaranteed a $5,000 cash purse along with Raymarine's flagship Axiom multi-function displays, a Rod Select rod storage system and a $250 gift certificate from Sodak Sports.  There is a $5,000 cash prize for the Team of the Year title along with Raymarine Axiom units, a $2,000 Certificate from Dave's Marine in Webster, SD to be used for purchase of a Mercury powered Lund Boat, Air Wave seat suspension systems, Rod Select rod storage system and a $250 gift certificate from Sodak Sports in Aberdeen, SD.  There will also be numerous door prizes for all the anglers from the likes of ReefRunner Lures, JB Lures and Moritz Marine.  By the time of the Championship, I would anticipate even more Sponsor participation.   
In an attempt to allow as much flexibility as possible for the anglers, 3 qualifying tournaments and the end of the season Championship Tournament count for Team of the Year points.  Meaning teams just need to fish 3 qualifiers and the Championship to be in the hunt for this honor and the lucrative payout.  Furthermore, to reward those teams who make the commitment to fish more than 3 events, the best 3 finishes will be tallied for points prior to the Championship.  Thus, should a team have a poor finish at one event, they can always just fish another event to try and make up lost ground.  As a loyalty bonus, for all teams fishing more than 3 events, their team will be entered into a drawing to have entry fees waived for the Championship Tournament.        
In addition to a well ran Series with attractive payouts and prizes, there will also be a significant amount of exposure generated this season.  We will televise a minimum of 3 shows on Focus Outdoors TV highlighting not only the tournaments but also the some of the communities that work so hard to put on a great show.  There will be a show shot out of the small town of Akaska, SD during their event, The South Dakota Walleye Classic and Festival.  If there ever were a place that was totally dedicated to fishing and fun in general, Akaska would be it.  In addition to highlighting the tournament, we will be filming the Children's and Senior's fishing events as well as the other activities that make up the "Festival" part of the weekend. 
Another show will be shot showcasing a quite unique fishing town, Pollock, SD.  It is the "newest" town around in the sense that it had to be relocated to higher ground when the reservoir filled.  These folks are a bit off the beaten path, extremely friendly and offer unparalleled hospitality to all visitors.  The final show covering the Championship will be shot out of Mobridge, SD and will be the third event held out of this notable community.  Mobridge has extensive experience having hosted numerous professional tournaments over the years.  Therefore, the logical choice to handle all of the logistics for the Series and as the natural site for the season finale. 
The Outdoor Forum magazine and the Aberdeen American News will also be covering tournament results, news and announcements.

If you have not been to Lake Oahe or it has not been recently-by all means-come on out and see what you have been missing.  I can guarantee you that you will come away quite impressed with the fishing, the scenery and the folks that call this truly special outdoor mecca home. 
About the Author: Dennis Foster is an avid outdoor communicator, guide and tournament fisherman. He welcomes input as well as questions and comments.  He can be reached via either of his websites at eyetimepromotions.com or dakotapheasantguide.com.
The post Northern Lake Oahe the opportunities just continue to improve appeared first on ODU Magazine-North America's #1 Digital Fishing Magazine.