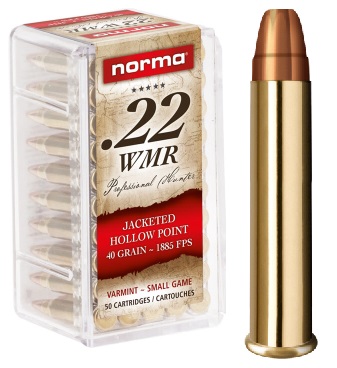 Norma® has announced the introduction of a new jacketed hollow point in .22 Mag. A great option for hunting pests, varmints and small game, Norma's new .22 Mag is designed to deliver exceptional accuracy and punishing results out of this popular rimfire caliber.
"We're very pleased to add this impressive .22 Mag jacketed hollow point to our growing rimfire line-up," said Paul Lemke, General Manager for RUAG Ammotec USA. "The overall depth of penetration we're seeing during testing bodes very well for those who rely on this caliber for pest control and small game hunting."
Featuring a jacketed hollow point design, this new .22 Mag creates optimal penetration and expansion for lethality on small game. It's also extremely accurate out to medium ranges. The Norma .22 Mag utilizes a 40gr bullet and has a listed muzzle velocity of 1877 feet per second. The MSRP for a 50-round box is $10.30 and for a 500-round box is $99.18.
Media contact: Tim Zick, Murray Road Agency
E-Mail: tim.zick@murrayroadagency.com
Norma is a registered trademark of RUAG Ammotec, a RUAG Group Company.
Established in 1902 and based out of Amotfors, Sweden, Norma has built a reputation world-wide for its dedication to quality, precision and reliability. Norma's commitment to delivering trustworthy ammunition for hunters and shooters has been the driving
force in the continual growth and expansion of Norma's product line-up and manufacturing capabilities. For more information on Norma ammunition and components, please visit Norma-ammunition.com.
Based in Tampa, Florida, RUAG Ammotec USA, Inc. is a division of Europe's leading manufacturer of small arms ammunition and OEM components, RUAG Ammotec GmbH. RUAG Ammotec USA, Inc. not only introduces Swiss, German, Swedish and Hungarian hi-tech offerings to the U.S. marketplace, but also leverages European offerings known for precision, reliability and innovation and combines them with disruptive U.S. components, know-how and partnerships to manufacture and deliver world-class small arms ammunition solutions for use by sports shooters, law enforcers and warfighters in the United States and abroad. RUAG Ammotec markets commercial product offerings under the Norma, Geco, Swiss P and Inceptor brands.
RUAG Ammotec belongs to the Swiss technology corporation RUAG Holding AG, which is headquartered in Bern. RUAG develops and sells internationally renowned technology applications in the field of aerospace along with safety and defence technology for use on land, sea and in space. A total of 57% of RUAG's products and services are for civilian use, and 43% are intended for the military market. Its corporate headquarters are in Bern (Switzerland). Production sites are located in Switzerland and in 13 other countries in Europe, the USA, and the Asia-Pacific region. Around 8,700 employees – 430 of them trainees – represent 48 nationalities and generate revenue of around CHF 1.86 billion.
The post Norma Unveils Jacketed Hollow Point in .22 Mag appeared first on OutDoors Unlimited Media and Magazine.