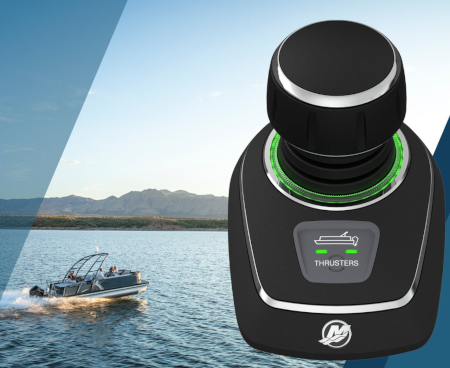 Perhaps no other boat type celebrates leisure and camaraderie better than the beloved pontoon. With their wide-open decks, pontoons seem to naturally encourage friends and family to gather together on the water.
Today, more and more people are upsizing their pontoon boats to enhance their fun on the water, and as these boats become bigger and are used for a wider array of activities (tow sports, cruising, even fishing), boaters are turning to Mercury's industry-leading lineup of innovative high-horsepower outboards to properly power these larger rigs.
While the increase in size helps to further facilitate on-water activities, a large pontoon boat with a single source of propulsion can be quite tricky to maneuver in close quarters. Throw some wind and current in there, and these large floating rectangles can really challenge a boater's docking skills.
And that's where the brand-new Mercury Joystick Piloting for Outboards (JPO) for Single-Engine Pontoons system comes in. JPO for Single-Engine Pontoons is based on the industry-leading Joystick Piloting system that Mercury debuted in 2007. Up until now, this technology was only available on multi-engine boats or inboard-powered boats with integrated thrusters. With this new system, Mercury was able to accomplish the same intuitive steering experience for one of the most popular boats on the water – the single-engine pontoon.
"After listening to consumers, boat builders and dealers express their interest in a more nimble and responsive pontoon boat experience to better serve this growing market, we were eager to help," explained Tyler Mehrl, Mercury category manager for controls and rigging. "So, we did what we always do at Mercury – we put our heads together and developed a comprehensive solution to the problem. And we didn't just create a way to steer an engine. We created a system that steers the boat from both ends, bow and stern, seamlessly integrating the engine with the control system and two deployable thrusters."
The unimpeded space under the deck of a pontoon proved to be the ideal environment to safely house the thrusters. Built to Mercury standards for quality and durability, the electric thrusters deploy to the ideal depth where performance and efficiency are maximized. And they stow just as easily and quickly as they deploy, which also helps keep them protected.
As for the joystick experience, it couldn't be any more natural. Offering three types of directional control – forward/reverse, sideways and rotational – movement is proportional to how much the joystick is moved. The more it is moved, the more throttle is applied. Even shifting from forward to reverse happens automatically.
Mercury SmartCraft® network enables all the components involved to seamlessly communicate with one another for instant, near-effortless handling. "The boater simply points the joystick in the desired direction, and the system takes the boat there," Mehrl offered. "It really is pretty cool. Pontoon owners can now ease up to the dock, deploy the thrusters with the push of a button, and with the intuitive joystick controls, glide into the slip or fuel dock."
JPO for Single-Engine Pontoons comes in two configurations. The Premium version uses an electronic steering helm and can be rigged with 250 to 600hp Verado® outboards. Pontoons powered by a Verado outboard and equipped with a VesselView® multi‑function display can leverage additional controls, including Auto Heading and Route. The Basic version is available on 175hp and higher Mercury FourStroke, Pro XS® and SeaPro

outboards. It uses a traditional hydraulic helm, making it accessible to a wide array of boats.
JPO for Single-Engine Pontoons is the ultimate solution for beating the wind, bucking the current and docking with ease, making boating truly more enjoyable. No more scrambling to the gunwale to avoid slamming into the dock – pontoon owners will now be able to approach the dock with confidence.
The post New Mercury Joystick Piloting System appeared first on OutDoors Unlimited Media and Magazine.