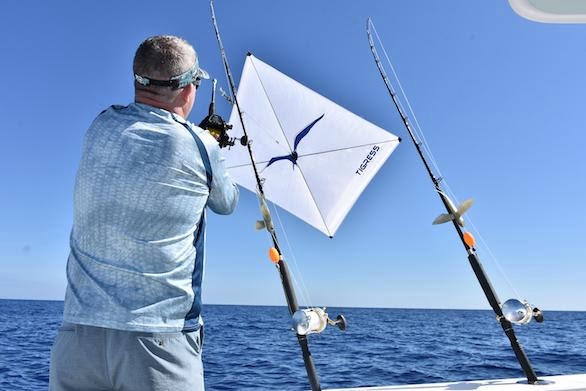 Season after season, innovative members of the angling community push the discipline of kite fishing further and further into the future. And Tigress Outriggers & Gear continues to be the industry leader holding the string.
To accompany their comprehensive new line of kites, Tigress offers a new heavy-duty storage bag that makes it easy to transport fully assembled kites. Tigress not only offers storage and protection solutions for their kites, but they have also developed a complete Kite Assembly Box, helping anglers take the guesswork out of getting those kites out of the bag and into the sky.
Rugged, lightweight, and waterproof, the Kite Storage Bag packs easily and stands up to tough offshore conditions, minimizing damage from rough rides and keeps its contents safe and dry. The Tigress Kite Storage Bag also helps prevent against corrosion and weakening of kite materials.
The Kite Storage Bag comes standard with four Velcro straps. Placed on the back of the bag, the straps allow anglers to easily secure the kite bag to the boat.
Ready for action, anglers can quickly draw fully assembled kites out of the bag and have them in the sky in a hurry. The easy access allows anglers to quickly change kites to match wind speeds and stay on the fish.
Tigress' Kite Assembly Box is an all-inclusive kit, containing everything needed to keep a kite in the air and fish on the line. The Kite Assembly Box has the materials necessary to complete two full kite set-ups, giving anglers options to either double up on conditions or prepare for their possible changes. The Kite Assembly Box is also a practical idea for maintaining a cache of spare parts.
Kite Assembly Box includes:
1 water resistant kite box

2 Tigress helium balloons

2 kite strings

2 rigging needles

20 rigging bands

10 beads

3 non-weighted small kite line markers

3 weighted medium kite line markers

10 small, 10 medium, 10 large, and 10 snap swivels

10 1/4 ounce lead

10 split shots

2 small, 2 medium, and 2 large whole kite clips
For more information, please visit www.tigressoutriggers.com.
The post New Gear for Kite Fishing appeared first on OutDoors Unlimited Media and Magazine.