Montana Fish, Wildlife and Parks Department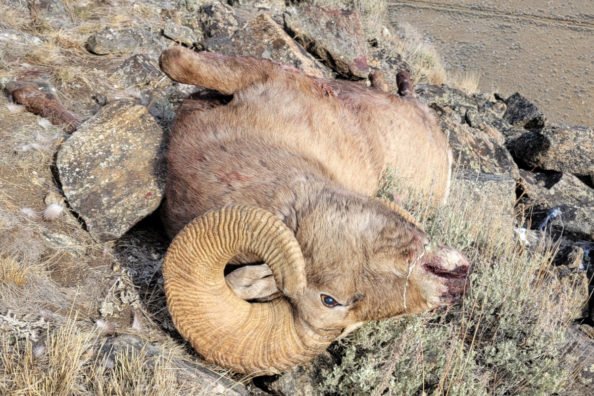 Man left bighorn sheep to rot after incident in the Highland Mountains.
A Montana man is claiming it was a case of mistaken identity, but not everyone is buying it, and the poacher has been hit with heavy fines and restitution as a result.
The Montana Fish, Wildlife and Parks Department announced in a press release that 45-year-old Harold Horine pleaded guilty to poaching a bighorn sheep in the Highland Mountains back in late November. Horine was subsequently hit with $5,245 total in fines and restitution for the incident, as well as a two-year suspension of hunting and fishing privileges.
Horine was caught because there was a witness to the incident who contacted the FWP afterward to report the sheep had been left to rot. Additional charges included waste of a game animal, unlawful possession, and failure to obtain permission to hunt from a landowner.
The thing that makes this case unique is that the poacher is claiming a case of mistaken identity. Horine initially told investigators he thought the sheep was an elk when he shot. Once that detail of the story leaked out, it obviously raised some ire with the locals.
Most notably upset is the Montana Wild Sheep Foundation. The organization has worked closely with state biologists over the years to help build the sheep herd in the Highlands area. Bighorn sheep tags are notoriously hard to get in many states, including Montana. Wild Sheep Foundation executive director Brian Solan told the Helen Independent Record that while accidents do sometimes happen, he's skeptical of Horine's story of mistaken identity, noting the obvious physical differences between the two animals.
"They're not similar at all," Solan told the news organization.
The Wild Sheep Foundation re-posted an FWP photo of the ram in question on their Facebook, while calling out the courts for the smaller fine.
"The penalty for poaching a bighorn sheep is $30,000," the post reads. "Once again the court system has failed the citizens of Montana as this was public wildlife that was poached and left to waste."
The Independent Record notes that courts must determine a killing of a trophy animal was committed knowingly or purposely to impose such a fine. Still, Solan and many commentators on the Wild Sheep Foundation and FWP Facebook pages feel Horine got off lightly in the case.
Products featured on Wide Open Spaces are independently selected by our editors. However, when you buy something through our links, we may earn a commission.

For more outdoor content from Travis Smola, be sure to follow him on Twitter and check out his Geocaching and Outdoors with Travis YouTube channels.
NEXT: MICHIGAN POACHER FACING $59,000 IN RESTITUTION FOR ILLEGALLY KILLING 9 TROPHY BUCKS
WATCH
The post Montana Poacher Claims He Thought Bighorn Sheep Was an Elk appeared first on Wide Open Spaces.