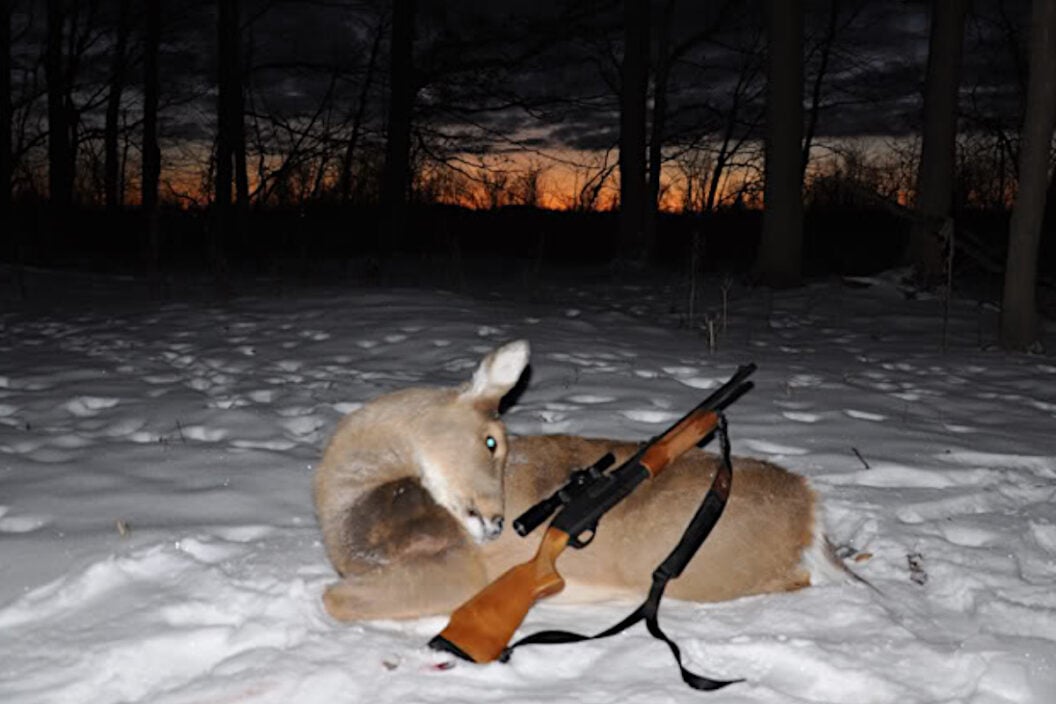 The end of the year is in sight and while many of us are preoccupied with thoughts of Christmas and the New Year, it's easy to forget that hunting season is still in session. For hunters who have failed to fill their tags already, they might be starting at an empty freezer with their stomach rumbling. Time is quickly running out to put some fresh venison on the table. For Michigan deer hunting enthusiasts, we're fortunate there is one last firearms deer hunting season that runs right alongside the archery season for the remainder of the year. This final season is the late doe season. Technically, this is the later antlerless firearms season because not all antlerless deer are does, but let's face it, those old swamp donkeys are what we're all hoping to harvest in a season like this.
So, we figured we'd put together a quick guide on this season for hunters who still have a full set of tags and are hoping they can get something for the grill in summer 2023 before it's too late. After all, nothing is worse than having an empty freezer and being forced to wait for another season. It's a beautiful time of year to be hunting, so let's get to it.
Is There a Late Antlerless Season in Michigan?
There is, and the Michigan Department of Natural Resources has been rather generous with the season dates in recent years. We won't debate if that's a good or bad thing here, but I am fully aware the season has its critics. In any case, the key difference between this and the early antlerless firearm season, which runs for only two days in September is that once this season starts, it runs all the way into the new year. For 2022, the Michigan DNR has set the season dates as December 12, 2022, through January 1, 2023.
This means you could technically harvest the first deer of 2023 on 2022 tags if you want to cut things that close. This does mean that there is some overlap with the remainder of archery season, which also runs through January 1. Note that if you want to take an antlered deer during this time, you will need to use the stick and string.
Michigan defines an antlerless deer as an animal that has no antlers, or one that has antlers that extend less than three inches above the skull. That means that button bucks and smaller spikes are technically legal during this season. Our guide on button buck identification will help you avoid an unwanted harvest if you're strictly targeting does.
There are two catches to this season. One is that the DNR has decided to limit it to southern Michigan only. Sorry Upper Peninsula hunters, but we think is due to lower deer numbers in the U.P. In addition to not being open statewide, this season is only open on private lands. The Michigan DNR isn't quite clear about why they decide to cut public land hunters out of the mix. We suspect it has something to do with disease control as many parts of southern Michigan are under chronic wasting disease (CWD) surveillance or have already had confirmed cases. Then there are areas like deer management unit 487 and 452 in the northeast part of the lower peninsula.
According to Michigan.gov, those DMUs are active bovine tuberculosis management and surveillance areas. The late antlerless season is still open in these counties, but you'll want to check for additional restrictions if hunting an area where these diseases have been found. Wherever you choose to hunt, just know the DNR explicitly states in their Hunting Digest that hunters "must have permission from the landowner or leaseholder before hunting on private land."
Hunting Licenses and Other Hunting Regulations
The great thing about the late antlerless firearm season is that if you've already purchased a universal antlerless deer license or a deer combo license, you are good to go and hunt. It's nice to know you can still use those tags that may not have gotten used during the regular firearm deer and muzzleloader seasons. Hunters also have the option of using a deer management assistance permit, or a mentored youth license. Non-resident hunters can also hunt this season as both Michigan hunting licenses are available to them too.
As for bag limits, deer hunters are allowed one per kill tag. So, if you haven't filled up your combo tag, that's two you can harvest there. Michigan allows hunters to harvest up to 10 universal antlerless deer licenses, so there's a chance to really fill the freezer if you're willing. Although we'd hate to cut up that many deer ourselves, or to see the processor bill!
About the only other regulations to be aware of are the same as the regular firearms season. Hunters are required to wear hunter orange while hunting the late firearm. They also must adhere to firearms restrictions of the different hunting zones. If you're hunting in the restricted firearms zone 3, you'll need to use a shotgun, muzzleloader, or straight-wall cartridge rifle only. Finally, don't forget to report any harvested deer to the DNR. They made reporting mandatory starting this season.
That's all you'll really need to know to hunt this late season. With the snows moving in, the does should be starting to herd up and head into the food plots. It makes for some prime opportunities to put some venison in the freezer late in the year. Good luck to all the hunters who are still out there trying!
For more outdoor content from Travis Smola, be sure to follow him on Twitter and Instagram For original videos, check out his Geocaching and Outdoors with Travis YouTube channels.
The post Michigan Late Doe Season, Key Dates and Regulations to Know appeared first on Wide Open Spaces.