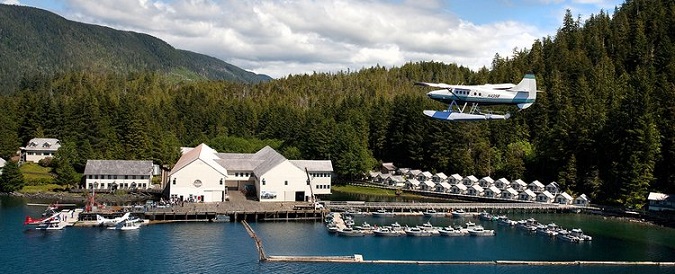 How about the ultimate fishing excursion?
Whoever dreamed up the "Bucket List" concept should have copyrighted it, then immediately invested in a remarkable fishing destination in southeast Alaska called the Waterfall Resort.
Everyone who fishes has a fantastical excursion at the top of his or her list. While each angler might dream of a unique fishing nirvana, many have crossed off No. 1 on their Bucket List with a trip to  Waterfall Resort. The fish there are huge and plentiful, the water is cold and deep, and everything is green and full of life.
Waterfall Resort is a 52-acre property on Prince of Wales Island, and it's accessible only by sea and air – no roads lead to Waterfall. The resort is surrounded by the Tongass National Forest – the largest national forest in the U.S. and the second-largest rain forest in the world (only the Amazon is bigger). Prince of Wales is one of 1,100 islands that comprise the Alexander Archipelago, and Waterfall Resort sits on the west coast of the island. The hills around it rise quickly, and the water deepens likewise.
It is isolated, it's beautiful and it is absolutely Bucket List worthy.
Surprisingly, however, Waterfall Resort is not hard to find and it's not far from the continental U.S. Most guests fly to Seattle, then catch a 90-minute hop to Ketchikan, then grab a shorter hop on a floatplane or boat to Waterfall. You can literally start fishing minutes after you arrive.
"We outfit everyone with all-weather gear. We provide knowledgeable guides and great fishing gear – and that includes our boats and engines." said Chuck Baird, director of corporate development at Waterfall. He's been with the company for 31 years. "We're 100 percent Mercury powered, and we plan to stay that way. We want our guests to be safe and secure."
Waterfall gladly welcomes male and female anglers, as well as families.
"I believe about 15 percent of our guests are women, and that's growing," said Baird. "And the percentage of families also climbs a few points each year."
Here's a typical day at Waterfall:
Leave the docks at 6:30 a.m.

Catch big fish all day

Return to the docks at 4:30 p.m. for Bucket List photos

Giant surf-and-turf buffet

Quality time with family, old friends or new friends
Most of the anglers at Waterfall have caught big fish before, but not everyone.
"We put 'mooching rods' in the hands of the anglers so they can feel the strike and the fight," said Baird. "Our guides work with the guests to give them the best opportunity to catch fish."
"We start out by taking them to the kings, and we'll fish hard there. Then we'll move on to a few other spots where we know the fish are hitting. And on the way we might see humpback whales and maybe some orcas. This is truly an amazing place."
The fishery stays strong and healthy because the waters are jammed with nutrients, which means the bait fish are plentiful and the target fish – halibut, lingcod, rock fish, king salmon and silver salmon – are always eating. It's sort of a buffet stopover for the kings and silvers before they hit the rivers and creeks on the way to spawn.
Waterfall has 27 sturdy 27-foot North River Sounder boats rigged with twin Mercury 175 hp Verado outboards – powerful, quiet and smooth, perfect for day-long trips. Every boat is set up for four guests and includes marine communication and electronics equipment and a head. 
"We consider ourselves the poster child for the Pacific Northwest," said Baird. "These boats and engines have been tested tough in Alaska."
Waterfall wasn't always a resort. It was founded in 1912 as a fish cannery and stayed that way until the 1960s. Waterfall Resort was launched in 1982.
Today, guests at Waterfall have the option of entering daily, weekly and season-long tournaments – or none of the above. Some groups even create their own events.
"In our waters, you always have a shot at catching a 30-pound king," said Baird. "My favorite element of Waterfall is that so many people leave here with experiences of a lifetime, where they might have bonded with friends and families or made new friends."
*Waterfall Group owns another Alaska resort on Noyes Island near Ketchikan that will appear in an upcoming story.
The post Mercury: What's at the top of your Bucket List? appeared first on OutDoors Unlimited Media and Magazine.