World No. 8 reveals simple reaons for Big 3 rule.
Daniil Medvedev has faced iconic champions Novak Djokovic, Rafael Nadal and Roger Federer this season.
After absorbing a 6-3, 6-0, thrashing from Nadal in the Montreal final on Sunday, the eighth-ranked Russian attributed Big 3 dominance to two simple facts.
More: Nadal Shares Secret to Longevity
They own more will and more skill.
"It's not only the slice or the topspin, because everybody of top 100 knows how to slice or do the topspin," Medvedev told the media in Montreal. "As I said, regarding how many Grand Slams, Masters these guys won, they have something inside of them, in their game, better than all of us. Of course, we need to do our best to try to still beat them. I mean, that's my goal."
The lanky Russian stunned Djokovic on the red clay of Monte-Carlo in April after pushing the world No. 1 to four sets at the Australian Open in January. Overall, Medvedev is a combined 1-7 vs. the Big 3.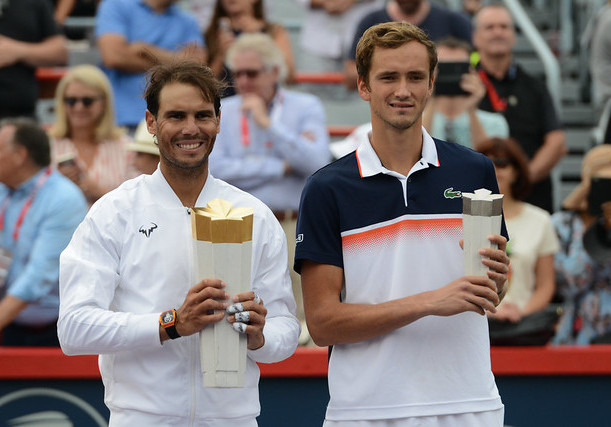 Photo credit: Christopher Levy
Medvedev said there's only one way to beat the Big 3: play them more often in big matches.
"I think I gained experience by playing these matches," Medvedev said. "Novak, for example, I finally managed to beat him this year, not on my best surface. It was the fourth time I played him.
"I was getting closer and closer from what I was feeling. Finally I beat him. I think I just need to go further in the tournaments, to play them more, and that's how I will find my rhythm and my tactic to beat them more. This moment I only have one victory."
Photo credit: Christopher Levy