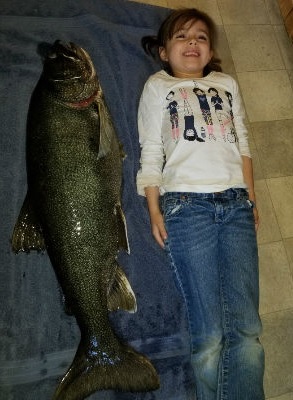 Most winters, Ryan Bridges doesn't pay much attention to Tunk Lake, a well-known fish factory near Cherryfield that is known to produce some large lake trout.
The reason: The water is also famous for its finicky nature. Some winters, it never freezes safely, or completely.
But this year has been different, and Bridges and his friends have been taking advantage of the conditions and targeting the lake regularly.
"It's really the first year it's buttoned up [well]," Bridges said. "Some people said it's been 15 or 20 years since it's actually buttoned up this early. We had all that cold weather, and we've been fishing it pretty hard."
And on Feb. 13, the effort of the Gouldsboro angler and his friends paid off with a fish tale they'll tell for a long, long time.
Bridges explained that he and his buddies went to check a flag at about 8:30, and what they found wasn't particularly thrilling. The reel wasn't spinning a bit, in fact.
"Then, all of a sudden we see the trap kind of shudder a bit," Bridges said. "I didn't realize it, but when [the fish] had pulled line out it had tightened my drag on my tip-up. I reached down and loosened the drag on it and [the fish] just took off after that, went another 30 or 40 yards. Then I set the hook."
And the fight was on.
"It felt really heavy. I had three other fellas with me, and I told them, 'I've caught a few 10-pounders, and it don't feel like any 10-pounder I've caught,'" Bridges said.
It wasn't any 10-pounder. Or 15-pounder. He wouldn't learn it until later, but Bridges had a 25.5-pound lake trout on the other end of the line. And the fish was a whopping 40 inches long. More pictures and complete article from the Bangor Daily News >>> http://bangordailynews.com/2018/02/21/outdoors/gouldsboro-man-hauls-25-pound-togue-out-of-tunk-lake/
The post Maine man hauls 25-pound togue (laker) appeared first on ODU Magazine-North America's #1 Digital Fishing Magazine.