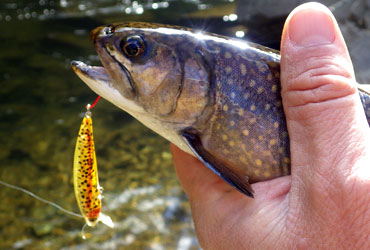 Delayed-harvest trout streams throughout Southern Appalachia provide ready access to plentiful trout and offer fine prospects for trout trips with youngsters. We were doing just that, streamside maybe five minutes before Asher yelled those words a dad loves to hear.
 "I've got one!"
Sure enough, Asher's rod was bent and bucking, and his grin was the biggest sort a boy can sport. I knelt beside him with a net ready to be sure his first trout didn't escape before he could get a give it a good look. After admiring the fish's colors a bit and getting a few photos, I let Asher slip his own trout back into the creek and watched it dart away.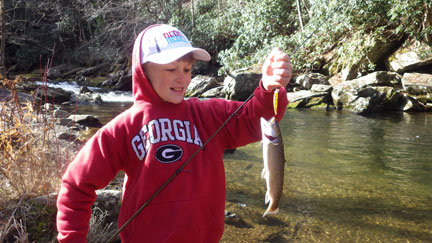 The stream was easy to reach in several places and sufficiently open for a 9-year-old to cast. As important, I knew its pools and runs contained rainbow, brook and brown trout. Whether they'd cooperate, I couldn't know for sure. (Happily, they did.)  Either way, I knew Asher would at least see fish and could know that any given cast carried the promise of producing a bite.
Delayed Harvest Management
I trusted we'd see fish because the stream is managed as "delayed harvest" waters.  In delayed harvest waters, heavy stockings and a seasonal catch-and-release requirement combine to create a captive audience of trout though the cool months. Although flood conditions, mortality and unfortunately, poaching, can impact numbers over time, there pretty much always are some fish to be found in these waters through the catch-and-release season – and usually they are plentiful.
Georgia, South Carolina, North Carolina, Tennessee and Virginia all have stream sections under delayed harvest management. Dates and rules vary slightly, but the gist is that from some time during the fall through late spring, the streams are open only to catch-and-release fishing with lure restrictions (usually single-hook artificial lures). At the end of the "delay" season, the same streams open to harvest, typically under the state's general trout limits and without the added bait restrictions.
Delayed harvest management maximizes the use of dozens of streams throughout the Southern Appalachia that offer fine trout habitat through the cool seasons but lose quality when the weather warms. These waters get loaded with fish when the habitat is best and provide fabulous fishing for any angler who doesn't mind tackle restrictions or putting back fish. Then, about the time habitat begins diminishing, a different group of anglers gets to enjoy catching those fish one more time and to take them home, one limit at a time.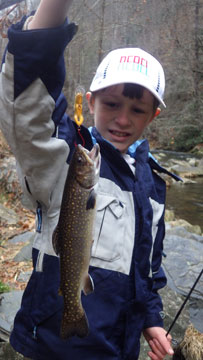 Fishing for Everyone
I've been fishing delayed harvest waters during the catch-and-release season for nearly two decades, beginning not long after the North Carolina Wildlife Resources Commission instituted the program on four streams. Among those was a 4-mile section of the Nantahala River that remains one of my favorite places to take inexperienced or young anglers. The river is pretty, varied in character and wild feeling, but a paralleling road makes it easy to get in and out and to fish different sections.
"Single hook artificial lures only" does not mean fly-fishing only, but you get that impression driving past most of these waters during the catch-and-release season. Fly fishermen make up the majority of users this time of year, but that doesn't mean these waters are only suitable for a fly-fishing approach. That is simply the user group that has most fully discovered and embraced these waters' fine offerings.
In truth, trout that see mostly flies probably provide you some degree of an advantage when you show up with a spinning rod and box of lures. Even other spin-fishermen mostly use in-line spinners or micro jigs, and the best way to show them something different is with a Rebel MicroCritter. In some cases, a bigger lure like the Tracdown Minnow with the trebles traded for a single barbless hook is more effective than the tiny offerings they see all of the time.
Beyond being among the most heavily stocked waters around, these water virtually always contain some "wild cards" in the form or larger trout peppered into the stocking mix. In addition, streams that have been selected for delayed harvest management typically have a good amount of public access.
Because of the program's popularity, state fisheries division websites generally have more detailed access information about delayed harvest streams than about most wild trout or general hatchery-supported waters. Likewise, you can gather quite a bit of Intel with a web search. Most will be on fly-fishing forums and may include a lot of fly pattern discussion. Read between the bug lines to learn about things like stream size, character and it has roadside access, trails or access upstream or downstream only by the streambed itself.
Lure Choices
Except for the new Rebel MicroCritters, which come equipped with a single barbless hook and are therefore package-ready to fish in these waters, lures need a bit of modification before you can even possess them while fishing delayed harvest streams in most states. Instead of trimming tiny trebles down to a single point, which really doesn't leave you with enough hook, it's best to remove both trebles from their split rings and replace the back one with a single barbless hook that's a little larger than the trebles.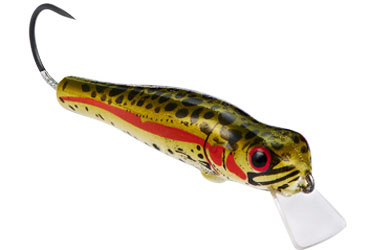 Because of their very small size and single-hook design, the new MicroCritters are exceptionally well suited for delayed harvest, with the two primary styles for this time of year being the Micro Crawfish and the Micro Minnow.
Two additional lures than I often use for delayed harvest streams are the Teeny Deep Wee Crawfish and the two smaller sizes of Tracdown Minnows. The Craw may be best for a youngster because the most-productive retrieve is a simple cast-and-reel. The Tracdown Minnow produces trout with that straight retrieve, but getting the most from it calls for more experimentation with twitches and pauses and with letting the bait sink to different levels of the water column.
Finally, don't overlook larger sizes of Tracdown Minnows and original Rebel Wee Crawfish. When a winter or spring storm brings dark skies and somewhat swollen flows to delayed harvest waters, the larger fish that are normally tough to trick become more aggressive. Those fish almost never see larger lures like those, and high water delivers a very good opportunity catch a heavyweight trout.
Whether pick a big bait or a tiny one, don't overlook the offerings of delayed harvest trout waters, and when you're setting your plans, plan to bring a youngster with you!  
By Jeff Samsel 
The post Lures For Immediate Success on Delayed Harvest Trout Streams appeared first on ODU Magazine-North America's #1 Digital Fishing Magazine.