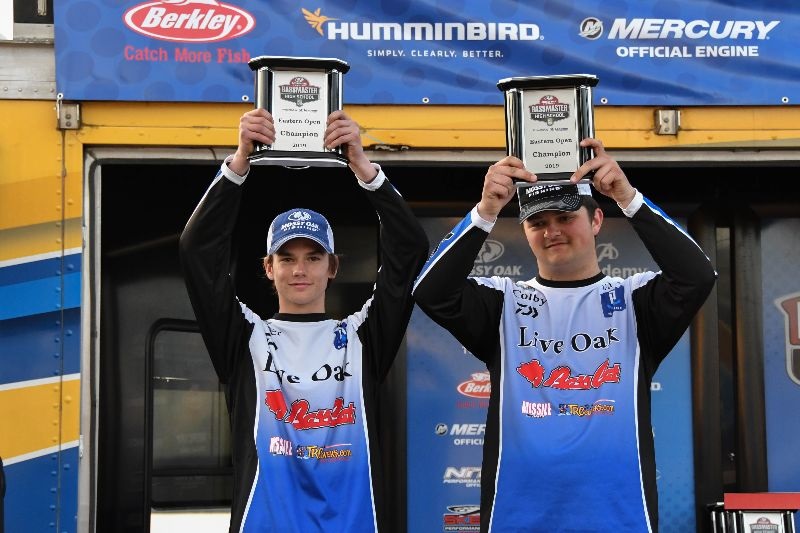 The teams of Colby Badeaux and Tyler Jordan from Live Oak High School in Watson, La., and Caz Anderson and Dean Crisler from the Chatuge Anglers in North Georgia each caught a five-bass limit Saturday that weighed 18 pounds, 5 ounces.
But Badeaux and Jordan walked away with the championship of the Mossy Oak Fishing Bassmaster High School Eastern Open presented by Academy Sports + Outdoors at Lake Hartwell. The reason: They had the biggest fish of the two teams by a mere 11 ounces.
The Louisiana duo had a 6-0 largemouth, while the biggest bass brought in by the Georgia team weighed 5-5.
"We came up here this past week and have been fishing all week," Badeaux said.
That experience on the lake was no doubt important, considering Lake Hartwell is at full pool from the heavy rains that have pounded South Carolina recently, and it's a very different fishery from what they're used to seeing in Louisiana. When the Hartwell is high, it has a way of making the lake tougher — and those were exactly the conditions Badeaux and Jordan found during practice.
"We didn't catch anything the first day," Jordan said. "Tuesday and Wednesday we finally started finding fish and Thursday we found some really solid fish. We didn't fish Friday because we didn't want to hurt our fish."
Laying off their best spots proved wise, as they put together a five-bass limit in just 20 minutes. They caught their fish on a white ChatterBait and a black-and-chartreuse crankbait.
"We were just trying to qualify for Nationals and wanted to go to the Classic again next year, and we got it done," Badeaux said.
Anderson and Crisler also got off to an equally fast start, using a mud bug-colored Spro Rockcrawler crankbait to catch most of their fish, but the big largemouth hit a homemade green pumpkin jig that they skipped beneath pontoon boats.
 "My third cast was about a 4 1/2-pounder," Crisler said. "It was a pretty crazy way to start off the day." Anderson said the pair fished a variety of conditions.
 "We fished in both muddy and clear water, but the majority of our fish came in clean water, including our big bass and most of the spotted bass we weighed in," Anderson said.
Junior Bassmaster Division
In addition to the 168 teams competing in the Mossy Oak Fishing Bassmaster High School Eastern Open, 26 two-angler teams battled it out on Lake Hartwell in the Junior Bassmaster event, which was open to youngsters in grades 2-8 who are affiliated with a B.A.S.S. Nation Junior Bassmaster chapter.
The Top 4 teams all had five-bass limits, and only 4 ounces separated the winners, Kaleb Butts and Luke McGuffin of CHS Anglers from the third-place team, from the all-girl team of Anna Kay and Elizabeth Pamphilon from Crescent Middle School, who finished third. Butts and McGuffin had 10-2 for first; Tommy Loughran and Nicholas Gavin of the Mecklenburg Country Youth Bass Masters caught 9-15 and finished second; and the Kay-Pamphilon team weighed in 9-14.
"I threw a shaky-head with a Zoom worm," Butts said. After trying a moving bait for about 30 minutes, McGuffin added that he "picked up a Carolina rig and just grinded it out." The team only had five bites all day, and they were able to boat all five fish.
Rounding out the Top 5 were Landon Bannister and Luke Rowland of Hart County Junior High Anglers, fourth with 9-5, and Brody Kellum and Carson Thompson of Franklin County Junior Bass, fifth with 7-12.
The post Louisiana Team Captures Bassmaster High School Open On Hartwell appeared first on OutDoors Unlimited Media and Magazine.