The Level Series offers a rare c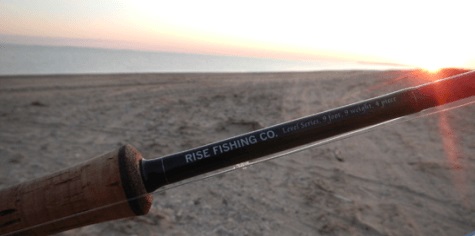 ombination of advanced components and high-level performance at an affordable price point. The rich blue color contrasts beautifully with the black wraps. Black saltwater safe reel seats on the 6wt up and a burled blue wood reel seat on the 5wt and down only add to the appeal. The overall look and quality ranks as a high-end rod on the market without all the cost.
The Level series rods have been satisfying anglers since 2012.  Oversized chrome guides and a fast action blank deliver long, accurate casts in the most difficult conditions.  Be on the lookout for the Level series to be available in new sizes throughout the year.  
Rise Fishing says the fast action is, "capable of cannon-like delivery in the most challenging conditions." Retailing between 325-350 dollars, the Level Series comes with a lifetime warranty. The rod is a great match for advanced saltwater anglers but has equally valuable freshwater capabilities.
Fly fisherman will appreciate the performance everywhere from western trout rivers to tarpon and blue water big game. The 5 weight is a great option for anglers looking shoot long distance dry fly presentations in freshwater. The 7-14 weights will cover all saltwater applications. They are also great for chasing big fish in freshwater – stripers, pike, musky, salmon and steelhead. Saltwater anglers will take this great series to the bonefish flats, chase tarpon in the keys, connect with striped bass and use the 14-weight to land a sailfish.  
Four pieces with protective case and rod tube.

Fast action for advanced delivery.

Oversized chrome guides and saltwater safe black reel seats (nickel on 5 weight).

Rich blue finish with black wraps.

Lifetime Warranty
To learn more, please visit www.risefishing.com.
The post Level Series – Finally an Affordable Saltwater Rod appeared first on ODU Magazine-North America's #1 Digital Fishing Magazine.