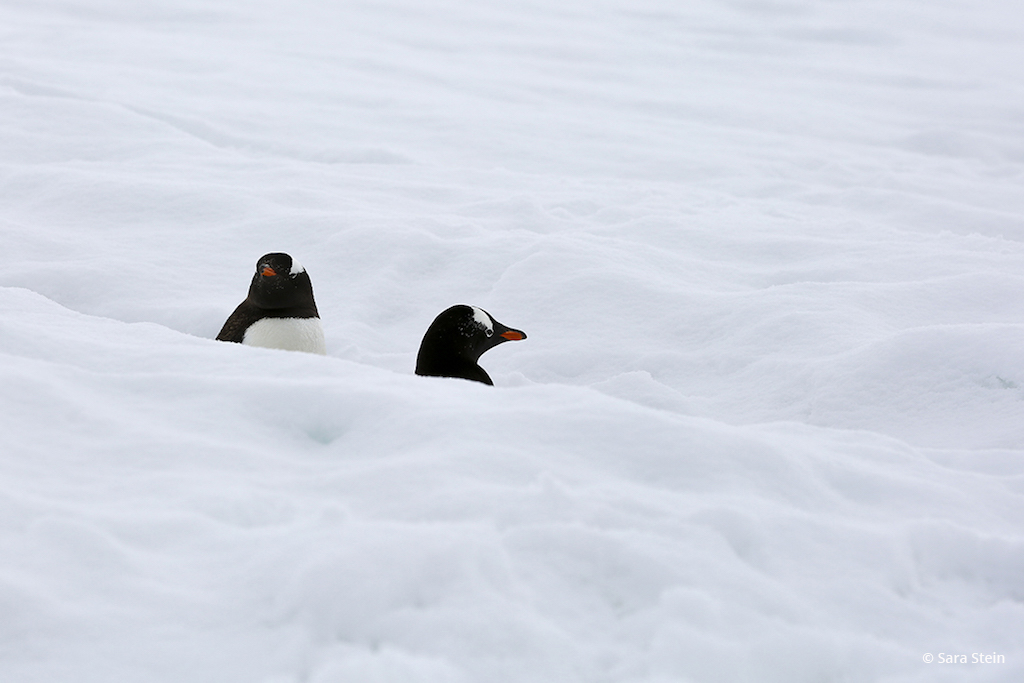 While photographing wildlife at Mikkelsen Harbor, Antarctica, Sara Stein discovered that penguins could exhibit some delightfully dim-witted behavior. "Penguins are some of the fastest swimmers I've ever seen, but when it comes to getting around on land, they're less than graceful," Stein explains. "This is where penguin highways come in. Similar to game trails you might see deer use, these highways help the mobility-challenged birds get from their nests to the ocean. Penguin highways aren't very wide and tend to be dug deep into the ground due to the hundreds of penguins that use them. This can cause some problems when two of them run into each other. As cute as they are, penguins are not the brightest of birds, and when these two met in the middle of a highway, they clearly got confused. They sat there for at least five minutes trying to figure out how to get around each other. Instead of simply climbing out, they just looked around and waited for the other one to disappear magically. Eventually, one of them clumsily climbed over the other, and they went on their way as though it never happened. It was in this moment that I fell in love with these adorably silly birds."
Canon EOS 5D Mark III, Canon EF 70‐200mm f/2.8L IS II USM @ 200mm. Exposure: 1/1000 sec., ƒ/7.1, ISO 100.
See more of Sara Stein's photography at sarasteinphoto.com and on Instagram @sarasteinphotography.
The post Last Frame: Roadblock On Penguin Highway appeared first on Outdoor Photographer.