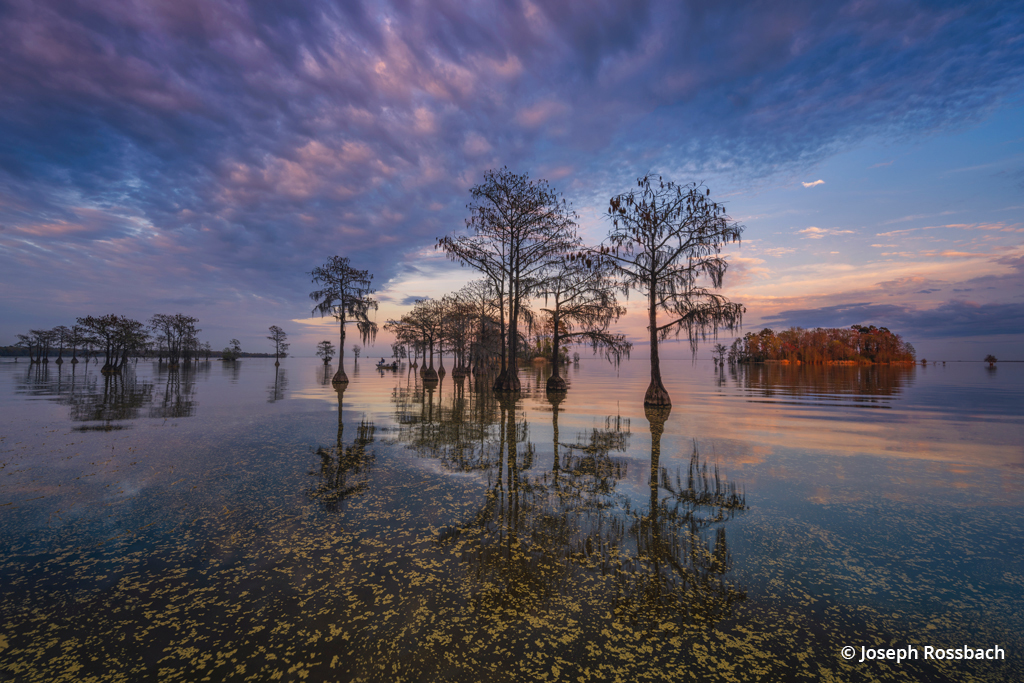 Lake Moultrie is South Carolina's third-largest lake and was created in the 1940s. It's fed by its larger neighbor, Lake Marion. Lake Moultrie has shallow swamps, black water ponds and in some areas is still dotted with bald cypress trees, making it a great location for nature and landscape photographers.
Most photographers who visit the area will want to use Charleston as their base camp of discovery. Charleston has many affordable hotels and restaurants and some of the best photography spots along the South Carolina coast, including Magnolia Plantation, Folly Beach and Botany Bay, to name just a few.
Plan on driving about one hour northwest of Charleston to reach Lake Moultrie. While most of the shoreline is private property, there are a few good areas from which to photograph, including waterfront in the town of Cross, the Amos Lee Gourdine Boat Landing, Sandy Beach campground, and others if you're willing to drive and scout from the road for lake access points. It's a huge body of water, so set aside several hours in the midday when the light isn't optimal for photography to find your perfect spot for sunset and sunrise shooting.
Weather At Lake Moultrie
Late spring to early fall can be swelteringly hot and muggy in South Carolina. Late fall through early spring brings the best weather for photographers. The winters in South Carolina are usually very mild and can be a great time to visit in the off-season. Early March to mid-April will bring the best weather and light to the region for scenic landscape images.
Photo Experience
Photographing Lake Moultrie will be a challenge as most of the best trees for good photography are further out in the water from the shore of the lake. A kayak, canoe or small boat will allow you to explore more areas of the lake for the best compositions. There's a spot in the town of Cross on the lake's western shoreline that has many bald cypress trees close to the edge of the water, making this location a great place to shoot from a tripod.
I suggest you bring a medium telephoto in the range of 70-200mm and a wide-angle lens. The telephoto is great for isolating single trees or small groups of trees out in the water against the ever-changing skies over the lake. On a calm morning or evening when lots of clouds cover the sky, get in low and close to the water's edge with a wide-angle lens to capture epic landscape images.
Best Times To Visit Lake Moultrie
Sunrise and sunset can be equally good times for photography. The lake's often-calm waters will provide the opportunity to capture mirror-like reflections amongst the ghostly form of the cypress trees.
Contact: South Carolina Department of National Resources, dnr.sc.gov/lakes/moultrie/description.html.
---
See more of Joseph Rossbach's work at josephrossbach.com.
The post Lake Moultrie appeared first on Outdoor Photographer.